Editorial: Charging students fees for closed services, facilities amid pandemic is unfair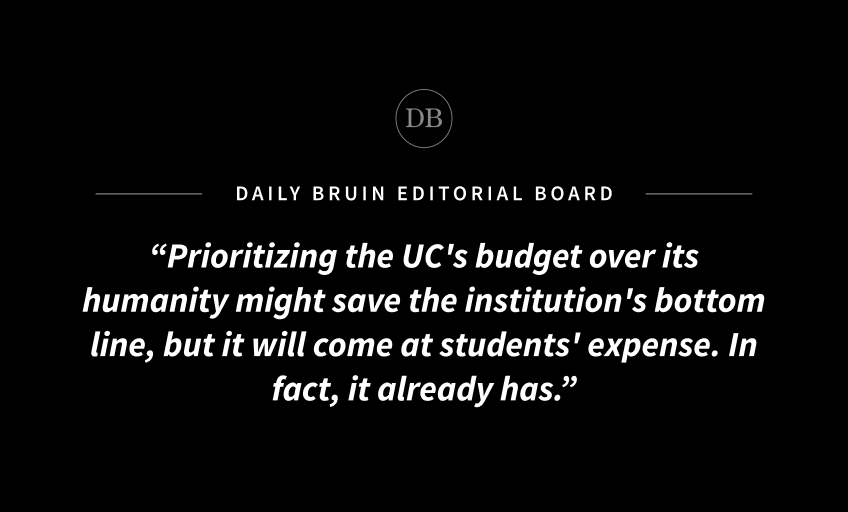 Sept. 22, 2020 10:44 a.m.
Administrators have said time and again they support students, but their convenient disregard for Bruins' financial realities says otherwise.
Students have lost jobs, research positions and opportunities to meaningfully learn from and interact with faculty with the mass transition to online learning this year. But as we approach the half-year mark of an ongoing global crisis, two things have remained steadfast in the storm – tuition and student fees.
Bruins are paying a hefty price for a subpar online educational experience, with in-state students paying more than $13,000 and non-resident students paying nearly $43,000 in tuition and student fees. Not to mention, a sizable percentage is for services and campus facilities that are no longer accessible. Such costs easily total to more than $2,000 in one academic year.
Students have made it clear they are struggling with the added financial constraints of the pandemic. A student-led lawsuit against the University of California and the California State University system is currently winding its way through the courts to demand refunds of fees for closed services.
If UCLA is serious about acting on its support to students during difficult times, it must cut extraneous fees. Failing to do so is not only insensitive for a university fresh off its centennial fundraising effort, it's dangerous because it imposes further challenges on an already burdened student body.
Prioritizing the UC's budget over its humanity might save the institution's bottom line, but it will come at students' expense. In fact, it already has.
Retention-oriented programs like Project Students for Progress in Employee Language Learning and the Bruin Excellence and Student Transformation Grant Program were among the first to go when the crisis struck – programs that afforded disadvantaged students and employees with educational opportunities that are now no longer available to them.
Meanwhile, students' demands for rent accommodations in university apartments have fallen on deaf ears, but UCLA found the funds to launch a multimillion-dollar legal fight against Under Armour over athletics uniforms and equipment. Graduate students are still fighting for a cost of living adjustment, even as the University spends over $21 million on campus police.
It's no secret that the UC as a whole has faced financial losses as a result of the ongoing pandemic, but that does not excuse its decision to have students carry the burden. Aside from the occasional email promising compassion, administrators are averting their gaze from students' needs. Efforts to protect students' well-being, such as dealing with food insecurity, have fallen heavily on the shoulders of fellow students.
While the university has offered refunds for some expenses, such as canceled housing contracts, this is no reason to lionize administrators. Doing the bare minimum to fulfill contractual obligations is not the same as meaningfully meeting students' needs.
The argument that additional fees could not be canceled might've worked in spring quarter, with the university still reeling from the profound shift to a new normal. But not anymore.
It is reprehensible to ask struggling students to pay tens of thousands of dollars for a high-quality experience they will not receive. Considering the strong possibility of online learning in winter and spring quarters, the university must develop a tangible plan to reduce fees moving forward.
UCLA may be facing its share of fiscal troubles, but they're not alone in that.