Black Student-Athlete Alliance to provide space for player-driven activism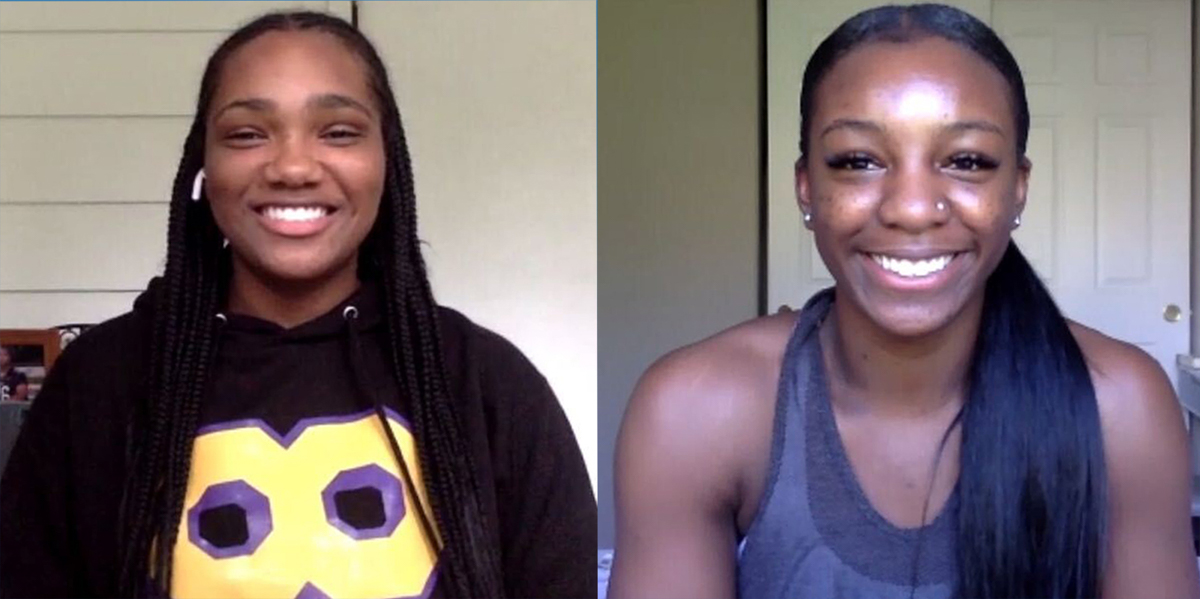 UCLA women's basketball rising senior forwards Lauryn Miller (left) and Michaela Onyenwere (right) are members of the newly formed UCLA Black Student-Athlete Alliance. (Screen capture by Ellie Tsai/Daily Bruin)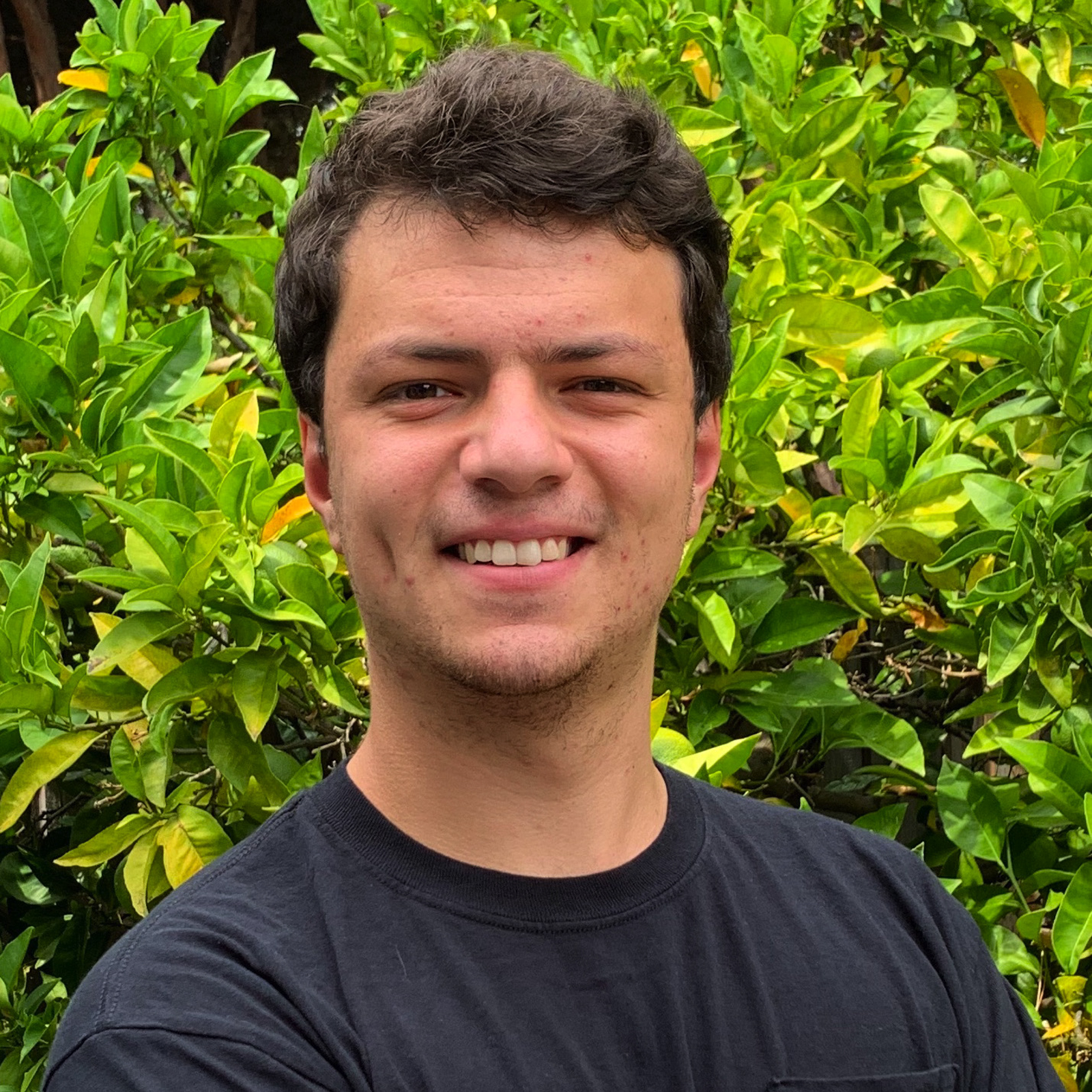 Sept. 22, 2020 11:10 a.m.
Black UCLA student-athletes now have a group to call their own.
The founding of the UCLA Black Student-Athlete Alliance was announced Aug. 25 on the BSAA's Instagram account amid ongoing protests against police brutality toward Black Americans.
The group's formation follows the creation of similar groups at Pac-12 schools like UC Berkeley and Stanford.
The BSAA's leadership group is composed of current and former Black student-athletes, from sports including football, women's basketball, women's tennis, track and field, men's volleyball, women's soccer and gymnastics.
"We are so excited to announce our newly formed UCLA Black Student- Athlete Alliance," the BSAA's post said. "Through this group, we want to create a safe space for Black athletes to grow & elicit change on campus and beyond. We will no longer remain silent."
Among the leadership group are women's basketball rising senior forwards Lauryn Miller and Michaela Onyenwere, football rising redshirt sophomore defensive end Elisha Guidry, track and field graduate multi Christina Chenault and men's volleyball rising redshirt sophomore opposite/outside hitter Kevin Kobrine.
According to Miller and Onyenwere, the group has met over Zoom biweekly to provide a safe speaking space for Black student-athletes and plans to soon hold an athletes town hall.
With UCLA Athletics canceled through the end of 2020, Onyenwere said the group will influence the community even without games.
"Being the first group that this is on the UCLA campus, that within itself is going to make an impact," Onyenwere said. "People are going to see us, and see us as more than just athletes, and see that we are Black before athletes, and that's super important to us."
Miller said it is unfortunate that conversations about racial justice still have to take place, but she is hopeful the coronavirus pandemic will force people to see the movement and have tougher conversations surrounding race.
The women's basketball upperclassmen said such conversations have gone well within their team, but Onyenwere said they want to provide a unified space in the BSAA for Black student-athletes on teams that are not predominantly Black.
Track and field rising junior sprinter Kyrah Johnson, a member of the leadership group, said she originally worked as the athletic liaison for the Afrikan Student Union at UCLA before joining the BSAA, and she said the BSAA will push the university to live up to the tolerance UCLA purports to provide.
"I know UCLA claims to be inclusive," Johnson said. "I'd say (if the BSAA accomplishes its goals) that UCLA will actually be inclusive. UCLA has made some progress – with the push from ASU, they finally gave us a Black Resource Center when students have been fighting for it for years. My grandpa was in (the Undergraduate Students Association Council) – they were fighting for it then."
Johnson also said the BSAA registered under the Harambee Council – a group of more than 20 organizations that support the African American community at UCLA – and is not under the purview of UCLA Athletics.
Despite the BSAA's independence from UCLA Athletics, Miller and Onyenwere credit Associate Athletic Director Kenny Donaldson for his contribution in starting the alliance, and said newly hired Athletic Director Martin Jarmond has been willing to listen to the BSAA and have meetings where ideas can be shared.
"(Donaldson) had already been talking to a couple of Black athletes," Miller said. "He worked on empowering us and being able to realize our potential and our power to bridge from our separate sports teams and to be together as one unit, to provide unity and strength for each other."
Boycotts and protests will be discussed by the group with the best interests of the racial justice movement in mind, Miller said, while taking into account the potential ramifications of actions for athletes and teams.
Miller also said the goal of the alliance would be for Black student-athletes to have their voices respected in activism, not discounted because of their playing sports.
"A big issue with athletes striking in the NBA and WNBA is a constant rhetoric of, 'Just do your job and play your sport,'" Miller said. "(I hope) we can get to a space where you understand (as) Black athletes, I'm Black first, I'm Black after the game, I'm Black after practice."
Johnson agreed and said Black student-athletes are speaking up because without UCLA apparel on their bodies, they are treated the same as other Black people and should not be limited to just talking about athletics.
"By (saying), 'Shut up and dribble,' you're basically saying that we have no worth other than being athletes," Johnson said. "That's really disrespectful. All Black student-athletes can be affected by things that affect every single Black person in America."
According to Johnson, the BSAA's work extends beyond campus grounds, as the group aims to educate children on racism in Westwood and the broader Los Angeles community.
Onyenwere said she was encouraged by the tolerant, no-nonsense nature of her own generation growing into the movement fighting for a safe future for Black Americans.
"There should not be any reason why my skin is threatening to another person, (or) should be a death sentence," Onyenwere said. "I should be able to live comfortably in this world, in this country, and my future kids should be able to live comfortably in this country without having to fear for their lives."
And as the school year begins, Johnson said student-athletes will not be afraid to make their opinions known.
"Each Black student-athlete (Donaldson has picked), we got a mouthpiece on us and we have no problem saying what needs to be said and being a part of change," Johnson said.
Waldman is currently an assistant Sports editor for the men's volleyball, women's volleyball, track and field, beach volleyball and men's soccer beats. He was previously a reporter on the women's basketball and beach volleyball beats. Waldman is a second-year political science major at UCLA from Alameda, CA.
Waldman is currently an assistant Sports editor for the men's volleyball, women's volleyball, track and field, beach volleyball and men's soccer beats. He was previously a reporter on the women's basketball and beach volleyball beats. Waldman is a second-year political science major at UCLA from Alameda, CA.