Pro Bruin Rundown: Gerrit Cole throws shutout, Carlos Bocanegra named to Hall of Fame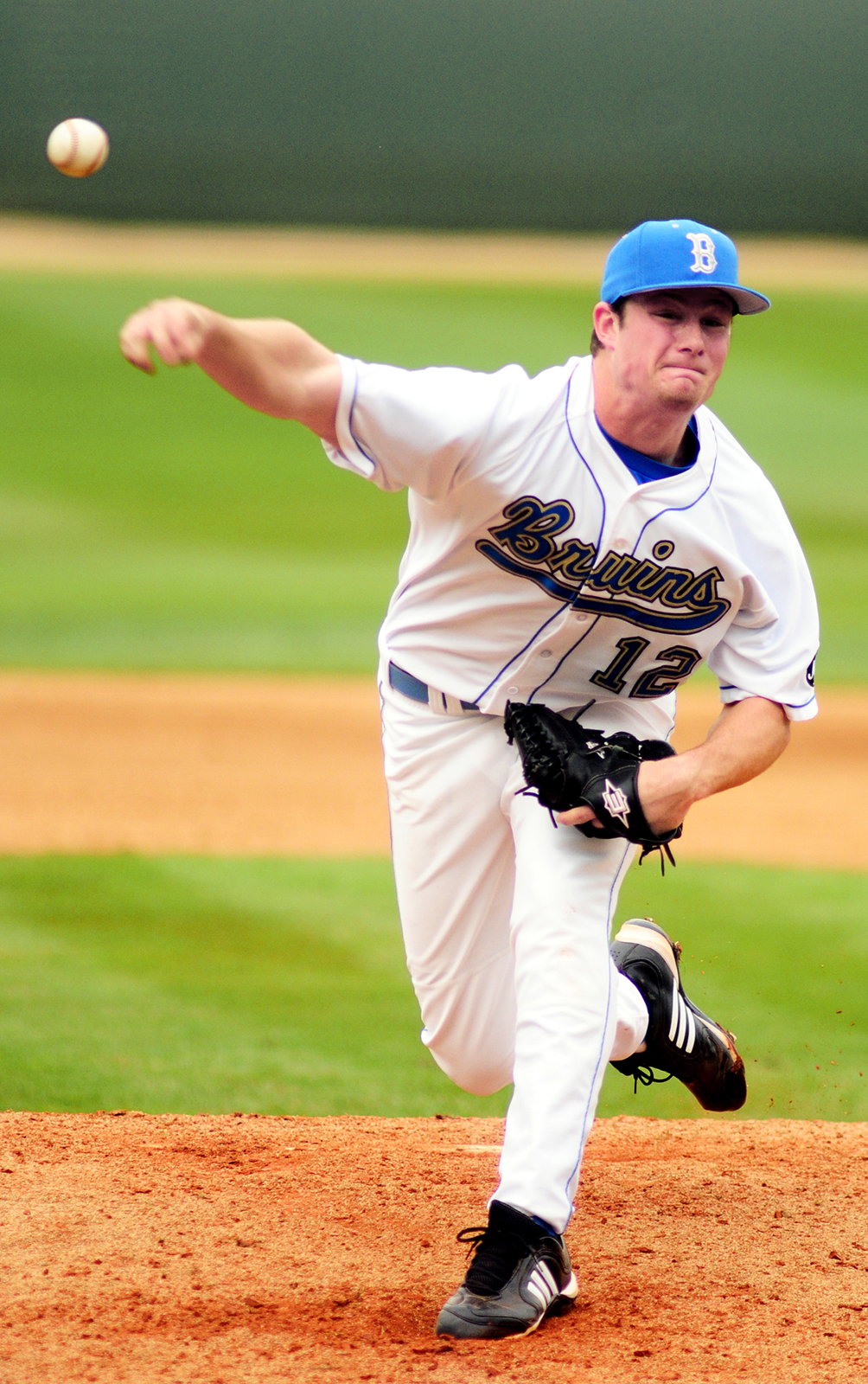 Former UCLA baseball pitcher Gerrit Cole is 5-3 with a 3.20 ERA in his first season with the New York Yankees. (Daily Bruin file photo)
As college sports continue to be pushed back because of the COVID-19 pandemic, professional leagues have restarted. Each Monday, Daily Bruin Sports will highlight a few standout alumni performances from the past week in ongoing leagues as we await the return of university athletics.
Gerrit Cole, New York Yankees and Trevor Bauer, Cincinnati Reds, MLB
After losing a regular season game for the first time in more than 15 months Aug. 26, New York Yankees ace Gerrit Cole – a Bruin from 2009-11 – dropped his next two starts as well. He bounced back Friday, tossing a complete game shutout against the Baltimore Orioles.

The 2019 Cy Young Award runner-up went the distance for the Yankees in the doubleheader-shortened, seven-inning contest. He allowed only two hits and one walk while striking out nine Oriole batters.
Like Cole, Cincinnati Reds starting pitcher Trevor Bauer – Cole's teammate at UCLA – suffered three straight defeats before his start this past week. Toeing the rubber against the Chicago Cubs on Wednesday, Bauer returned to his early-season form, throwing 7 2/3 scoreless frames and earning his fourth win of 2020.

Bauer allowed three hits, did not walk a batter and fanned 10 in the victory. His 1.74 ERA is second-best in the National League, and his 36.0% strikeout percentage is second highest among NL starters.
Cole's complete game shutout was his second complete game of the year – his first was a five-inning outing on a rain-shortened Opening Night – putting him in a tie for the most in the majors with Bauer, who has thrown two seven-inning complete game shutouts of his own.

Joshua Kelley, Los Angeles Chargers and Krys Barnes, Green Bay Packers, NFL
Making his NFL debut Sunday, former UCLA football running back Joshua Kelley made his presence known as the Los Angeles Chargers defeated the Cincinnati Bengals 16-13. Kelley had 12 carries for 60 yards and scored his first career touchdown in the Chargers' season-opening contest.
While Kelley is listed as the Chargers' third option on ESPN's depth chart, he was the lone backup for starting running back Austin Ekeler in the second half. All 12 of the former Bruin's touches came in the final 24 minutes of the game as the Bolts overcame a 13-6 fourth-quarter deficit.
Back in April, Krys Barnes did not hear his name called on draft night. However, the Green Bay Packers gave him a chance, signing him to their practice squad, and the former UCLA football linebacker was with the team through training camp.
A day before they took on NFC North rival Minnesota Vikings, the Packers added Barnes to their 53-man roster, and he was on the field for the season opener. Barnes' seven tackles were good for second on the team, and his two tackles for loss are tied for the league lead after Sunday's games.
Norman Powell, Toronto Raptors, NBA
The Toronto Raptors' title defense ended Friday when they lost Game 7 of the Eastern Conference semifinals to the Boston Celtics by a score of 92-87. While former UCLA men's basketball guard Norman Powell only scored 11 points in the losing effort, Game 7 was forced in part because of his Game 6 performance.

Powell scored 23 points on 6-for-11 shooting in 38 minutes off the bench in the Raptors' double-overtime 125-122 victory. Powell scored 15 of his points in the overtime periods, including an and-1 to put his team up four with fewer than 40 seconds left on the clock.
Carlos Bocanegra, National Soccer Hall of Fame
Another Bruin will be enshrined in the National Soccer Hall of Fame.
On Tuesday, the Hall of Fame announced that Carlos Bocanegra – the lone player in the 2020 class – would become its 305th member after appearing on 68.5% of ballots. The defender played for UCLA men's soccer from 1997-1999, capturing a national championship in his freshman season, making the Best XI in his sophomore season and receiving a Player of the Year nomination in his junior season.
Following his third year, Bocanegra turned pro and was drafted fourth overall in the 2000 MLS SuperDraft by the Chicago Fire. Bocanegra won Rookie of the Year in 2000 and back-to-back Defender of the Year awards in 2002 and 2003.
The Rancho Cucamonga, California, product moved to Europe following the 2003 season and played the next 10 years in England, France, Scotland and Spain before a final stint in the MLS.
Bocanegra also played for the U.S. Men's National Team, earning 110 caps – tying for the 10th most of all time. He donned the captain's armband 64 times, and his 14 international goals are still the most by an American defender.
The defender will be the sixth Bruin in the Hall of Fame when he is inducted with the class of 2021 next year – the 2020 ceremony was canceled because of the COVID-19 pandemic. Bocanegra joins Paul Caligiuri (a Bruin from 1982-86, inducted in 2004), Cobi Jones (1988-92, 2011), Joe-Max Moore (1990-93, 2013), Sigi Schmid (1972-76 as a player, 1980-99 as head coach, 2015) and Brad Friedel (1990-93, 2018).
Keilin is currently a Sports senior staff writer. He was previously an assistant Sports editor on the baseball, women's soccer, cross country, women's golf and men's golf beats. Keilin was also a contributor on the baseball, women's golf and men's golf beats.
Keilin is currently a Sports senior staff writer. He was previously an assistant Sports editor on the baseball, women's soccer, cross country, women's golf and men's golf beats. Keilin was also a contributor on the baseball, women's golf and men's golf beats.