Opinion: Funding cuts for BEST program show UCLA's lack of support for students activists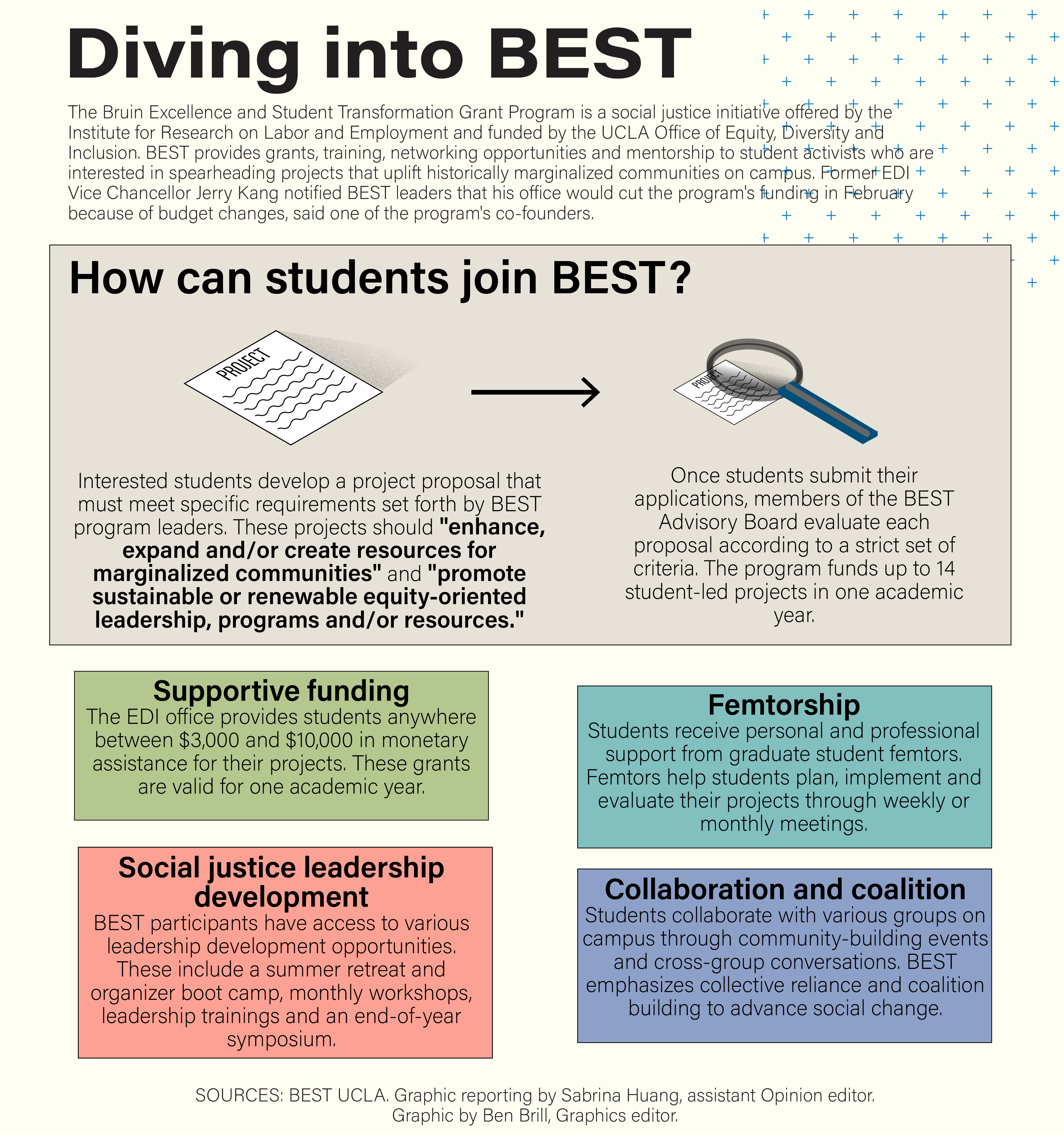 (Ben Brill/Graphics editor)
If there's one thing UCLA administration does, it's talk.
But when it comes to following through, it seems content to do nothing.
Back in February, Jerry Kang, then-vice chancellor for equity, diversity and inclusion, cut funding for the Bruin Excellence & Student Transformation Grant Program. The BEST program provided funds for social justice projects and marketing services to on-campus student activist groups. This decision came after universitywide budget cuts, according to an emailed statement from interim EDI Vice Chancellor Carole Goldberg.
Since the university is no longer providing financial resources to BEST, co-founder Kareem Elzein announced in July that the program would be forced to cease operating, leaving groups supported by BEST without much-needed support.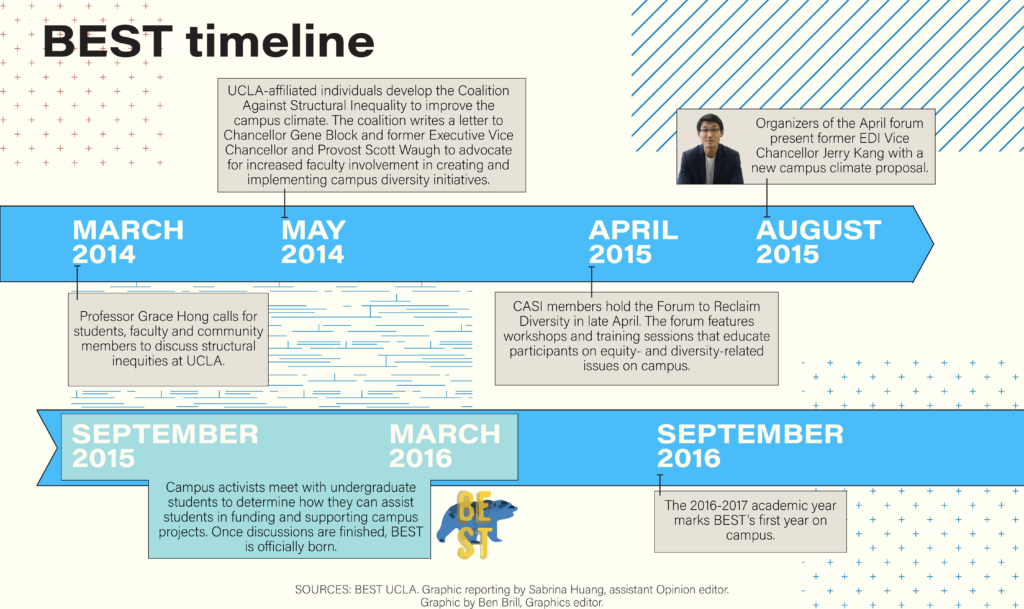 According to the BEST website, the program offers project leaders between $3,000 and $10,000 to complete their social justice programs and opportunities to attend leadership trainings.
The university doesn't have much in the way of money to spend, but programs like BEST must be prioritized. UCLA needs to support underrepresented communities through both its rhetoric and its actions because denying student activists vital support during a national reckoning over systemic racism is dangerous. The university must reallocate money from other areas, like UCPD's multimillion-dollar budget, to provide resources to marginalized students.
On June 30, Chancellor Gene Block and Executive Vice Chancellor and Provost Emily Carter wrote a message to the UCLA community detailing the extensive steps the university would take to create a more equal campus. In the final paragraph, Block and Carter said every university is being challenged to create a more equitable environment, and UCLA will rise to the challenge.
But talking about equity is easy. Protecting an underfunded program committed to activism is much harder.
Brenda Lopez, former media coordinator of BEST and a doctoral student studying education, said the initiative was important because it provided valuable resources that allowed students to mobilize for change on campus.
"BEST gave student activists more resources including mentorship, leadership development and funding support," Lopez said.
BEST provided graduation headshots for the Underground Scholars Initiative, a group that worked closely with BEST and supports formerly incarcerated and system-impacted students. Even a service as common as headshots can go a long way for students who wouldn't traditionally get them, setting them up better for life in the professional world.
The EDI office's decision to essentially throttle BEST should come as little surprise to students. Administrators have shown little interest in supporting students working toward change and appear to support equity efforts only when they bring recognition to the school.
For example, in Block and Carter's message to the UCLA community, the two announced a plan to commit $250,000 for seed research grants aimed at funding projects on racial inequities and racial justice. While this looks good on the surface, it actually takes money away from student-led organizations and gives it to researchers who work for the university – essentially another talking point UCLA can add to its long list of thinly veiled accomplishments.
And the money for research grants is still nothing compared to UCPD's budget.
Humberto Flores, an alumnus and former member of the Underground Scholars Initiative, pointed out that UCLA never seems to have a problem finding funding for the police department.
"UCPD always has a huge budget," Flores said. "The university could reallocate some of that money to programs that support marginalized students."
The university spent more than $21 million on the UCPD between 2018 and 2019, yet just $603,000 on the EDI office. This huge disparity in expenditures reflects a consistent problem with UCLA – it pours an unreasonable amount of money into security measures while hurting student-run initiatives.
"Our estimates through June show that UCLA has incurred approximately $180 million in losses," Goldberg said in an emailed statement. "Given our current budgetary constraints, the incoming VC for EDI will need to conduct a full review of budget priorities, programs and expenditures when she takes her new position."
Although future budget cuts can be attributed to coronavirus, the February cuts that dissolved BEST can't be explained away so easily. And while the new incoming vice chancellor will have to pinch pennies, UCPD will see a budget increase to more than $22 million dollars – another slap in the face to student activists calling for reform.
Granted, the university has made strides aimed at addressing systemic racism on campus. Administrators plan on dedicating staff members in strategic communications to amplifying the voices of underrepresented communities. UCLA is also going to fund a Black Student Resource Center for the upcoming year.
But as usual, it is leaving out a critical component – students. Adding staff members and faculty advisors is a great public relations move, but cooperation with students is the only way to fix institutional problems.
It's time for UCLA to stop talking and start listening. And after listening, the administration needs to do something that will make it very uncomfortable.
It needs to act.