Op-ed: Democrats must engage and advocate for Latino community to win 2020 elections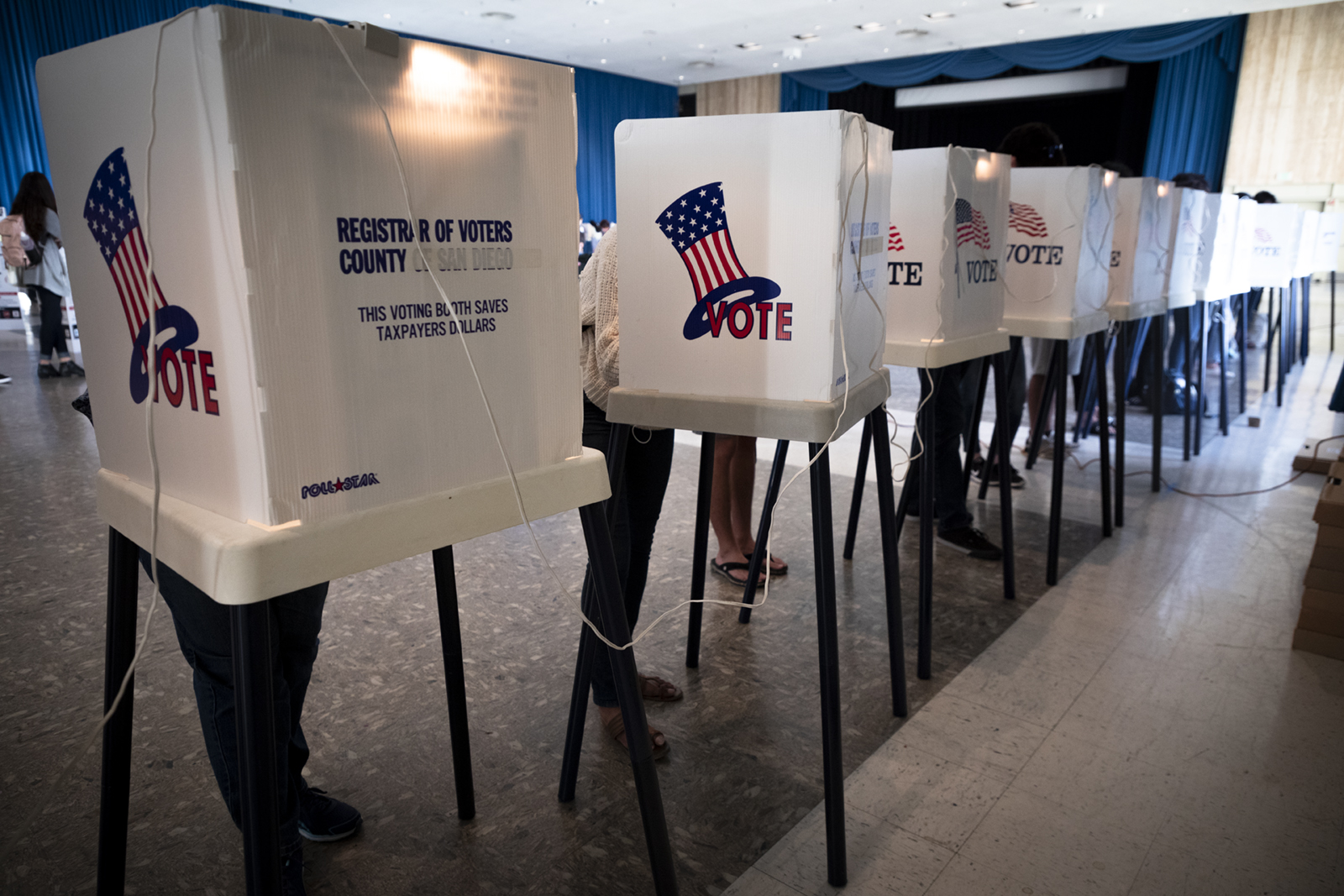 The Democratic Party must recognize and listen to the voices of Latino voters in the upcoming presidential election. (Liz Ketcham/Daily Bruin senior staff)
America is weeks away from the 2020 elections, and to date, the Democratic Party has fallen short in recognizing the 32 million eligible voters key to winning back Congress and the White House – Latinos.
Time and again, Latinos are compartmentalized as a monolithic community only invested in immigration, although polls have shown that this is not the case. Currently, the proposed 2020 Democratic platform only mentions Latinos 10 times, and as the nation's demographics steadily shift toward majority-minority status, Democratic candidates in 2020 must meaningfully include Latinos across all issues, especially those arising because of the COVID-19 pandemic, climate change and policing. Victory for Democrats in 2020 depends on serving all Americans, especially the country's largest ethnic minority.
The upcoming November elections offer an opportunity for Democratic candidates to advance solutions to the inequities that persist in this nation. More Latinos than non-Latinos claim the pandemic is a substantial threat to their personal health – 39% vs. 27% – and personal financial situation – 50% vs. 34%. In Los Angeles alone, Blacks and Latinos are twice as likely to die from the coronavirus. Much of this has to do with the reality that these communities rely heavily on public transportation and have a greater need to work outside of their homes. The Democratic Party and its candidates must put forth policies that better ensure all Americans are cared for, no matter their employment or health care status.
Much like COVID-19, climate change impacts are not distributed equally throughout the United States. Latinos are particularly vulnerable to climate change threats because of where they traditionally live and work. In fact, more than 60% live in four key states – California, Texas, Florida and New York – that have previously experienced extreme global warming effects from roaring wildfires to rising sea levels. Latinos are also more alarmed than whites – 69% vs. 49% – about the impacts of global warming and more likely to advocate for change. Tapping into one of the fastest-growing voting blocs demands investing in climate change initiatives that ensure all Americans have equitable access to the green economy and healthier communities.
Following the tragic killing of George Floyd by Minnesota police, protests from all 50 states have made clear that criminal justice reform is a cornerstone issue for both Black and Latino communities in 2020. Alongside George Floyd, Breonna Taylor and Michael Brown, Latinos like Andres Guerrero, Vanessa Guillen and Sean Monterrosa have also fallen victim to our broken criminal justice system. While activists demand to defund police departments for reinvestment into jobs and education, the proposed 2020 Democratic Party platform does not call for these cuts and instead proposes increased funding for officers' health and well-being. If Democratic candidates hope to solidify Latino support in November, they must actively advocate for the criminal justice policies that genuinely seek to end systemic police violence against communities of color.
From a strategic standpoint, targeting one ethnic group may, to some, contradict traditional campaign tactics of expanding the base through a deracialized approach that has even been utilized by the campaign of President Barack Obama. However, with 32 million eligible Latino voters making up 13.3% of all eligible voters in 2020, Democrats can not afford to exclude us from their 2020 campaign strategy. Regardless of knowing this, the Democratic National Committee has chosen to exclude Julián Castro from speaking at the 2020 Democratic National Convention despite him being the only Latino presidential candidate in 2020. The DNC has also chosen to allot only 60 seconds to speak for New York Rep. Alexandria Ocasio-Cortez, a proud Latina and the youngest woman ever elected to Congress.
Meanwhile, former presidential candidate Bernie Sanders won the most votes from Latinos in California, Texas and Nevada after actively including them in his campaign's policy agenda and investing in Latino outreach to amplify that agenda. With almost 10 million Latino voters concentrated in the battleground states of Texas, Florida and Arizona, taking back the White House and Congress in 2020 will be contingent on Democratic candidates energizing Latinos to the ballot box by engaging our communities and advocating our policy needs.
Beyond immigration, Latino policy demands encompass a variety of issues from health to climate change to policing and many others. Latinos are part of the American fabric and deserve to be engaged as such. As the Republican Party continues alienating Latinos, Democrats must seize this moment by meaningfully including us because with Latinos set to make up one in three Americans by 2060, we could represent the present and the future for the party's base.
As already shown by some 2020 candidates, mobilizing Latinos to vote blue in November will come when we see our needs reflected in the party's policy priorities and when Democratic candidates finally treat every issue as a Latino issue.
Diana Garcia is a 2021 policy fellow at the UCLA Latino Policy and Politics Initiative who studies public policy at UCLA's Luskin School of Public Affairs.

Nick Gonzalez is a 2021 policy fellow at the UCLA Latino Policy and Politics Initiative who recently graduated from the University of Southern California with a political science degree.