Donald Prell remembered for dedication to UCLA, military and technological service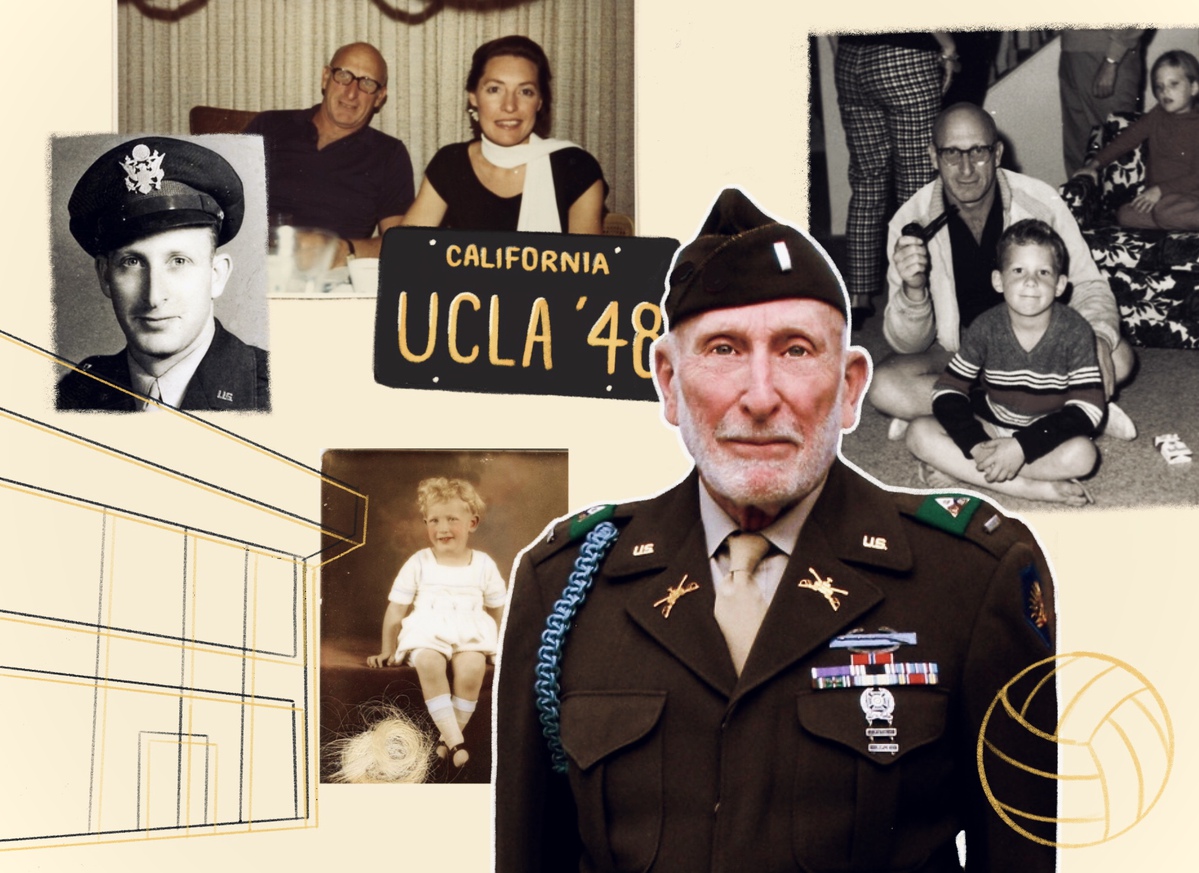 Donald Prell — who was a prisoner of war in World War II, UCLA aficionado and venture capitalist — passed away July 28. His family and friends remember him for his love for UCLA and forward thinking. (Photos courtesy of Owen Prell, Photo Illustration by Nghi Nguyen/Daily Bruin)
UCLA alumnus Donald Prell passed away last month at the age of 96, but leaves a lasting impact on the UCLA community.
Donald Prell, who was a prisoner of war in World War II, a UCLA aficionado and venture capitalist, passed away of natural causes July 28. He is survived by his wife, two children, son-in-law, daughter-in-law and six grandchildren and stepgrandchildren.
His family and friends remember him for his progressive and open-minded attitude, along with his love for UCLA. Donald Prell loved UCLA because its values aligned with his own and it had a diverse student population, which was not common for the 1940s, said Owen Prell, Donald Prell's son.
Donald Prell recognized UCLA's potential and wanted to help make it the world class university it is today, Owen Prell said.
In the 1980s, he founded, and was the first chairman of, the UCLA College of Letters and Science Dean's Council, a group dedicated to fundraising and lobbying for the interests of the college, Owen Prell said.
He also frequently made donations to UCLA, earning him a position as a member of the Chancellor's Associates, a donor recognition program. He was a trustee of the UCLA Foundation, an entity that receives and distributes donations.
Donald Prell was also a former president of the Order of the Blue Shield, an alumni group dedicated to furthering the interest and welfare of UCLA, and founded the Bette and Don Prell Merit Scholarship, which awards $2,000 annual scholarships to three high achieving UCLA students.
In 1977, UCLA honored Donald Prell with the University Service Award for organizing fundraising efforts to build the James E. West Alumni Center.
Donald Prell began his UCLA career in 1942 as an undergraduate student studying physics. One year later, he was a 19-year-old second lieutenant in World War II.
"Imagine, you're on the Westwood campus and life is just fine and dandy," Owen Prell said. "And the next thing you know you're getting shot at, you're captured, you're starving, you're freezing, your comrades are dying … That was the formative event in his life."
In December 1944, German soldiers captured and imprisoned Donald Prell during the Battle of the Bulge. He then spent five months as a prisoner of war before escaping in May 1945.
After the war, Donald Prell resumed his education at UCLA and switched his major to psychology after observing how other POWs grappled with their situation during his imprisonment, Owen Prell said.
By studying psychology, Donald Prell hoped to continue learning about what makes people tick and what helps them cope, he added.
When Donald Prell returned to campus, he was excited to be a student again because of UCLA's diverse student body, which he learned to appreciate more after the war, Owen Prell said. However, he was not blind to the reality of racial segregation in Westwood in the '40s, Owen Prell added.
When Donald Prell attended UCLA, he was involved in integration efforts, Owen Prell said. Once, he and a classmate led advocacy efforts for integration in a Westwood barbershop, he added.
Collin Prell, Donald Prell's grandson, said Donald Prell became a "futurologist" after the war and would constantly try to predict which technologies would become more used in the future.
In the 1950s, Donald Prell collaborated with several computer industry pioneers, such as RAND corporation futurist Herman Kahn, Owen Prell said. They worked together to build a new computer technology and application industry, and to help the military and the government, Owen Prell said.
"He just had no fear about starting a new business … or whatever the endeavor was, because what was there to be scared about when you've already survived the worst thing anyone can imagine?" Owen Prell said.
Donald Prell was always curious about technology, Owen Prell said. So when Donald Prell moved into finance, he often viewed it with a technological lens, he said.
Donald Prell also created and published Datamation, one of the earliest magazines dedicated solely to the computer data-processing industry.
Donald Prell became the founder and president of two venture capital firms, Union Ventures in 1967 and Imperial Ventures in 1980.
In the 1960s, Donald Prell predicted the widespread use of ATMs and online banking while working within the finance industry, Owen Prell said.
"He was always swiveling his head towards the future," Owen Prell said.
Donald Prell also cared about promoting diversity and equality in the workspace, Collin Prell said.
Cyndee Herles, one of Donald Prell's friends and former employees, said she was able to learn and succeed in banking — a male-dominated space — by working with him.
When Herles had a baby in 1985, she requested more time off work. Donald Prell told her to take as much time off as she needed and encouraged her to bring her baby into the workplace, which was uncommon for the time, she said.
Donald Prell was highly regarded and well-respected by everyone in the office, Herles added.
"My favorite thing he used to do is every night … He would always say your name and say 'thank you for being you,'" she said. "He just appreciated you for who you were."
Donald Prell was known to banter with his colleagues who were USC alumni when they would wear their school's ball caps on USC game days, Herles said.
He was proactive in letting people know he loved UCLA, Herles said. Donald Prell drove a car with a "UCLA '48" license plate to display his love for his alma mater, Owen Prell said.
His grandfather's passion for UCLA and futurologist tendencies were admirable, Collin Prell said.
"What made him so special was that he didn't find himself particularly special," he said. "But he really was special … and I'm going to miss him a lot."