Op-ed: UCLA should lower budget deficit by converting parking into affordable housing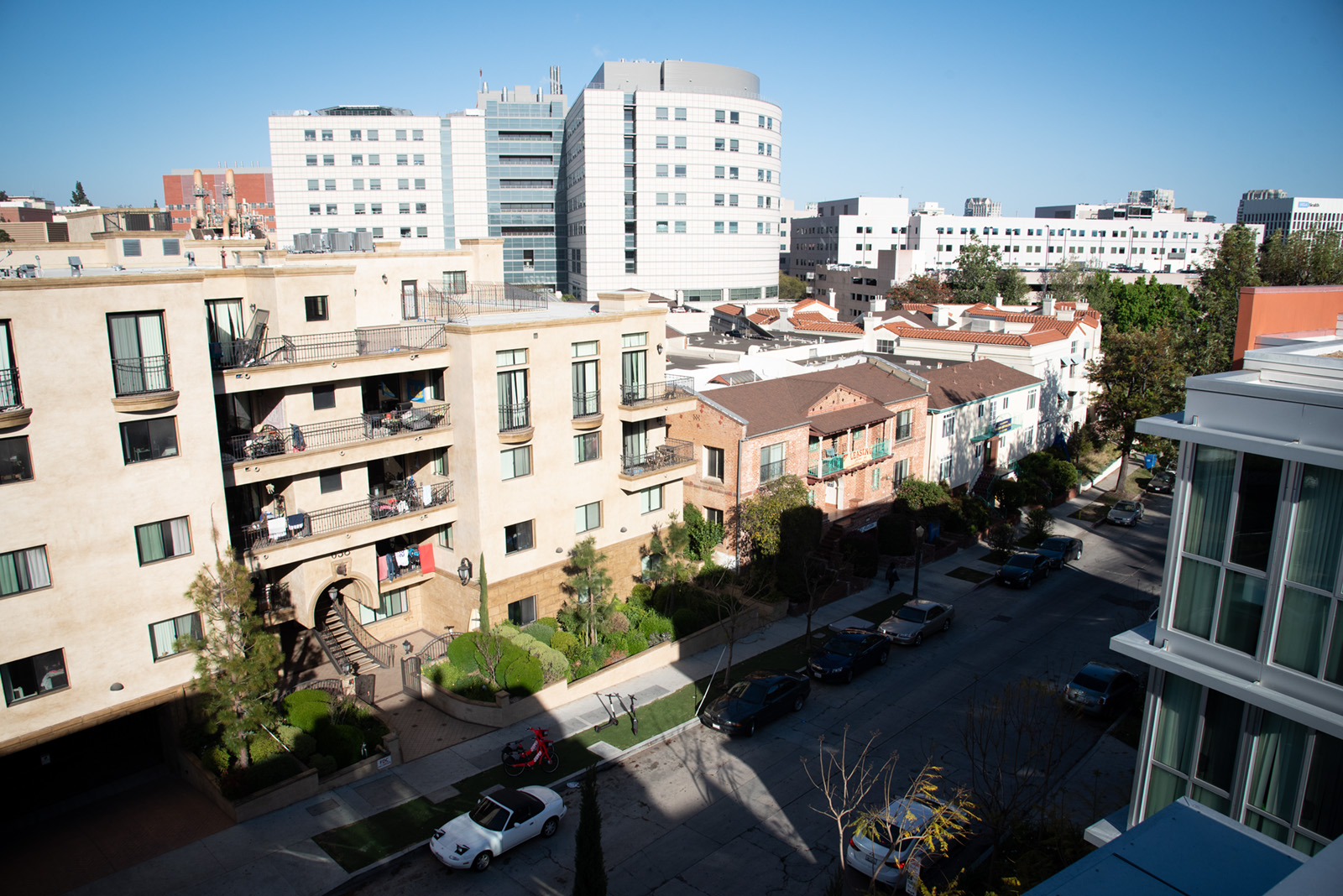 UCLA should consider converting at least one of their parking lots to affordable multistory apartment buildings for public servants in order to make up for the budget deficit brought on by the COVID-19 pandemic. (Daniel Leibowitz/Daily Bruin staff)
Here's what shrinking university budgets and a housing paucity could have in common.
In the recent past and likely into the next generation, it is hard to imagine that public universities will receive adequate state and federal funding to carry out their missions to educate the next generation's workforce.
As a UCLA student in the 1990s, I paid about $1,500 in tuition as an in-state student, which at times, caused an uproar. Current tuition is about $13,200 per year for California residents, while out-of-state students pay close to $43,000 per year for tuition and fees. The out-of-state fee has increased 4.2% each year the last five years alone.
Rent cost in Los Angeles alone has gone up 65% since 2010, the most expensive in the last ten years. The average apartment is $2,527 per month. It is nearly double that in Westwood, a few dollars short of $5,000 per month.
The university's budget is always tight and no one is ever happy. With the COVID-19 budget challenge, it is safe to assume that universities will have a funding dilemma for at least the coming generation. Is there potentially a small way to meet that funding gap, outside of COVID-19's financial havoc?
Given this challenge, UCLA – or indeed the Regents – could have a serious discussion about whether housing could be an important future revenue stream.
UCLA's campus is enormous with significant green spaces and room. Building several multi-story buildings, perhaps located near Wilshire Boulevard, may be a responsible generational choice. One candidate is Parking Lot 36 – located right next to Wilshire Boulevard and as a location, potentially worth tens of millions of dollars to the university. No doubt there are other UCLA parking lots that could be potentially converted.
UCLA is not alone. Many university campuses are usually strategically located in many cities, have excellent services with green campuses and parks. In short, they could be offered in the housing market.
In continuing the correct questioning of cars and urban planning, any new housing should not have parking spaces. UCLA's Donald Shoup has led an army of parking reformers, having successfully made the case that free parking continues to have a massive financial, socio-economic and environmental impact on our cities. Parking minimums – that each new apartment needs to have at least one, if not two spaces – are increasingly being scrapped in many cities, the latest being Edmonton. Considering the increasing cost of storing a car, an average of $200 a month in LA for a parking place, this makes dramatic sense. In reality, many apartments could cost up to 25% cheaper if they didn't come with a parking spot. That fact alone goes a long way to ensuring a more just and equitable Los Angeles.
UCLA could demonstrate tremendous leadership in "walking that talk" and in consultation with transport authorities, doing its best to facilitate a more sustainable and equitable Los Angeles. It would show that UCLA fully supports leaving the automobile in the rear view mirror.
Any new development would need to reflect the evolution of space – less is more. With plenty of amenities, parks, access to good transport and a high level of liveability, any new buildings should be sparse on space, down to even 500 square feet, enabling significantly more units and catering to those on the bottom end of the financial scale. No lofts, no first class feel, just an amazingly central 21st century housing offer, similar to a new development in Hollywood.
This century's urban planning will have to grapple with two aspects – space and time. Who wants space when it comes with a three-hour commute? On the reverse side, you can't expect massive luxurious apartments in the absolute center of town. That scenario brings in considerable equity questions. This philosophy has been de rigueur in Europe for decades. Why can't we adopt it?
As possible, the apartments should be for society's unsung heroes – teachers, health workers, those fighting fires and those protecting our community. It is hard to imagine that any of these public servants can eke out a living on the West Side, or anywhere in Los Angeles's inner core for that matter.
Finally, the housing should not be for students. The pandemic has taught all of us that refunding student dormitory fees is disastrously expensive.
COVID-19 has wreaked havoc on UC finances. The impact could be hundreds of millions depending how Governor Gavin Newsom decides to cut the pie. The above proposal would only make a small impact. However, it would help UCLA to creatively think about its assets – monetizing them without privatizing university services – and take a sustainable step forward. Most importantly, it could be a force multiplier, leading to a nationwide discussion about university parking, housing and equity.
Richard Dion is a class of 1992 alumnus and a governance, regional development and communications consultant based in Germany.