Opinion: Student groups must educate Bruins to prevent low voter turnout in upcoming election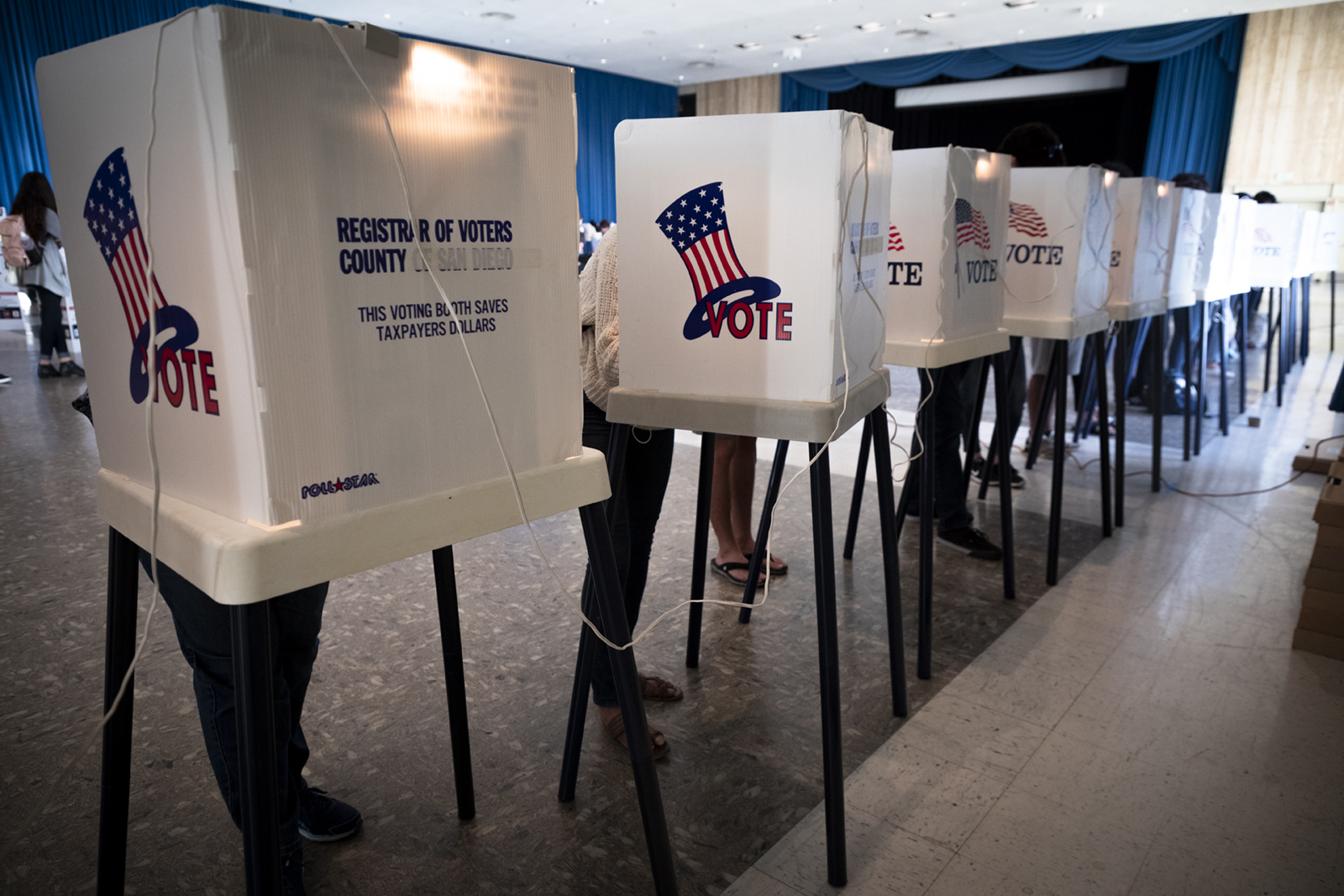 Voter turnout has been historically low among youth. Coupled with a global pandemic that has turned in-person voting into a prominent health risk, the youth vote may suffer a sharp hit in the upcoming general elections. Student organizations must combat this by providing virtual programming to educate students on important social problems and encourage them to vote. (Liz Ketcham/Daily Bruin senior staff)
An upcoming presidential election may not be the first thing on voters' minds amid the turmoil of a global pandemic.
But it should be.
The sudden shift of public agenda due to the COVID-19 pandemic has, in turn, changed what we can expect from the 2020 presidential election.
California Gov. Gavin Newsom signed an executive order in May requiring election officials to send all registered voters mail-in ballots for the general election.
In response to Newsom's executive decision, President Donald Trump tweeted a contrived claim that a vote-by-mail system would incite widespread fraud, despite the fact that only 0.0025% of votes cast by mail in the 2016 and 2018 general elections were flagged as fraudulent.
Though mail-in ballots offer a solution to such forms of voter suppression, this style of voting may be new and unfamiliar for many Californians. Because voter turnout among youth is already so low, student organizations must work to educate Bruins on how to effectively cast their ballots in the fall. With issues like our national coronavirus response, racial justice and reproductive freedom indirectly on the ballot, it is especially imperative for UCLA students to increase their political involvement.
And the increased flexibility provided by the virtual sphere allows student organizations to inform students of candidates' positions and shed light on important policy matters.
In this year's California primary, slightly less than 47% of registered voters voted. Los Angeles County in particular saw a noticeably lower participation rate of 38%. Despite long lines, the turnout rate for California's 2020 primary is the second-highest in almost 40 years, according to California Secretary of State Alex Padilla. And the problem of low voter turnout is uncomfortably close to UCLA's own student population. Just 45% of Bruins cast a ballot in the 2018 midterm elections.
All things considered, now is the ideal time for Bruins to increase their political participation.
And the widespread shift of on- and off-campus organizations to virtual platforms may just be the thing students need.
Student organizations, like California Public Interest Research Group Students, are working hard to prepare for a mostly online school year leading up to the 2020 general election.
Bruins are likely familiar with CALPIRG representatives who help students register to vote before and during election seasons.
Nicolas Riani, state board chair of CALPIRG Students and board member of CALPIRG at UCLA said CALPIRG is modifying its voter registration efforts in accordance with new safety procedures.
"Normally we're waving down students on campus or making in-class announcements, but now we're doing phone banking and we're working with administration to email students to register to vote," said Riani, a fourth-year public affairs student. "The only thing that changed is that a lot of the tactics will be online versus in person."
Other student groups like Bruin Democrats are adjusting their weekly meetings to a virtual setting.
"We have (group video calls) where we all jump on and phone bank with people from Democratic organizations so that we can feel like we're still with our fellow Democrats," said Sara Wang, external vice president of Bruin Democrats and a second-year political science student.
According to its social media, Bruin Republicans is also continuing its political work online with similar tactics, including phone banking.
But student organizations are not solely responsible for facilitating student involvement. Bruins concerned with the potential outcomes of the upcoming election should explore ways they can get politically involved from home.
Melody Niv, the Southern California college network lead at Swing Left and a UC Berkeley graduate, said now is an important time to engage voters in states that are projected to have the greatest impact on the presidential election.
"Students can write letters to voters in super states that talk about why they personally think (the recipient's) vote matters," Niv said.
It is true that young voters are reputably progressive, backed by an era of social media activism. However, that doesn't always produce numbers at the voting booth. The large bodies of nonvoting youth just goes to show that much of the generation is not as politically involved as some may think.
Student organizations have an obligation to help Bruins navigate a sea of political issues so they can make well-informed decisions come November.