UCLA softball's Jenavee Peres plays many positions as catcher, student and mom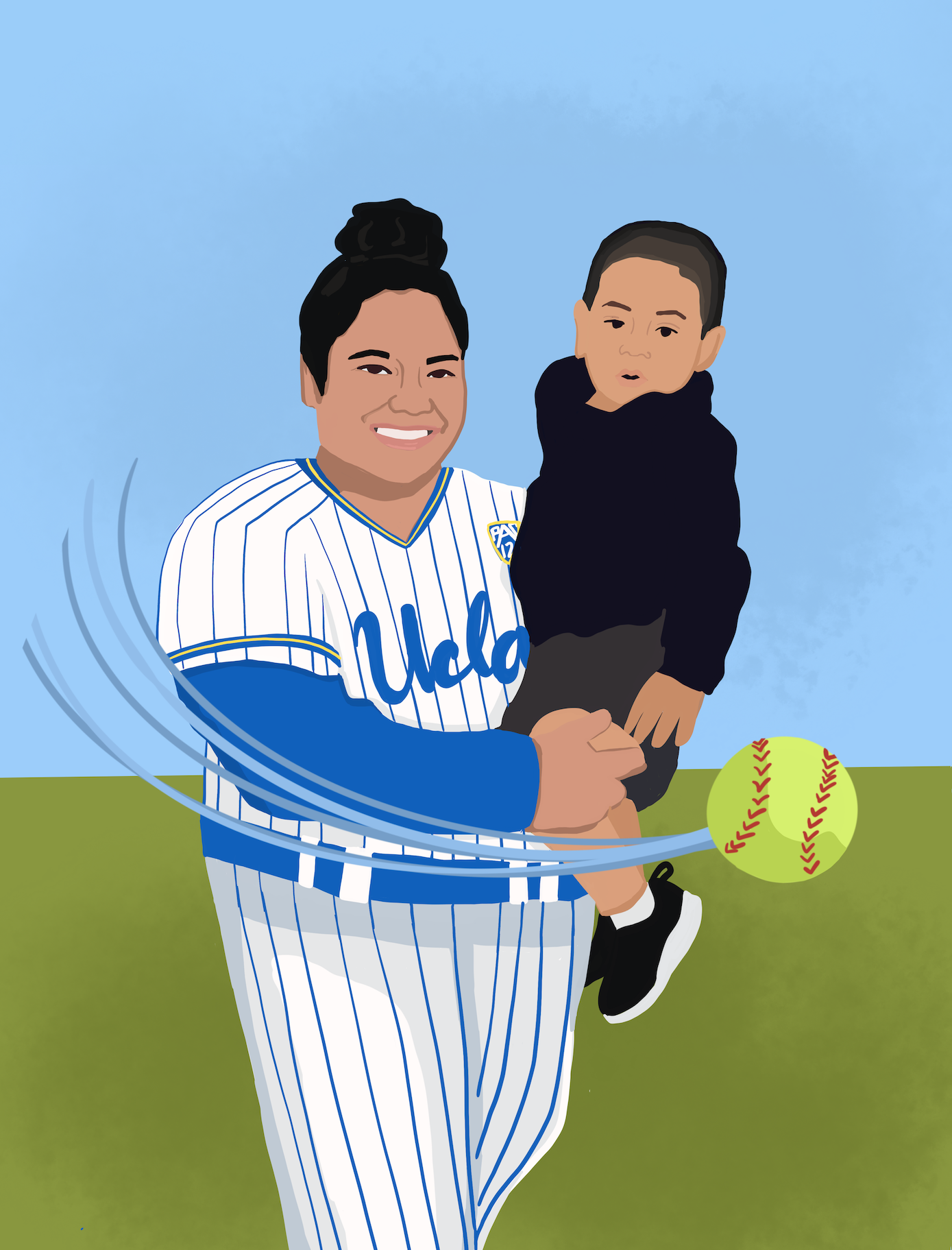 (Emily Dembinski/Illustrations director)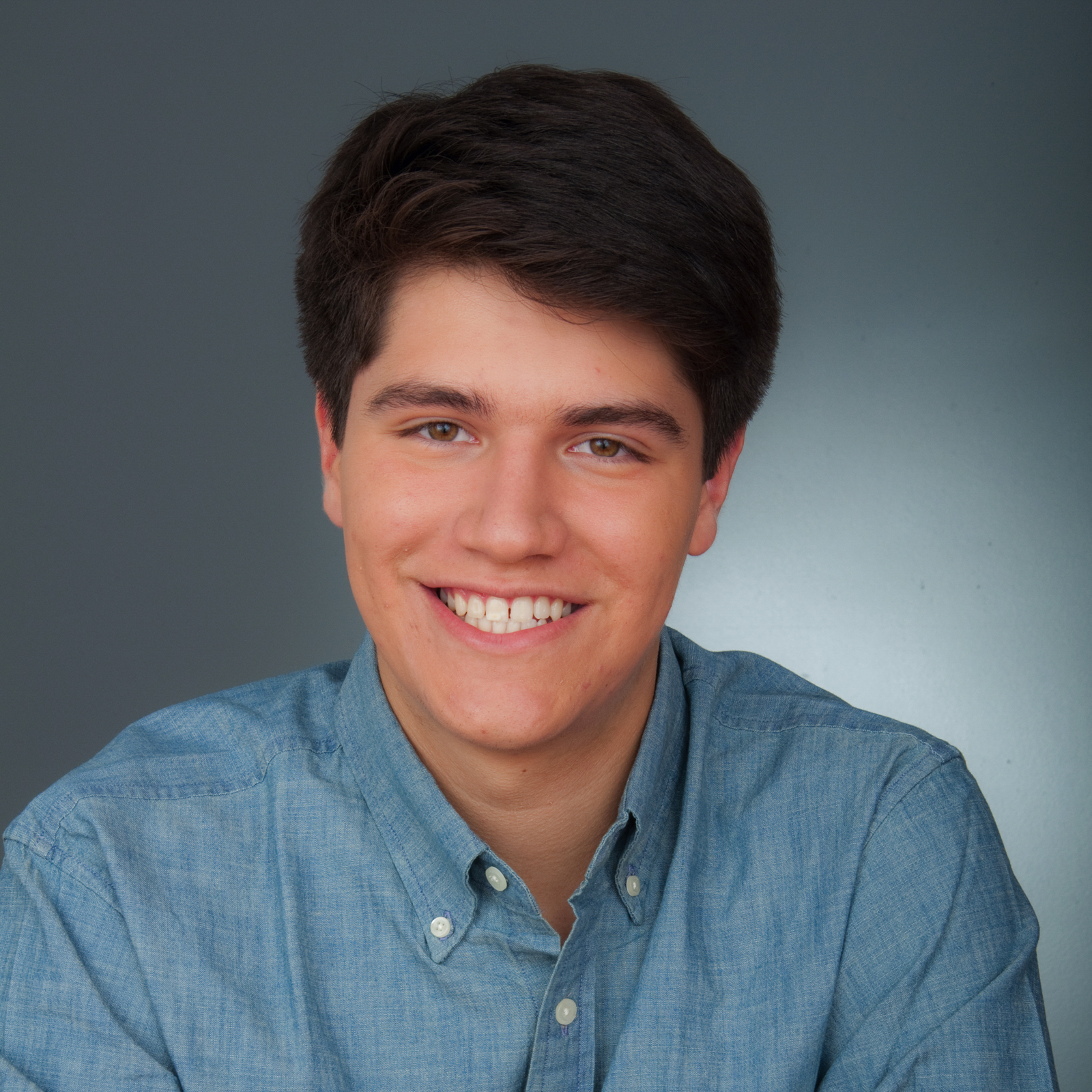 Even with the nation at a standstill because of COVID-19, Jenavee Peres has been very busy in quarantine.
When you're a graduate student, the mother of a toddler and a catcher for UCLA softball, Peres says it's a struggle to have any free time, even during a pandemic.
"It's definitely a handful trying to figure out how to balance being a mom, and trying to stick with academics, and stick with my physical upkeep and things like that," Peres said. "It's been tough."
When the softball season ended prematurely March 12, Peres retreated back to her home in Garden Grove, California with her boyfriend and her son Levi, and has since maintained a hectic schedule.
With Levi turning two in June, Peres said that her son is approaching the "terrible twos," meaning Levi has lots of energy and few ways to constructively release it.
There's not much room in a studio apartment for a toddler, said Peres, and with social distancing orders in place, it's difficult to find places where Levi can use this pent-up energy.
Because of this, Peres said she has to get creative to wear down the toddler.
"It's been a little frustrating and definitely tests my patience as far as trying to keep my son occupied," Peres said. "He's a busy bee and will keep going until his battery is completely out. He's really big on going to the parks and we like taking him outdoors just so he can play outside and run around. That way he can run out his energy on his own instead of keeping him cooped up in the house."
On top of being a full-time mother, Peres took two classes at the start of quarantineto fulfill her master's requirements, but with the extra challenge of a virtual setting.
Peres said that living in a studio apartment with her boyfriend and her son left her little space, so the virtual classes were hard for her. Some classes required attendance through Zoom's camera setting – an added struggle with a toddler at home.
"I've actually talked to all my professors and let them know, 'Hey, I'm in a studio apartment with my son and my boyfriend, my son likes to see what's going on so he's going to be climbing all over me – is it okay if I leave my camera off but I'm still fully invested and talking into the chat?'" Peres said.
Despite all of the difficulties that come from being a mom and a student-athlete during a pandemic, Peres said she has received support from all over, especially from her teammates.
Rising sophomore infielder Seneca Curo, who Peres calls a big support, has sent Peres encouraging texts and has checked in on her and Levi throughout the process.
Curo said she understands how hard this time has been for Peres and is appreciative of her teammate's ability to balance all of her duties.
"Just being a student-athlete alone is difficult, so being a mom on top of that is just crazy – I'm proud of her handling it the way she does," Curo said. "We're really close, we're like a family. So not seeing (her) every day is weird, so I just check in and see how they are doing."
Despite everything that has been happening, Peres said she hasn't forgotten about softball.
When what was supposed to be her final collegiate season was cut short, an NCAA waiver allowed Peres – and all spring sport athletes – to regain one more year of eligibility.
Going into her seventh year of collegiate eligibility, Peres is also using this time in quarantine to get in shape for next year's softball season – assuming that there is one.
UCLA softball's assistant athletic performance coach Adam Garner has sent the players care packages with the equipment necessary to complete daily workouts. Peres also has a tee, a bucket of softballs and a net where she will get practice swings in whenever possible.
"I (hit softballs) every single chance that I get," Peres said. "I honestly love softball very much. It's kind of like my outlet so that's another way I've been keeping myself zen, I like to think. It allows me to get that frustration out."
The team also still holds its meetings consistently, just in a virtual setting.
Peres said coach Kelly Inouye-Perez keeps the team meetings light and happy amid the difficult circumstances. Peres will even occasionally turn her camera on so her teammates can watch Levi use Peres as a self-described "jungle gym."
Inouye-Perez said she understands what Peres is going through – as she went through a similar situation – and understands what Peres needs.
"The biggest story I shared with (Peres) is that I almost left the sport when I started my family as a young assistantcoach – there were no role models for me or coaches that had children that were in the game, so for me it was very difficult," Inouye-Perez said. "I really assured (Peres, and told her) 'we're going to support you.'"
Even with the season's untimely ending, Inouye-Perez said there was a bright side.
When Peres became a Bruin in January, she would have only had around four months with UCLA softball had the season gone on as planned.
In an injury-riddled season, Peres played in just nine of the Bruins' 26 games and hit .345 to go along with four home runs.
But now with the extra year of eligibility, she'll get a full year of being a Bruin to build off of last season.
"Of course we were all disappointed when the season was ended too soon, but when you look at (Peres), now she is going to be able to play softball and be in better condition and be more prepared for the whole experience and experience the whole year with the program," Inouye-Perez said.
Peres said she also sees a silver lining, but away from the diamond.
While she has used the pandemic as a means to better herself physically, she said her biggest area of growth is how she has grown as a mother.
"I've definitely figured out what kind of mom I need to be in the moment," Peres said. "I've figured that out and it's definitely taken time."
Contributing reports by Vinny Lavalsiti, Daily Bruin staff.
Christon is currently an assistant Sports editor on the women's basketball, softball, men's tennis and women's tennis beats. He was previously a reporter on the women's basketball and softball beats.
Christon is currently an assistant Sports editor on the women's basketball, softball, men's tennis and women's tennis beats. He was previously a reporter on the women's basketball and softball beats.