Editorial: UCLA must divest from UCPD, LAPD to stop perpetuating problematic systems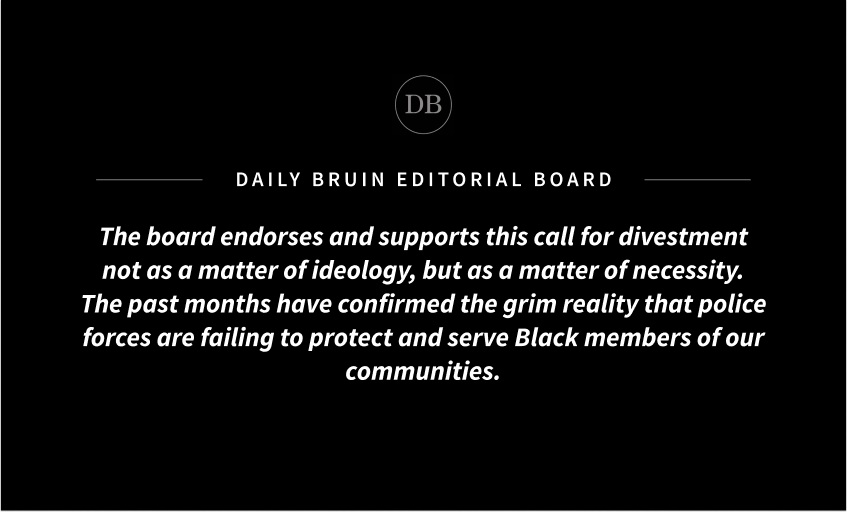 Campus leaders have spoken: defunding and divesting from law enforcement are the only real options.
George Floyd's death while in custody of the Minneapolis police in May sparked nationwide protests against racial injustice, including one at UCLA. In June, multiple campus organizations, led by Black student leaders and faculty, called on the university to divest from policing agencies and recognize the systemic violence perpetrated against people of color on campus.
UCLA has promised to tackle these issues. And while its most recent plans are a start, they don't go far enough.
If the university is serious about fighting structural racism, it must push to defund UCPD and cut ties with the Los Angeles Police Department. These are not unique calls to action – rather, they reflect the demands of community members with the goal of mitigating systemic racism at a school that prides itself on diversity and inclusion.
In a June 11 letter addressed to Chancellor Gene Block and other university administrators, more than 200 faculty members called on UCLA to defund and replace the UCPD with alternative forms of restorative justice. They also demanded the university end its relationships with all county, state and federal law enforcement and disclose current contracts and memoranda of understanding with these agencies.
The board endorses and supports this call for divestment not as a matter of ideology, but as a matter of necessity. The past months have confirmed the grim reality that police forces are failing to protect and serve Black members of our communities.
By continuing to fund UCPD, UCLA is complicit in furthering a culture of persecution. As COVID-19 continues to stretch resources thin, UCLA would be wrong to continue spending nearly $21 million annually to keep UCPD operating. Funds of such large scale should go toward initiatives to support students under duress from the compounded consequences of both the pandemic and racial violence.
On both counts to defund the UCPD and end cooperation with law enforcement, UCLA's response was lukewarm at best. Although the university promised to send mental health professionals to mental health-related emergencies, it has not made a commitment to cut the UCPD budget or to terminate its relationship with the Los Angeles Police Department – an institution that has proven to be more than comfortable mistreating protestors.
Instead, UCLA will double down on its plan to create a Public Safety Advisory Council that would review the role of UCPD in campus policing and address issues such as racial bias. As faculty noted in a follow-up letter addressed to the administration, this represents a renewed commitment to maintaining UCPD – entirely contradicting their demands.
The faculty also asked UCLA to invest in research and community initiatives for racial and gender justice, and to provide substantive support for the campus' Black community. And to be fair, they've done so: a Black student resource center will be fully funded after years of advocating, planned new positions will expand UCLA's academic work on racial inequity and they've committed $250,000 toward seed research grants on racial justice.
Such measures are necessary – and easy – short-term responses, but they cannot stop here.
UCLA must not disillusion its community and continue to ignore what truly needs to be done with nominal reforms.
Divest.