UCLA baseball sees 2 players, 4 commits selected in shortened 2020 MLB Draft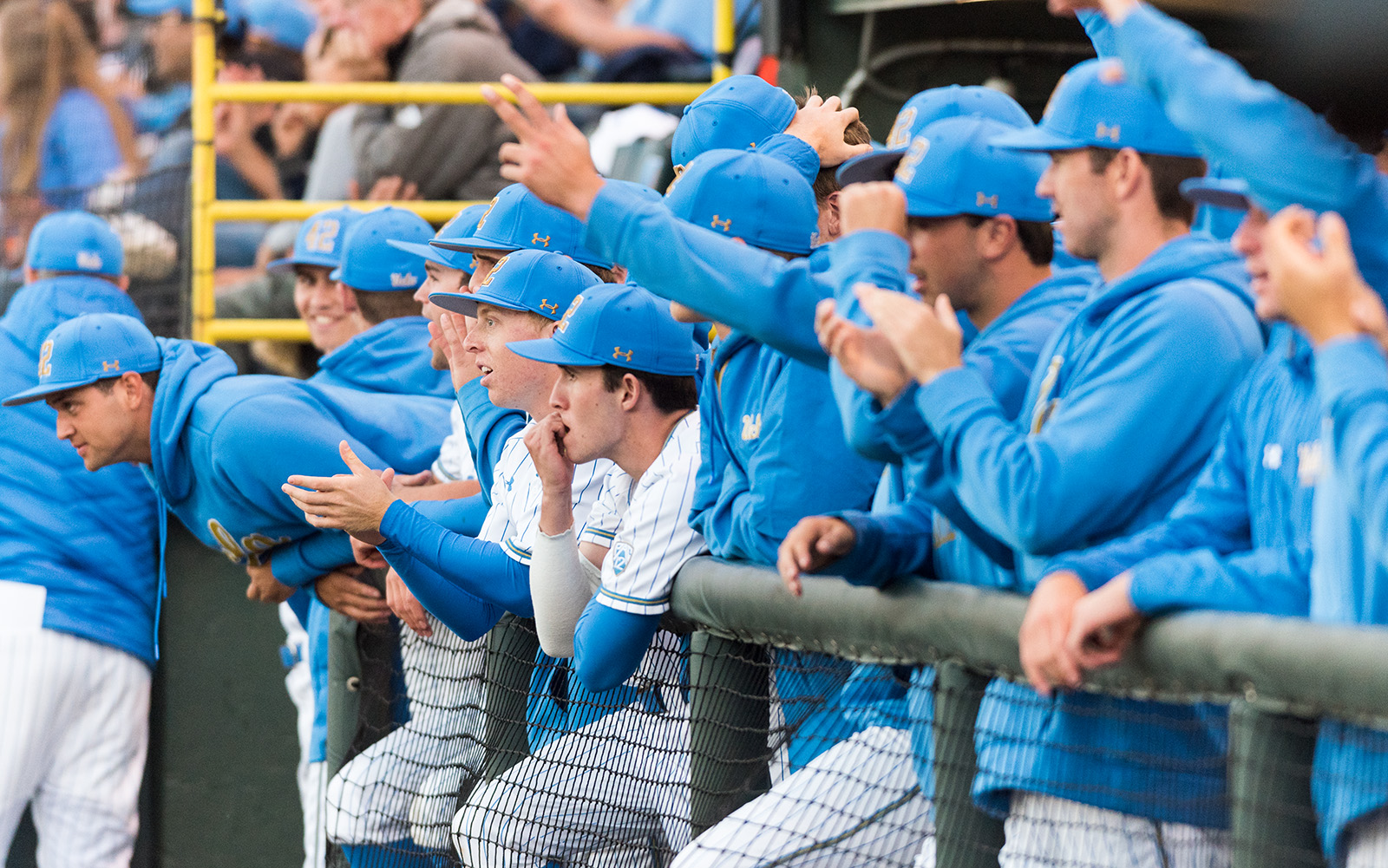 Garrett Mitchell and Holden Powell headline UCLA baseball's 2020 draft class as the pair both were selected in the first 100 picks. (Daily Bruin file photo)
The season ended early and the draft was cut short, but some Bruins still have professional contracts with their names on them.
The 2020 MLB Draft took place June 10 through June 11, and although the five rounds were only an eighth of the draft's usual length, two UCLA baseball players and four more commits were selected by an MLB team.
The first Bruin to hear his name called was junior outfielder Garrett Mitchell, who was picked 20th overall by the Milwaukee Brewers. Mitchell entered the draft as the No. 6 prospect on MLB.com's top draft prospects list, and according to Bleacher Report, the center fielder already owns the top spot in the Brewers' farm system.
Coach John Savage has routinely praised Mitchell for his ability to be an intimidating presence all over the field. Savage said the center fielder falling to the 20th pick gave the Brewers the best value pick of the entire draft.
"Everybody felt (Mitchell) on the field – you felt him in center, you felt him on the bases and (you felt) his threat in the box," Savage said. "He's just a really special player – a top-five, top-10 talent. I think the Brewers got the steal of the draft."
Mitchell started 41 games as a freshman before starting 62 of UCLA's 63 games in his sophomore season. In total, he played in 121 games and slashed .327/.393/.478 with six home runs. His 15 career triples are the second-most in program history.
The second – and final – Bruin draftee who actually played for UCLA was junior closer Holden Powell, who went in the third round, 94th overall, to the Washington Nationals. In the shortened 2020 season, Powell did not allow a run in 9.1 innings of work, while striking out 20 opposing batters.
Powell earned the closer role in Savage's bullpen after his freshman year in which he threw 33.1 innings with a 3.51 ERA and six saves. The right-hander from Visalia, California, concluded his UCLA career with 26 saves – the second-most in program history behind former relief pitcher and current Director of Baseball Operations David Berg.
Relief pitchers are not often taken within the first 100 picks, and this year was no different. Powell was the first college pitcher off the board who did not make a single start in his collegiate career.
Savage said despite Powell being a reliever, his production out of the closer role was too good for teams to overlook.
"His performance warranted (the) high pick," Savage said. "It's a credit to his ability, a credit to his work ethic. If anybody saw him in the first 15 games (of the 2020 season), you'd think he was the best closer in the country."
The most notable Bruin whose name was not called on draft day was junior right-hander Zach Pettway. Savage said Pettway did get some offers from teams in the fifth round, but the junior thought the bonuses were below his value and he decided to come back to Westwood for a fourth year. As a result, Savage is elated to get his ace back for another year.
"I don't think in my 15 years we've ever held onto our Friday night junior (starter)," Savage said. "You get an impact guy back for his fourth year – you just never anticipate that. (Pettway's) a phenomenal kid and he has clear objectives and goals he wants to accomplish. (That) just shows what sort of Bruin he is and where his mind is in terms of what he wants to still accomplish."
In his junior season, Pettway tossed 25.2 innings and won all three of his decisions. He struck out 29 batters while only walking one and his three earned runs equated to a 1.05 ERA.
Though Mitchell and Powell were the only former Bruins to be drafted, four UCLA commits were also selected.
Tyler Soderstrom was the first commit off the board, as the catcher from Turlock, California, was selected in the first round with the 26th overall pick by the Oakland Athletics. He has not yet inked a contract, but a deal with a $3.3 million signing bonus is in place and likely to happen Monday, according to the San Francisco Chronicle's Susan Slusser.
After Soderstrom, three more commits from the Golden State heard their names called. Kyle Harrison out of De La Salle High School, Jake Vogel out of Huntington Beach High School and Milan Tolentino out of Santa Margarita Catholic High School were 85th, 100th and 124th overall, respectively. According to Savage, only Vogel has not signed a professional contract.
With three or four recruits never making it to Westwood, the Bruin commits who do show up to training will only make up 69% or 77% of the original 13-player recruiting class. Savage said the team normally likes to keep at least 80% of its recruits, but with all the seniors likely to use their extra year of eligibility – granted to them by the NCAA following the cancellation of the spring season – the 2021 roster is still looking promising in terms of depth and experience.
"This year's class was 13 guys, and now we'll lose three or four – that's a significant hit," Savage said. "(But) it looks like as of now, (all the seniors) will be coming back. If we lose Vogel, that'll be 39 (players on next year's team), so it's a very manageable roster. We're in relatively good shape – the entire roster is basically all back, with the exception of Powell and Mitchell, so in that regard, it's a really good roster and you've added some really good freshmen."
Keilin is currently a Sports senior staff writer. He was previously an assistant Sports editor on the baseball, women's soccer, cross country, women's golf and men's golf beats. Keilin was also a contributor on the baseball, women's golf and men's golf beats.
Keilin is currently a Sports senior staff writer. He was previously an assistant Sports editor on the baseball, women's soccer, cross country, women's golf and men's golf beats. Keilin was also a contributor on the baseball, women's golf and men's golf beats.