Scouting Report: Holden Powell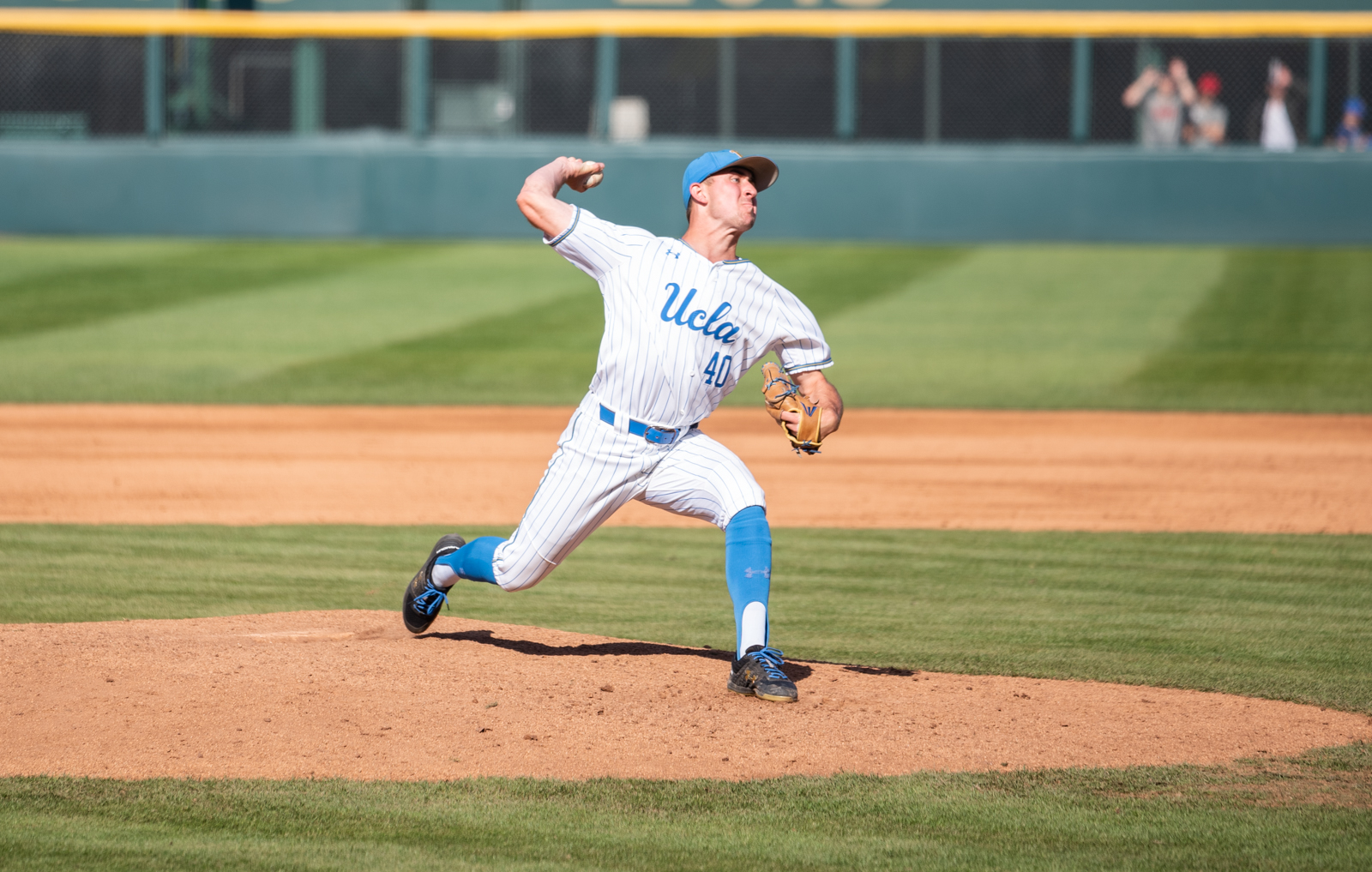 UCLA baseball junior right-hander Holden Powell was selected in the third round by the Washington Nationals. He will take an elite two-pitch combo with him to the nation's capital. (Daily Bruin file photo)
Sometimes, less is more.
With only a fastball and slider as his go-to pitches, UCLA baseball relief pitcher Holden Powell will be headed to the nation's capital with the chance to eventually serve as a late-inning bullpen arm in Nationals Park. Powell will join a pitching staff that – at the major league level – features the arms of Max Scherzer, Stephen Strasburg, Patrick Corbin and Sean Doolittle.
Selected by the Washington Nationals with the No. 94 pick of the 2020 MLB Draft, the junior right-handed closer was the second Bruin off the board, after junior center fielder Garrett Mitchell was selected in the first round by the Milwaukee Brewers.
Powell pitched over 90 innings during his time as a Bruin before his junior season was cut short due to the outbreak of the coronavirus. His junior campaign was arguably his most successful season to date, as the Visalia, California product racked up 20 strikeouts in 9.1 innings pitched, never allowing an earned run over eight appearances.
In his sophomore year, Powell tossed 49.0 innings and struck out 65 batters, pitching to the tune of a 1.84 ERA. Following the end of the 2019 season, Powell was named the Stopper of the Year – an accolade awarded to collegiate baseball's best closer.
In his freshman year, Powell tossed 33.1 innings for the blue and gold, allowing 13 earned runs along the way with a WHIP of 1.09.
Over Powell's three-year collegiate career, the righty amassed 26 saves – the second-most in program history, behind only David Berg.
Though Powell will be joining a Nationals' staff whose top-three starters all registered an ERA below 3.50, the Washington bullpen collectively tallied a 5.68 ERA in 2019 – the second-worst in the MLB, with only the Baltimore Orioles' relievers faring worse.
Powell will bring two strong pitches to Washington, as the junior's fastball-slider combination caught scouts' attention and projects him to serve as an MLB-level closer in the near future.
Fastball
Powell's fastball is one of his go-to's, and the success of his offspeed pitches will depend on his ability to get ahead with the fastball.
Powell looks to get ahead of hitters with his fastball, a pitch that clocks in at anywhere between 93-97 miles per hour. Powell himself said his game plan against opposing batters is to attack first, while National's assistant general manager Kris Kline agreed, saying Powell's approach was very aggressive.
Powell's ability to throw strikes early in the count will likely determine how quickly he progresses through Washington's farm system. The hurler struggled with command in his first season with the Bruins but displayed better pitch location in 2020 with just a 0.55 WHIP.
Slider
Powell's slider is the pitch that sets him apart.
Clocked around 87 miles per hour, Powell's slider is his "out-pitch".
Powell's success in generating swings and misses with his slider – especially against right-handed batters – was his ticket to success as the closer for the Bruins and his progression at the next level will rely on his ability to keep hitters off-balance with this plus-pitch.
Powell will rely heavily on this two-pitch combo, profiling him well to fit into the back-end of an MLB bullpen.
Other offspeed
Powell also features a changeup and curveball to complement his two favorite pitches.
However, Powell rarely throws his changeup and said he reserves his curveball for occasions when he faces lefty batters when his slider is easier to pick up out of his hand. Nonetheless, Powell said he is working on developing his changeup, as it might offer him yet another complement to his lively fastball in the pros.
Player comparisons: Aroldis Chapman, Josh Hader
Don't laugh.
Both Chapman and Hader are left-handers. Powell is a righty.
This comparison also isn't to say that Powell will be cracking triple-digits on the radar gun like Chapman anytime soon, if ever.
But the similarities come in all three's heavy reliance on a power fastball to get ahead of batters and ability to finish them off with a late-breaking slider.
Closing for the Brewers, Hader threw his fastball close to 85% of the time and his slider close to 15%. Though he has a changeup, it was virtually unused, thrown just 0.4% of the time.
Chapman, meanwhile, regularly throws his fastball around 100 miles per hour, but it's his slider that is his pitch of choice to vary speeds and keep hitters honest at the plate.
Powell's fastball-slider combo is reminiscent of Chapman and Hader's reliance on the same pitches, but the two-pitch repertoire has become increasingly common among the game's best late-relievers.
It seems Powell is no different from that back-of-the-bullpen archetype.
Tay is currently a Sports senior staff writer. He was previously an assistant Sports editor for the baseball, men's soccer, men's tennis, cross country and women's tennis beats. Tay was previously a contributor on the men's tennis beat.
Tay is currently a Sports senior staff writer. He was previously an assistant Sports editor for the baseball, men's soccer, men's tennis, cross country and women's tennis beats. Tay was previously a contributor on the men's tennis beat.