Water polo coach Adam Wright's leadership fosters unique, supportive team culture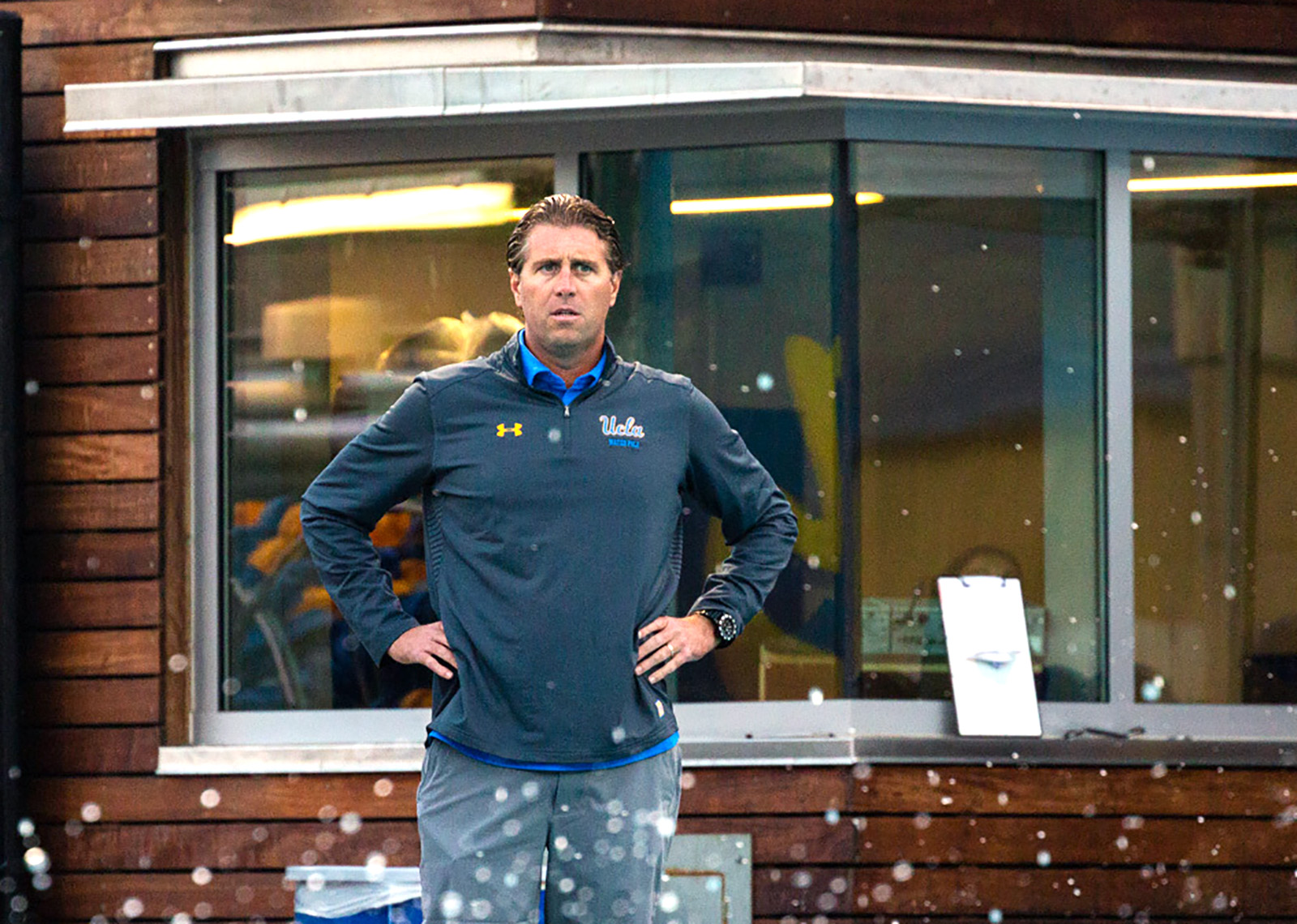 Adam Wright, in only his third year as head coach of UCLA women's water polo, has a record of 85-19. As a former Bruin water polo player himself, Wright's leadership and commitment to winning has garnered praise from his players. (Amy Dixon/Daily Bruin senior staff)
To the casual observer, UCLA men's and women's water polo coach Adam Wright standing poolside shouting with a clipboard in hand may seem scary.
"At first, he's pretty intimidating," said redshirt freshman goalkeeper Georgia Phillips.
But first impressions don't mean everything.
"He's actually kind of a goofball," Phillips said. "I think that he sees that I'm also a goofball so it's a lot of fun playing under him. He's just the smartest coach I think that I've ever had. It's a great thing to be a part of."
Many of the women's players have expressed the same notion: Playing with Wright as their coach both in and out of the pool is an experience unique to him and UCLA.
In her first year of play, Phillips tallied a team-leading 83 saves helping lead the Bruins to a 19-2 record and the No. 2 ranking before the season was cut short.
Freshman utility Abbi Hill – whose two older sisters also donned UCLA polo caps – was another statistical leader, pacing the Bruins with 41 goals.
The two numerical leaders at both ends of the pool said Wright carries himself with a certain integrity and authenticity that's exhibited in his leadership.
"The Adam Wright culture is probably the best culture in my life that I've ever been in," Hill said. "He is one of, if not the most, respectable person I've ever met. I think that this culture is one that is unique to just UCLA water polo and I know that no other school does it."
Hired in 2017, Wright began his journey with the women's team after coaching the previous eight seasons with the men. Now coaching both teams, he has a 267-47 record with the men and an 85-19 record with the women Bruins.
But Wright's first experiences with UCLA did not start as a coach. He played water polo for the Bruins from 1997-2000, finishing as a two-time NCAA champion.
He continued his playing career for Team USA in water polo, where the attacker was a three-time Olympian playing in the 2004, 2008 and 2012 summer games.
His players have said he is able to utilize his knowledge from winning as a player to find success from the coaching stool, winning three NCAA championships as a head coach at UCLA.
Under Wright's guidance, sophomore utility Katrina Drake went seven goals as a freshman to second on the team with 29 during her abridged second season.
"The Adam Wright culture is awesome," Drake said. "It's definitely more structured than I've ever had in the past, but it's definitely something that's helped me understand a lot (about water polo)."
Not only does Wright use his knowledge and expertise to help his athletes in the pool, but he also understands the importance of building an outside environment with his players that gets the most out of them.
Junior attacker Lexi Liebowitz – who was named Mountain Pacific Sports Federation All-Academic Scholar-Athlete and earned three appearances on the UCLA Athletic Director's Honor Roll – said the Bruins' women's water polo community is distinct in that no one person is perceived as greater than the next.
"We focus on everyone being equal and no one person is greater than the next," Liebowitz said. "I've said it a million times, he repeats himself too, but we focus on the small details, being present, every game is the same and bringing it all the time."
A UCLA graduate himself – attaining two bachelor degrees in 2001 – Wright embodies the amalgamation of student and athlete.
Sophomore center Ava Johnson, one of eight UCLA players named to the 2020 MPSF Women's Water Polo All-Academic Team, attributes the coaching staff's support to her success.
"(The coaching staff will) push us to our breaking point," Johnson said. "They want what's best for us in the water, but it's only for our benefit. Outside the pool they have our backs in anything that's going on in our personal lives or school."
As the only active senior offensive player this year, attacker Emily Skelly provides a unique understanding of Wright's culture, as she is one of the few players to have played under a different UCLA water polo coach. In her freshman year, Skelly played in one game under former coach Brandon Brooks before Wright took over before her sophomore year.
"He believes in every one of us," Skelly said. "There's no hierarchy, there's no seniority. We're all trying to accomplish the same goal. Even down to the people who run the clocks at our games, everyone is the same and everyone is equal. I think that's super unique for a team, especially at our level. It's super cool to be a part of."
Boal is currently an assistant Sports editor on the gymnastics, men's water polo, women's water polo, rowing and swim and dive beats. He was previously a contributor on the men's water polo and women's water polo beats.
Boal is currently an assistant Sports editor on the gymnastics, men's water polo, women's water polo, rowing and swim and dive beats. He was previously a contributor on the men's water polo and women's water polo beats.