The Quad: How the pandemic has uniquely impacted Bruins in different grade levels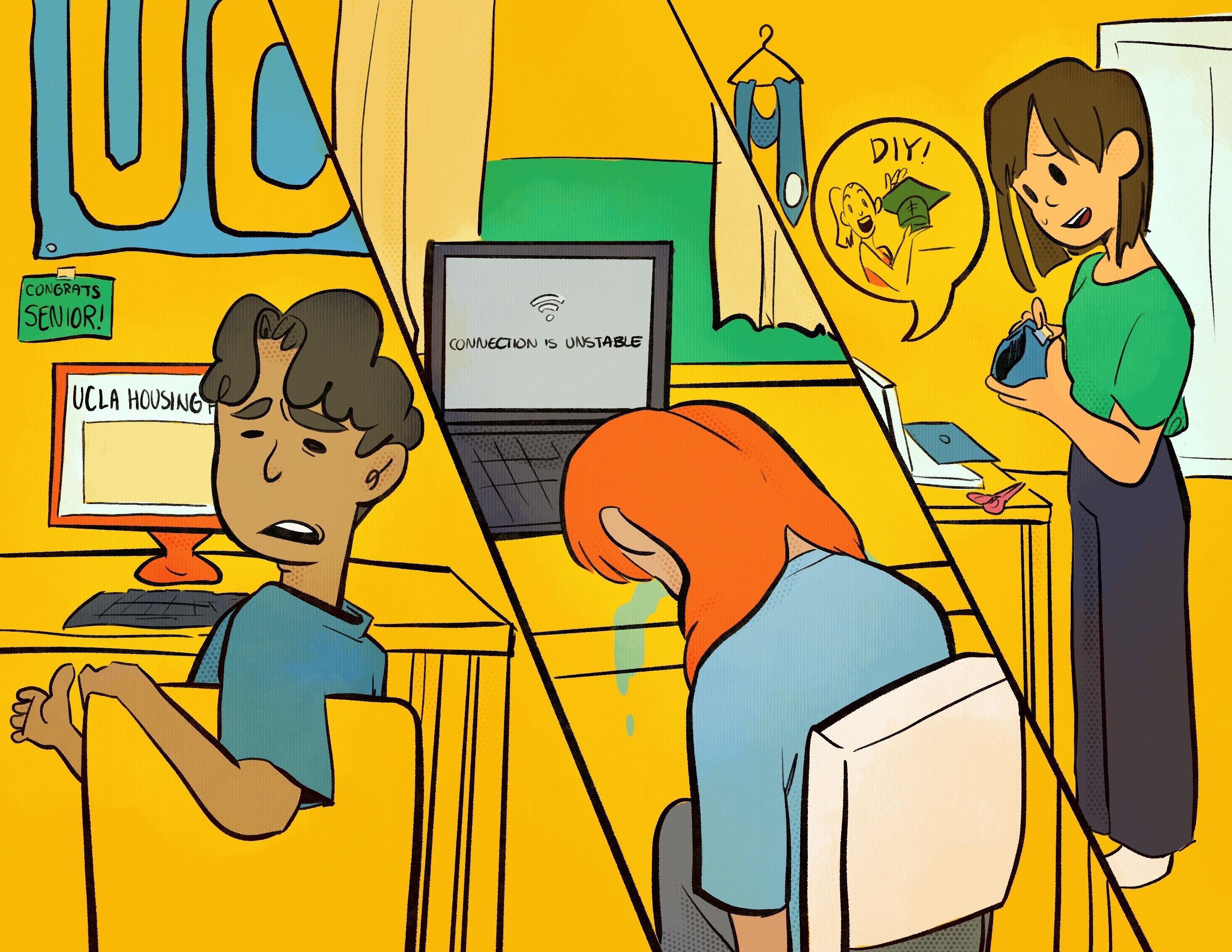 (Bridgette Baron/Daily Bruin)
Incoming first-year Eva Danesh has dreamt about attending UCLA her whole life. But, it's hard to imagine that "Zoom University" was exactly what she had in mind.
When Danesh was accepted into UCLA as a psychobiology student in March, she couldn't help but picture her first day as a Bruin.
"I imagined walking outside, looking at the beautiful campus, meeting new people and being able to participate in activities," Danesh said.
However, as the pandemic continues on and the future of in-person instruction remains tentative, the life Danesh pictured for herself on campus has slowly faded away.
Admittedly, Danesh and her class of fellow incoming first-years are not alone in feeling the effects of the pandemic on their UCLA experience, rather, the coronavirus has left its mark on all students – regardless of graduation year. But, though campus closures and online learning do affect all students, it is interesting to examine how students from different class levels have experienced and processed these same changes a little differently.
To begin, these differences in experience can first be seen through the eyes of a class we might accidentally overlook: the new Bruin class of 2024. For a typical incoming first-year like Danesh, concerns about entering college are manifold, and can include navigating large class sizes, living with roommates and moving far from home. However, though these concerns have been ably managed by many previous classes of Bruins, having to navigate the first-year experience during a pandemic is rather unchartered territory.
"When acceptances were released, we were still in the beginning phases of quarantine," Danesh said. "I had no reason to think that school wouldn't start for me in the fall."
As time passes, however, the reality of having a traditional fall quarter seems further and further out of reach. When picturing her first day of university now, Danesh has a very different vision.
"I see myself as a very nervous girl in my bedroom, not really having a huge transition from my high school classes online to my college classes online," Danesh said.
Like Danesh pointed out, the remote format of teaching can further exacerbate the worries that incoming freshmen already have about transitioning to college coursework. Being unable to interact with professors, teaching assistants and peers in person only amplifies these feelings of insecurity and uncertainty.
Nonetheless, while the incoming class of first-years may be grieving over what could have been a great first quarter, the current first-year class is reminiscing over their short-lived experience on campus.
First-year pre-psychology student Caleb Kalu said that though he got to experience two quarters at UCLA, he was especially disappointed to miss the last one.
"Everyone keeps on telling me that spring quarter is amazing at UCLA," Kalu said. "Not being able to experience that is hard."
It's true: Many say that freshman year at UCLA is supposed to be filled with exciting new experiences on a campus with a nearly perfect climate, felt most distinctly in spring. But, because of this year's circumstances leading to a shortened introduction, many first-years feel cheated out of the beginning they thought they were supposed to have.
For example, Kalu said that in addition to missing out on a sunny spring campus, he has also been denied his first season on the club rowing team.
"Our entire season was supposed to be this quarter," Kalu said. "We missed five major tournaments and duals along the way."
Even so, in spite of these missed experiences, Kalu said he was thankful for the time he spent on campus. Like most of us, however, Kalu remains skeptical that we will get the fall quarter in 2020 that we had hoped for.
"With the way things are shaping out, fall is not going to be the quarter I was expecting," Kalu said. "I'm looking forward to having some sense of normalcy, especially after this long period of being inside for most of the day and working."
As reflected by the sentiments of students like Kalu, seeking a sense of control and normalcy during the age of quarantine is proving to be a common struggle for many of us Bruins. Yet, we all have our different ways of coping.
For second-year business economics student Binat Gousinov, knowing that she still has plans for fall helps her stay optimistic.
"I've been pulling myself through this by thinking positively – thinking of the fall and moving into my own apartment – I'm really holding onto that as motivation," Gousinov said.
But, despite her positive outlook, the second-year acknowledged that it can still be hard to reflect on the people we left behind on campus.
"I'm trying to reach out to my graduating senior friends," Gousinov said. "I completely don't know when I'm going to see them again."
For many of us, not being with the people at UCLA makes at-home learning extremely difficult. Not only are we losing the experience of learning on campus, but we are also missing out on the chance to maintain close relationships with the friends we have made along the way.
However, these setbacks aside, Gousinov said she is still looking forward to finishing finals. For Bruins like Gousinov, the end of finals week is a familiar light at the end of the tunnel from years long before the onset of the pandemic and remote learning.
"I think we'll all let out a breath of relief when we start summer," Gousinov said.
Though summer promises the long-awaited release from remote learning for many students, for graduating seniors, the new season marks the end of their time as Bruins.
Fourth-year human biology and society student Jessica Rauch said she hoped spring quarter would help her prepare for life after college. Unfortunately, though Rauch looked forward to spending her final quarter at UCLA with friends, her highly-anticipated farewell to college did not go as planned.
"I wanted to let loose and have fun with my friends," Rauch said. "I wanted to take this quarter to reminisce and celebrate."
But, instead of a memorable quarter of fun, Rauch's time at home has left her feeling sentimental about her premature departure from campus.
"I was imagining myself smiling for pictures in front of Royce Hall, taking my parents to Powell Library and taking graduation pictures with my friends," Rauch said.
Regrettably, the loss of familiar pre-graduation rituals is not the only thing soon-to-be graduates have to grapple with. Along with learning how to accept an abrupt end to college, Rauch said she and her peers are feeling overwhelmed with having to navigate the unique financial burdens stemming from the spread of COVID-19.
"Right now the job application process is really tough," Rauch said. "I think most people in my graduating class are dealing with a lot of anxiety and depression over difficulties with finances."
If things were not difficult enough already, adding an uncertain job market to the mix definitely did not help. Nonetheless, even though Rauch and her classmates face this added challenge, Rauch has taken the time at home to seek silver linings.
"I've definitely been trying to think positively about the future," Rauch said. "I think (in the future) I'll recognize that I was privileged to have healthy family members, a roof over my head and food on the plate in front of me."
Moreover, as Rauch applied the same process of seeking a silver lining to her reflections on her university life, she said her experience as a Bruin has given her positive insight on the world around her.
"From an upperclassman's perspective: Take advantage of the moment, go do things and be spontaneous, care about your relationships and make memories," Rauch said. "This has taught me that life is fleeting, you never know what's coming next. It's important to stay positive, take advantage of what you have and go with the flow."
We can see from these various stories that the student experience is not always uniform, even when the student body faces the same broad changes. Though we may each experience our own unique woes, we can find some semblance of peace and acceptance in knowing that every perspective is valid and helps to create a more interesting narrative.
So, to the nervous incoming first-year, the soon-to-be graduate and everyone in between: The future may be uncertain, and the way we experience things may differ, but one thing is for sure and remains the same – we will always be bound as Bruins.