The Copy desk at Daily Bruin provided me with friendships, a second family -30-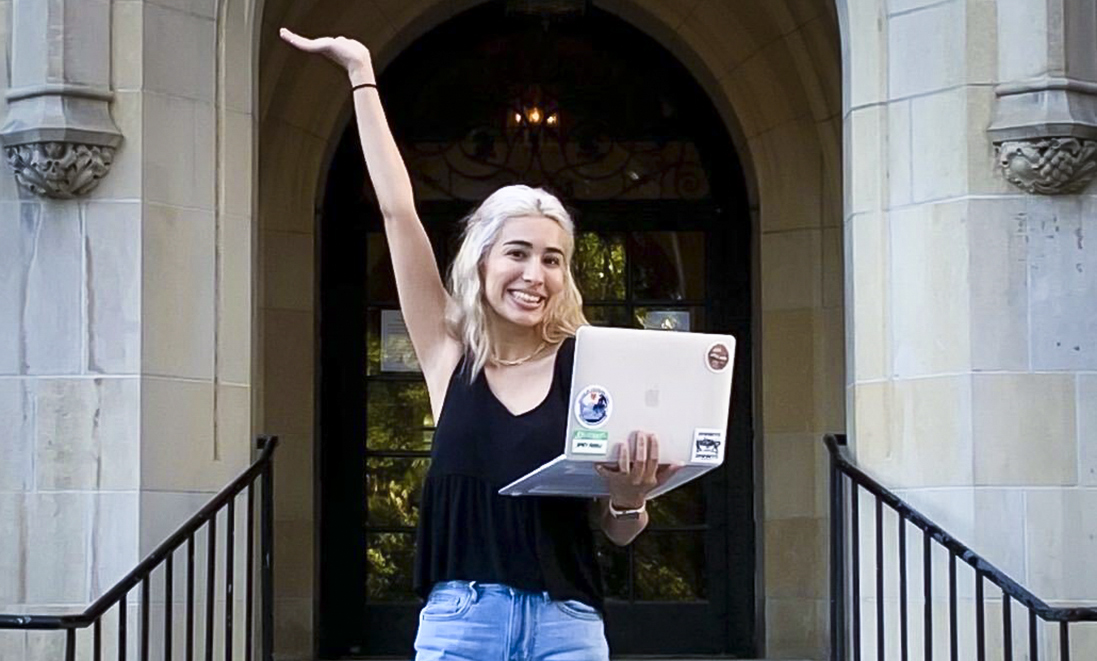 (Courtesy of Sophia Amir)
I had never been interested in journalism until I heard about the Daily Bruin. I knew I didn't want to write, given my major required me to constantly string words together, but I didn't know that I could join Copy.
Being in Copy allowed me to read so many stories about campus life and politics, broadening my perspective and knowledge while helping writers get important news out in the best way possible.
Copy is a little misunderstood, but I love it for all its quirks – especially its people. I have met some of my closest UCLA friends while joking around the Copy desk. If you ask my bosses, they might say I spent more time playing than working. However, that's what makes working at a student newspaper so unique: We are coworkers, but we are also friends, peers and classmates.
Quietness or shyness seems to be a defining feature of Copy, but I think we helped turn that around this year. Granted, I have spent three years at the Copy desk trying to contribute to our socialization, and I can't wait to see what the future of Copy holds.
I joined Daily Bruin in the fall of my sophomore year at UCLA. I was already pretty well-adjusted, with a job on campus and a Greek house to call "home." However, I felt like I wanted to be involved in something bigger at UCLA, and the Daily Bruin seemed like the perfect place for me to accomplish that.
Quitting Copy, and the Daily Bruin, crossed my mind near the end of every quarter, when my editors would send out their surveys inquiring about my intentions for the next quarter. However, it was a single person, not just the work, who kept me in Copy time after time – Rayna Salam. Because of Rayna, I made the trek week after week to Kerckhoff Hall 118 to copy edit stories until midnight.
I can finally confess to an already pretty well-known fact: Rayna and I would calculatedly make sure our availability worked in such a way that would guarantee our placement on the same shifts. Thanks for being my accomplice!
Daily Bruin, mostly the Copy desk, has supported me while I went through sleepless nights studying for the LSAT and frantically worked on my hundreds of drafts of personal statements, and even when I'd pull all-nighters after working at the Covel front desk from 1 a.m. to 6 a.m.
While the work is important and worthwhile, some might even say newsworthy, it's the memories that I made with people in the office that I will carry with me. Even when I'd had a full day of classes, my internship and babysitting, I'd still get excited to walk all the way from my apartment to Kerckhoff 118 on Westwood's dark streets to meet up with my favorite gal pal and engage in our weekly life updates while editing stories and scarfing down Panda Express orange chicken.
I regret not being able to contribute more to the Daily Bruin, but it's hard when you're working for free! With law school as the goal since day one, most of my energy has been spent on working for standard wages, academics and my internships. Notwithstanding, I showed up every week to copy edit as a sort of volunteer, or as a "copy contributor," to be legit, just because I loved the energy of the office. While editing, we would inevitably get into debates surrounding sensitivity, diction and grammar – all subjects I could debate until the cows come home. Kerckhoff 118 is a unique place in that sense, one that fosters disagreement and breeds passionate opinions and ideas.
To my closest Daily Bruin friends: I will always fondly remember the nights we spent watching The Bachelor while some of us frantically edited breaking stories or freaking out about corrections that, unfortunately, went unnoticed at the office but came to light while at my room in a fraternity house, our faces illuminated solely by purple LED lights. I'll never forget you editing daytime stories in the car ride back from accompanying me to get my first tattoo or editing game coverage while we were cheering for Jaime Jaquez Jr. from the stands in Pauley Pavilion. I have so loved being Sara Hubbard's employee – check my Slack if you think I'm joking. You all have my heart and have helped define my life as a Bruin.
To my younger Copy babies: Have fun trying to come up with a headline for this string of my thoughts and memories!
Amir was a Copy contributor from 2017-2020.