How attempting to fulfill mission of journalism changed the way I view The Bruin -30-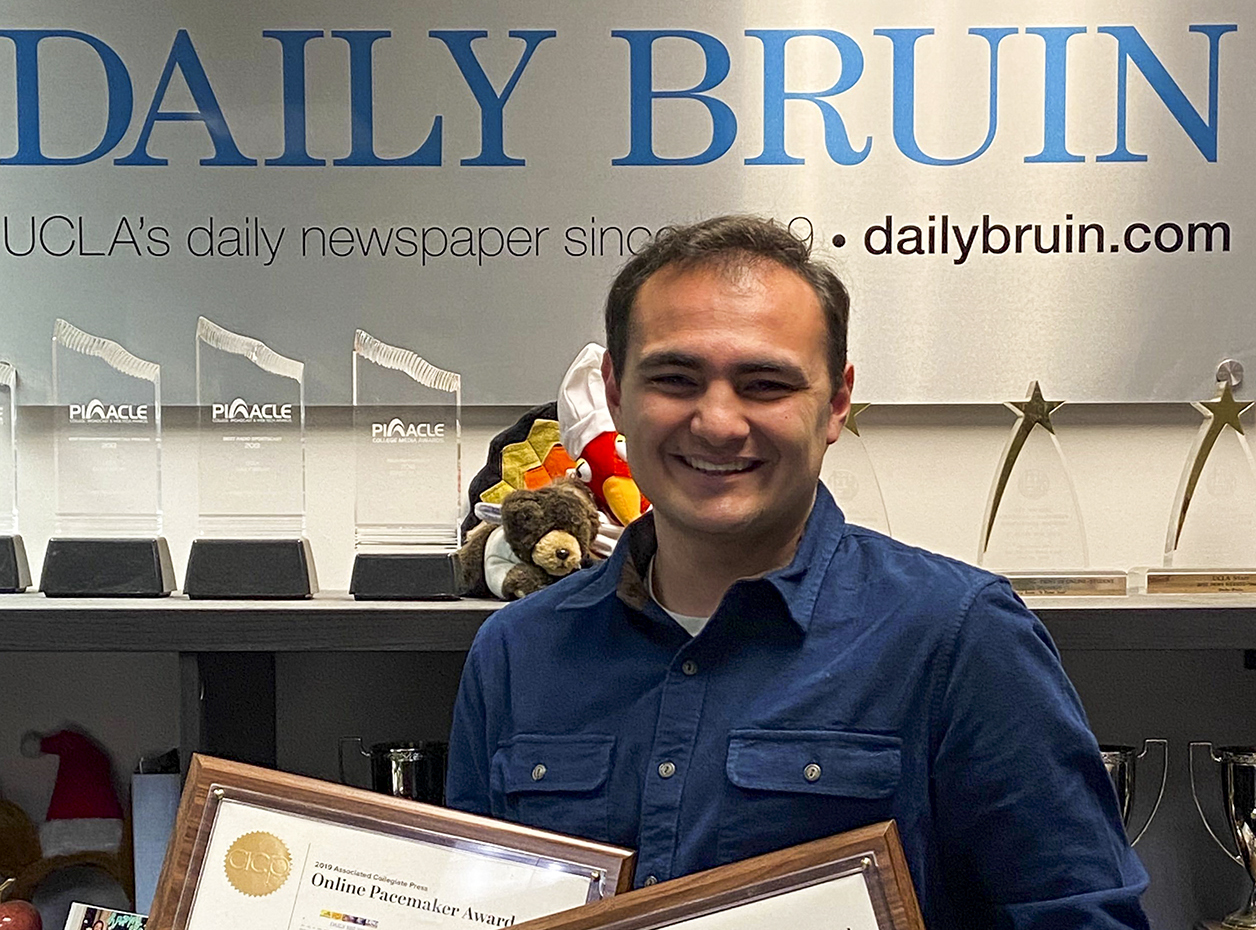 (Courtesy of Jacob Preal)
Something about journalism gives off the illusion that the work we do is heroic.
Journalists are supposed to hold individuals in positions of power accountable for their actions and provide a platform to give a voice to the voiceless, the overlooked and the betrayed. I think it is easy to think that someone who does so much for the community is ultimately a hero – and that was something I so desperately wanted to be.
I recall a field trip I took freshman year with other first-year staffers to the Los Angeles Times office. Their staff takes pride in the fact that despite dynamite blasting their building in response to their publisher's staunch anti-union position, they still managed to produce a paper. Long before The Bruin's strike last year, I had considered what I would do if the staff decided to strike. It was easy to take the position that the paper should continue to be published at all costs.
It was a much more difficult position to take in real life.
Someone asked me shortly after I took over as editor in chief in spring 2018 whether I had ever been a Boy Scout. I thought it was a funny question because no, I had not been one as a child, and I did not necessarily think I had a firm set of codes I lived by. But it did help me to understand that much of my life I have been dealing with being a protagonist. I want to be the hero. Journalism seemed the perfect outlet for self-sacrifice, to be a leader who makes time for his staff or a journalist who sacrifices his own beliefs and identity to show the world an unfiltered and objective perspective.
I buried myself in my work and relied on my stature and accomplishments for my own perception of self-worth. All this came crumbling down when it became clear the staff was split on whether to strike over the UCLA Communications Board's decision to go against the staff's endorsement for my successor. I always knew that I would stand on the side of publishing, and once I decide on something, not much can be done to change my mind.
There's no denying that lines were drawn, and I still struggle to feel welcome in Kerckhoff 118. And that is a shame because many of my greatest memories from college come from that place. I remember working tirelessly with my fellow 2017-2018 News editors, Rupan, Hedy, Emi, Sharon and Anny, to make deadline – maybe once a month if we were lucky. And I still find myself trying to wrap my head around the metaphors Keshav, the 2017-2019 Opinion editor, would make during editorial board meetings.
For a long time, I blamed the strike for my changed feelings about The Bruin. But it was editorship that had changed me. There's no denying that The Bruin's culture mimics that of any workplace, with some individuals carrying more popularity than others. I have never in my life been popular, and it wasn't important to me. I viewed The Bruin as my job, and I cared deeply about doing it well.
My predecessors have frequently used this platform as a space to talk about the successes of The Bruin and the future they are excited to see for it. They seldom speak about the uncomfortable moments when you have to make difficult decisions – and for good reason. Nobody quite understands what it is like to sit in the editor-in-chief chair until they have sat in it. I let this job consume me and some of the things that happened still weigh on me heavily. I suppose in some sense, I got to live my dream of being the hero. In another sense, The Bruin feels empty to me now.
There's this idea always spinning around in my protagonist head, that it all meant something. That not missing a single day of daily newspaper production spoke volumes about my ability to preserve our history in the face of adversity. I think we all want the pieces to fit together cleanly so that when we step back, the image is something that instills confidence and pride. I would have loved to be remembered as a great leader and someone who people can, many years from now, come to for advice or anything else they might need.
I spent many weeks when my time as editor in chief expired venturing to Kerckhoff Coffeehouse with Raunak, the 2018-2019 Arts editor, who has easily become my best friend after all of this. Most days, we would just reminisce about the strike and ponder what The Bruin must be like without us.
The days as a student journalist have blended together into this one traumatic and inspiring memory. I went to work at Kerckhoff 118. I made some friends and I wrote some cool stories. I got my name printed in a strike letter, and I had to assure our small nonstriking team that we would indeed be publishing a paper the next morning. That alone might have been the most heroic moment in my life.
I came into The Bruin hoping to become a journalist and a hero. I left The Bruin ultimately neither of those things. It would have been nice to be remembered for all of my accomplishments and for helping our talented team tell the stories our readers deserved.
I picked the battles I felt were worth fighting. I told the stories I thought were worth telling. And I leave it to our readers to decide if what we did was right and important – as they should with all journalism.
Preal was a News contributor 2016-2017, News reporter in 2017, city and crime editor 2017-2018, editor in chief 2018-2019 and News senior staff 2019-2020.
Preal is the editor in chief of The Bruin. He was previously the assistant news editor for the city and crime beat and a news reporter for the city and crime beat.
Preal is the editor in chief of The Bruin. He was previously the assistant news editor for the city and crime beat and a news reporter for the city and crime beat.