Having introvert and extrovert qualities has made me a better journalist -30-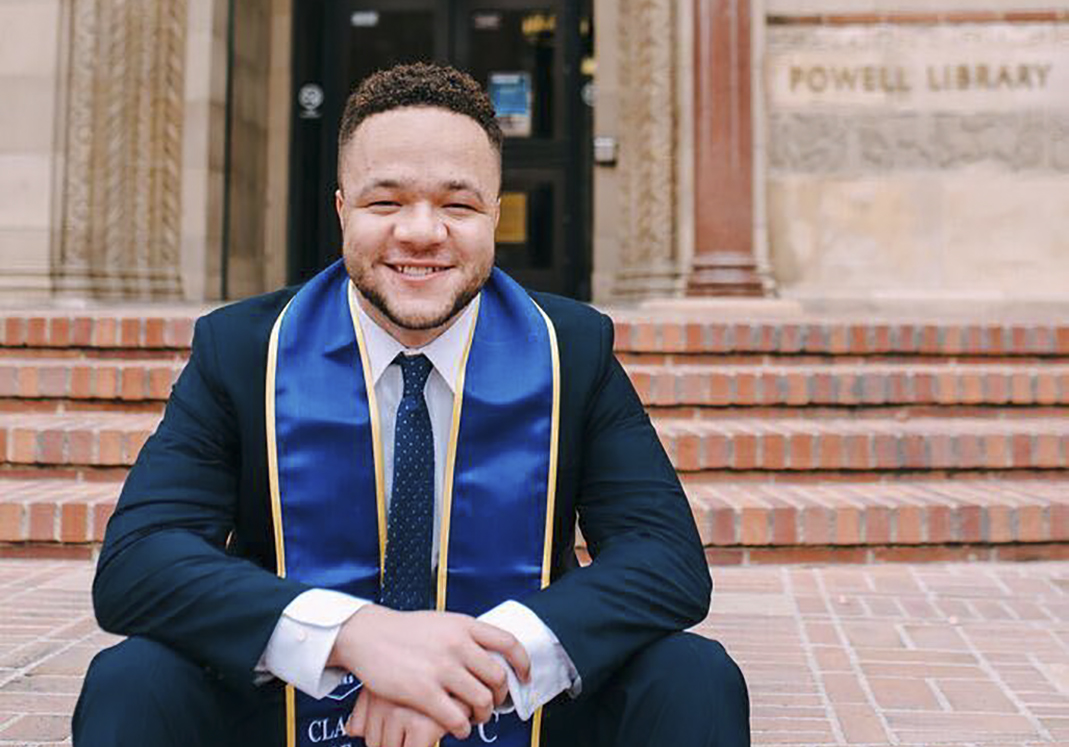 (Courtesy of Marcus Veal)
When I sent in my Statement of Intent to Register to UCLA in April 2016, I knew exactly what I was signing up for.
I was a kid from San Francisco about to call enemy territory home for the next four years. I was well aware of the smoke that was about to come my way, but I wanted all of it.
The 49ers were in the Super Bowl not that long ago, the Giants were two years removed from three championships in five years and the Warriors on their way to having the best basketball season ever.
Then LeBron happened.
He aggravated Draymond Green just enough to get him suspended for Game 5, scored 109 points in the final three games and made – the block – that ESPN replays a little too often if you ask me.
My confidence heading into Los Angeles took a hit and basketball was a touchy subject for a few weeks, until the Warriors signed Kevin Durant. Then I was fine.
My passion for sports and writing made my decision to join the Daily Bruin not feel like a decision at all.
I wrote for the school paper my senior year of high school. The Paper Tiger at Lick-Wilmerding High School wasn't split up into sections the way the Daily Bruin is. Its staff was about 15 people, so we were able to write about anything as long as it stayed relevant to the area or students' interest.
But everybody knew that sports journalism was where my heart was at. My friend, George Dicke, and I were coined "the sports section" by our teacher Ms. Von Breton. It might've been my sports passion that made me want to continue journalism in college, but it was Ms. Von Breton's support and guidance that made me believe I could.
And my time at Daily Bruin and at UCLA in general made me learn so much about myself.
This may seem hard to believe now, but I was pretty shy growing up. Or at least I thought that was the right word to use.
I hate that word. Shy. A little kid is shy, but they eventually grow out of it. There are certain connotations of that word that don't fit the description of Marcus Veal at all. I love being around people, but there are also times where I am more than okay being by myself for a while. I was quiet in the classroom, on the court, on the diamond and even when around friends. Of course if I was called on or if I had something to say, I would say it, but the main way I expressed my thoughts and creativity was through my fingertips. On the keyboard of a computer or on the valves of a trumpet.
I was someone who I guess was a little shy but not entirely. I figured there's a word for it, but I just couldn't quite put my finger on it.
Until one night when I grabbed De Neve Late Night with a friend.
We were at Late Night for two hours, talking about life and when I told her my dilemma, she gave me the phrase I was searching for my whole life.
"You're an extroverted introvert."
There it is.
I love meeting new people and learning their life stories, but I can only endure so much socializing. My first impression is nowhere near my real personality. My inner circle is just as big as my outer circle, but I have tendencies to latch onto the same people for a while.
If I don't like somebody, which rarely happens, there's really nothing they can do to change that. Although, that might just be a Taurus thing. I learned quite a lot of astrology during these four years, too. In a group of people, I don't try to "work the room" or be the "most popular." I am very OK with that. And lastly, I take pride in how observant and open-minded I am, and I think I'm a good journalist because of it.
But enough about me, I wrote this column to say thank you.
Thank you Michael Hull, for showing me the ropes from the start and for introducing me to the beautiful game of water polo. I couldn't have asked for a better first editor.
Thank you Nick Yekikian, for not only putting me on the softball beat but also for the baseball talks and the check-ins. Despite you being an LA Dodgers fan, I'm grateful that the Daily Bruin allowed us to meet and become friends.
Thank you to all the editors I've been able to work with these past four years. As a writer, you guys were exactly the right people I needed to be around as the incredible and hard-working people that I looked up to each and every day.
Thank you to the players, coaches and sports information directors I was fortunate to work with, and I wish you all the best of luck.
It's been four years I'll never forget. And because of that, I'm forever grateful.
Veal was a Sports contributor 2016-2017 and reporter 2017-2020.
Veal joined the Bruin as a freshman in 2016 and contributed until he graduated in 2020. He spent time on the baseball, softball, women's water polo, men's soccer and cross country beats.
Veal joined the Bruin as a freshman in 2016 and contributed until he graduated in 2020. He spent time on the baseball, softball, women's water polo, men's soccer and cross country beats.