Copy editing for the Daily Bruin taught me to move on from my mistakes with style -30-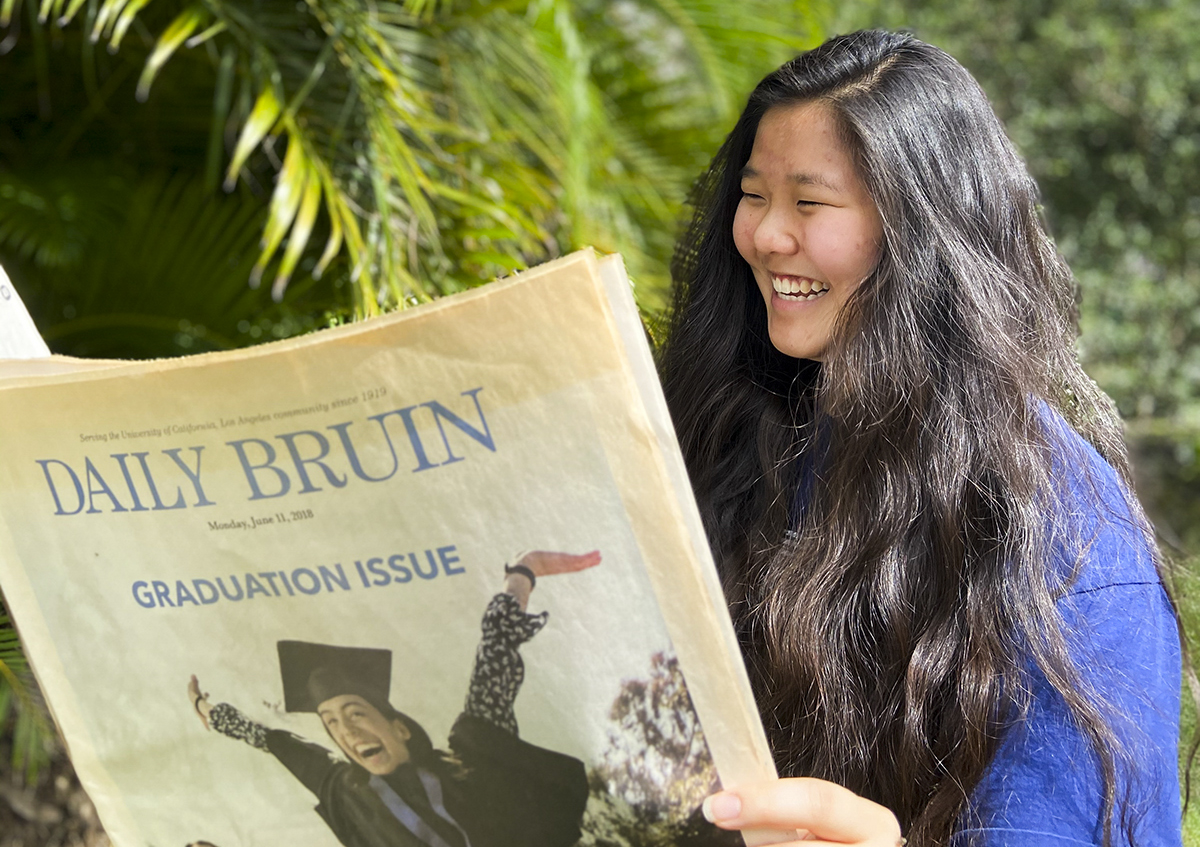 (Courtesy of Maris Tasaka)
A copy editor's job is largely an invisible one.
Over the past three years I've worked as a copy editor for Daily Bruin, I've spent a significant amount of time double-checking 20-years' worth of sports statistics, questioning if a reader would ever really check it and issue a correction if our stat was wrong. I've spent time writing punny, albeit sometimes cheesy, headlines, hoping readers would enjoy the wordplay I used. And I've spent more time than I can count staying in the office until 3 a.m. to ensure stories are accurate, consistent and well-worded.
While I've often questioned if anyone notices the work we do in Copy, the reality may be that readers aren't really supposed to.
This is a sentiment a copy editor at the St. Louis Post-Dispatch shared, writing on Twitter: "When we do our job right, what we do is barely detectable."
As copy editors, it is our goal to ensure the reader doesn't notice any mistakes and disrupt their reading experience by pausing at something and questioning if it's correct.
On the flip side of that coin is that your job can be very visible when you miss a mistake – when you gloss over a misspelled word, or, even worse, cause one or find out that fact you spent all that time checking was, in fact, not correct.
When your job is to make sure a story is mistake-free, it can feel like you've failed when a story gets a correction.
I've never really been one to take failure in stride, often opting not to do something out of fear of failure rather than trying and failing. In fact, my fear of failure was one of the reasons I didn't apply to Daily Bruin during my first year.
Even after three years, I've still chided myself for the times I missed those mistakes, mulling over what went wrong for days after the fact, regretting not looking over the story just one more time.
In all honesty, over time, it hasn't gotten any easier seeing there's a correction on a story I edited. But whether I like it or not, copy editing for the Daily Bruin has forced me to acknowledge those mistakes, to hold myself accountable for them and to do my best to learn from them and then move on.
Most of all, though, I've learned that it can be OK to laugh at those mistakes sometimes too.
The people I have had the opportunity to work alongside have taught me that it's not the end of the world when you make a mistake, and sometimes it's OK to laugh when you realize you didn't double-check to make sure the filler text was replaced with the caption you asked for and find out the filler text printed and was made into a meme.
I often say one of the best parts of working for the Daily Bruin is the people, and, amid breaking stories that seem to crop up out of the blue and unexpected problems with the PDF we sent to the printer, that's something that has stayed constant over the years.
For every time I've spent staying up until 2 a.m. parsing through science articles and working to ensure we're being sensitive about the topics we write about, I've also spent time eating candy with other editors, laughing until my stomach hurt and singing along to "Mamma Mia" and Taylor Swift.
During my first year at UCLA, I was overcome with loneliness, often questioning if I should have gone to a smaller school where it was easier to meet people or where I knew more people. I'm from a small state and went to a school where I took classes with the same groups of people since the sixth grade, so I was overwhelmed coming to a large university where there were hundreds of people in my classes and hundreds of organizations I could join. But joining Daily Bruin made what felt like the large and intimidating world of UCLA feel much smaller and much more like a home.
To Saskia, thank you for entrusting me with being your assistant Copy chief. It has been a hectic year, and I've frequently questioned myself and whether I was capable of dealing with the stress, but I could not have done any of it without you. To Callista, thank you for being one of my first friends in Daily Bruin and for being by my side to laugh and weather the chaotic late nights. And to the copy editors I have worked with over the past three years, seeing your dedication to ensuring the credibility of this newspaper and working beside you has pushed me to become a better editor – and for that, I thank you.
In the long run, even if the work of a copy editor may not be marked with a byline or a note saying what we edited, and even if it may be largely invisible to readers, the time and effort we put into editing stories is not.
Tasaka was a Copy contributor 2017-2018, slot editor 2018-2019, A&E contributor 2018-2020 and assistant Copy chief 2019-2020.
Tasaka is the assistant Copy chief of the Daily Bruin. She was a slot editor last year and a contributor for Arts and Entertainment.
Tasaka is the assistant Copy chief of the Daily Bruin. She was a slot editor last year and a contributor for Arts and Entertainment.