Campus Queries: How can we improve our memories?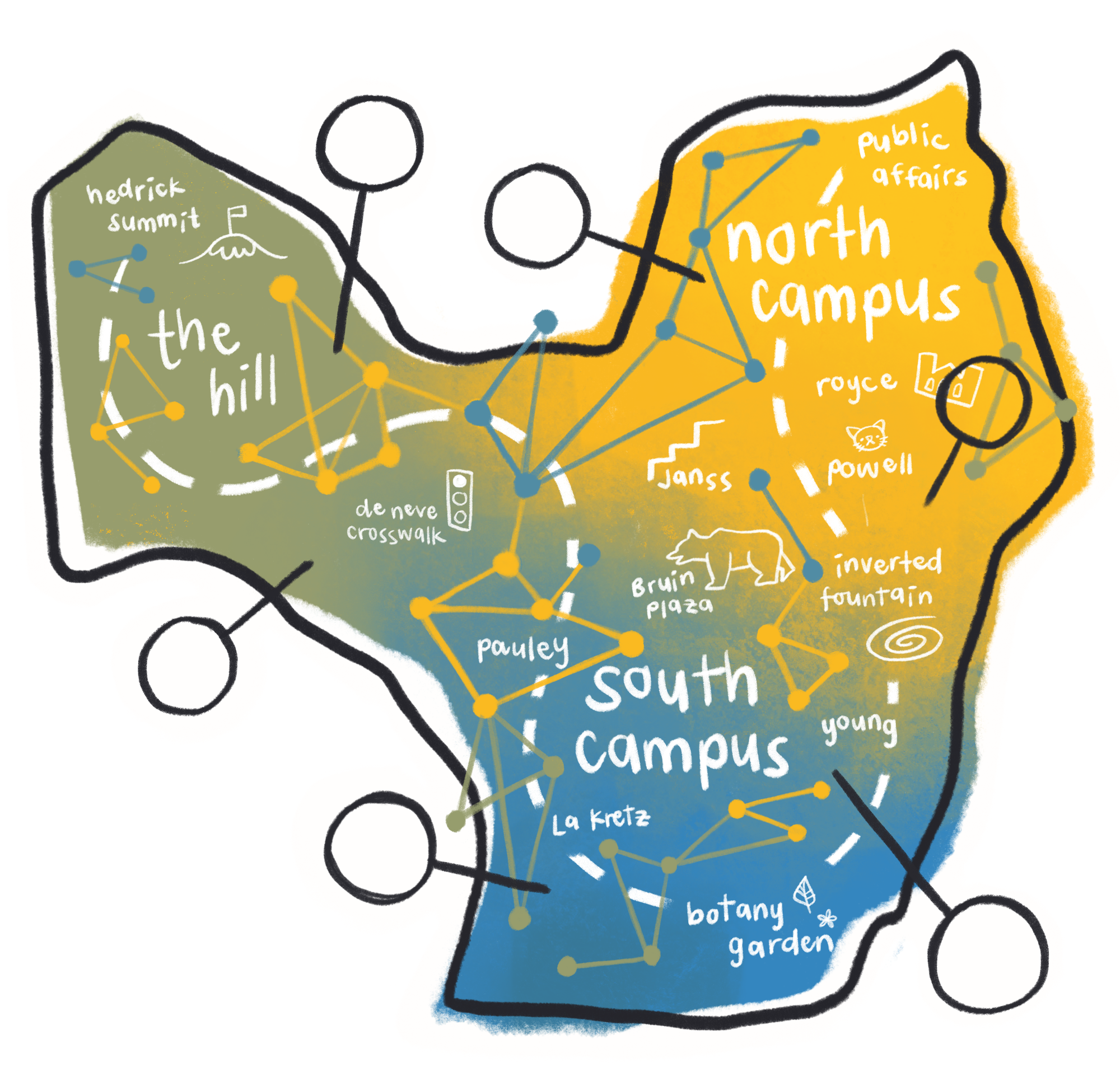 (Nghi Nguyen/Daily Bruin)
Campus Queries is a series in which Daily Bruin readers and staff present science-related questions for UCLA professors and experts to answer.
Q: What are some techniques that can help improve my memory?
A: Memory techniques such as the Roman Room method, mnemonics and limericks can be used to remember information that may be difficult to remember.
The process of memory formation begins with receiving information. The information then enters the short-term working memory, which is like a holding tank, said Linda Ercoli, the director of geriatric psychology at UCLA.
Information is processed into long-term memory by memorization, Ercoli said. It can then be recalled from long-term memory back into the holding tank, where it becomes consciously available and can be used, she said.
One can improve memory by making information more meaningful, Ercoli said.
"(You can memorize a phone number) either by repetition or by looking for patterns in the phone number to make it meaningful," she added.
There are three steps to committing something to memory, said Karen Miller, a neuropsychologist and clinical professor of health sciences at UCLA. The first step is paying close attention to a piece of information, the second is moving the information into working memory and the final step is learning the information, which transforms it into long-term memory, she said.
Working memory is utilized when actively engaging with information, such as working through the numbers from a math problem, she added.
"(In the learning phase), we're taking in the information across multiple repetitions," Miller said. "It's really important that we have multiple exposures to the new information over multiple time points so that we actually have stronger learning or encoding of the new information."
Memory encoding is when sensory information is converted into electrical and chemical signals to be stored in the brain.
There are many different categories of memory, including rote memory, contextual memory and visual memory, Miller added.
Rote memory is used for learning isolated facts or bullet points, such as memorizing the periodic table, said Miller. Contextual memory is story-based, used in remembering historical events, whereas visual memory is for memorizing pictures and geometric information, she said.
Miller said the most basic methods for improving memory are to improve one's attention and increase one's exposure to the material.
Most people need to look at new information at least five times in order to recall it during a test-taking situation, which ideally should not occur on the same day, Miller said.
When studying for a test, distributing practice and consolidating your notes frequently in separate intervals is much more effective than cramming, Ercoli said. It is important to review new material within the first 24 hours of exposure as most of the forgetting occurs within that time.
"(Students should) take notes while (in lectures), and then go home and study the notes that day within 24 hours because it will help solidify it," Ercoli said.
Sleep is also an important factor for consolidating a new memory, Ercoli said.
"The cram method is like the antithesis of what people should be doing because you're flooding yourself with information, you're not distributing it and you're not sleeping," Ercoli said.
Gary Small, a professor of psychiatry and biobehavioral sciences at UCLA, said he introduced the method "Look, Snap, Connect."
"Look" is a reminder to focus your attention, as the biggest reason for forgetting something is a lack of focus. "Snap" reminds you to take a mental snapshot of the information, which engages the brain's natural ability to remember visually. "Connect" links up the mental snapshot with the information, making the information more meaningful.
Small explained how he uses "Look, Snap, Connect" to remember names and faces.
"(If someone's) name is Samuel and he's got a long beard, I might see him as a biblical character Samuel," Small said. "(If someone) has a bubbly personality, and maybe her name is Shirley, I think of the movie 'Airplane!,' where they have that joke – 'Stop calling me Shirley.'"
The Roman Room method is particularly useful for remembering things in order, such as memorizing a speech, Small said.
The Roman Room method works by anchoring information to an environment familiar to you, such as your apartment. This information can then be sequentially retrieved when you take a mental walk through this space.
Small explained how students can use their walks to campus as their mind palace by associating information with UCLA landmarks such as Pauley Pavilion and Ackerman Union.
"First I might go by … Pauley Pavilion and I might see something I want to remember there," Small said. "Then I go to Ackerman Union, and (Bruin Walk), (Janss) Steps."
The Roman Room method is taught as a part of UCLA's memory training program, alongside other techniques such as the story method, to help improve attention and contextual memory, both Miller and Small said.
The story method helps a person remember something by attaching new information to something a person already remembers, Small said.
"You're basically anchoring new information on information that's already in your memory stores," Small said. "If you think about how you structure a story, you probably do something like that instinctively."
Small, Miller and Ercoli collaborated to create and teach the program, which has now expanded to 160 sites, including countries such as China, Brazil and Canada.
"People come to UCLA and they purchase the UCLA programs that Dr. Small and I've created," Miller said. "Then we train them, and then they take it back to where they are practicing psychology or medicine."