Q&A: UCLA baseball coach talks impact of shortened MLB Draft on collegiate baseball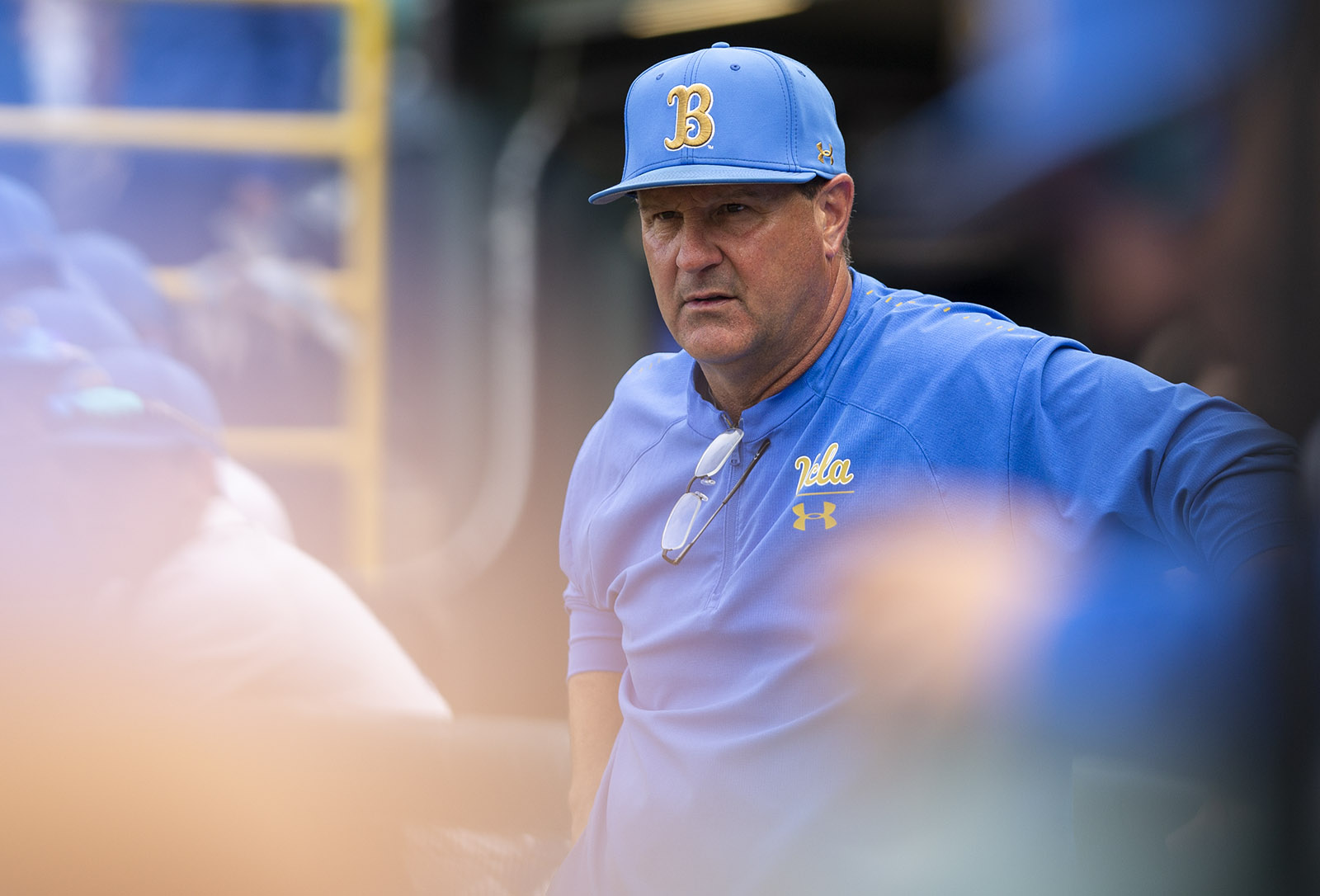 For over 15 seasons, coach John Savage has served at the helm for UCLA baseball, and he said the 2020 MLB Draft – which will consist of just five rounds – will have ramifications on collegiate baseball for years to come. (Andy Bao/Daily Bruin)
Almost one year ago, the 2019 MLB Draft concluded with a program-record 13 Bruins selected by MLB teams, tying with Vanderbilt for the largest draft class nationwide that year. But amid the cancellations due to the coronavirus, the MLB announced its 2020 draft would be shortened to just five rounds, and only one Bruin – junior center fielder Garrett Mitchell – is a lock to be drafted. To find out how the shortened draft will affect college baseball in the coming years, assistant Sports editor Jared Tay sat down with UCLA baseball coach John Savage to talk about all the recent developments in the baseball world.
Daily Bruin: Since the outbreak of the coronavirus, baseball fans have known that a shortened 2020 draft was likely, and Major League Baseball officially announced earlier this month that its amateur draft would cut from its normal 40 rounds to just five. What are your reactions to the front office's decision, and what does this mean in general for college baseball?
John Savage: You're talking about five rounds, so that really limits the entry into Major League Baseball, on the back end (of the draft). You've got to be a top-five round pick, and if not, you're looking at free agency if you're a senior. On the front end, high school players that aren't top-five round picks will be going to college. I think there's some give and take; nobody really knows how it's going to play out. But knowing that the draft is going to be 85% shorter than it was at 40 rounds, it's a significant difference and (will have) a significant impact. You're going to see more players going to college and staying in college.
DB: The MLB also announced that teams would be able to sign an unlimited number of free agents, yet those players would only be allowed to sign for a maximum contract of $20,000. Does the limit make leaving school as a free agent especially unappealing for undrafted players in your program?
JS: Yes. You hit it right on. (Twenty thousand dollars) is not an appealing number. The only time it's really appealing is if you're a senior and you've played here for four years and you're finished academically. You could sign from anywhere between $1,000 and $20,000, but you don't have a lot of leverage. As a junior, you would still have two years of collegiate eligibility, so it doesn't make a lot of sense for our juniors to sign for $20,000.
[Related: Tay's Takedown: Shortening of MLB Draft could deny collegiate players chance to go pro in 2020]
DB: With all the changes to the draft in a relatively short amount of time, have you had to help counsel your players on the decision to stay in school or start their careers?
JS: We definitely have had conversations with all the juniors, making sure they understand the rules, the process (and) the clock in terms of being a professional. There are arguments that some of them might want to start their careers, but at the same time, going into professional baseball as a free agent and as an amateur is really difficult. The only time you want to be a free agent is if you're (former UCLA pitcher) Gerrit Cole, but those are two different types of free agents. We anticipate anybody who isn't drafted as a junior to come back, but we would recommend a senior sign since they're finished academically.
DB: As you talk about juniors returning to school, two players that come to mind are (junior right-handers) Zach (Pettway) and Holden (Powell). Has the process for them been even more difficult, especially since they would likely be drafted in the later rounds of a 40-round draft?
JS: Again, you're right on. We anticipate Mitchell going in the first round. We believe (Powell) has a good chance of going somewhere between the third and fifth rounds. We're going to need to sit through June 10 and 11 to really see how it's going to play out for both (Powell and Pettway). They are definitely two guys that are looking at different options and possibly different teams, having Zoom meetings with professional clubs, just trying to get a pulse on where they might fit. If they don't get drafted, I think they would both be open to coming back.
DB: Looking at your roster as a whole after the summer, you'll potentially have more first-year players, as well as guys who have chosen to remain in school. Are you concerned about roster spots, playing time and competition over scholarships, among other things?
JS: Yeah, that's a good point. We are concerned with how the NCAA will rule on roster limits. The 27-player max that can be on scholarship, they're talking about moving that up to 32. The 25% (scholarship) rule, how is that affected and could that be going away? (Meanwhile), the MLB has come out of nowhere with a five-round draft – it's a time we've never seen before. There's a lot of factors that normally we don't deal with, and we have to deal with it remotely, which is even more of a challenge. Days are crazy right now just trying to figure it all out.
DB: Is it comforting, though, to know that you're not the only Division I program that is going to have these challenges in the years ahead?
JS: I think the one thing about UCLA that makes it different, is our clocks. … Our program is a progressive program where our really good juniors normally sign and our seniors play four years and then graduate. The big monster in the room is the five-round draft. That has a major impact on the world of college baseball, and you're right, everyone is dealing with it, but I think the higher-profile programs are dealing with it a little bit more. That's where I think we're different than most. We have a lot of high-end juniors and we have a lot of high-end incoming guys. With the five rounds, the uncertainty is at an all-time high.
DB: Looking at UCLA's recruiting – not for the incoming class but for the next few years – does your strategy need to change when it's unclear whether a 40-round draft will return in the near future?
JS: Yeah, it's a good question. They're talking about the 2021 draft being 20 rounds. It's not etched in stone, but it'll be more than five rounds. It has an impact on the '21 class and '22 class. Right now, I'm looking at the '21 (through) '24 roster and it changes depending on drafts, guys signing with free agency, and you really have to have organization and intel with the MLB. The signing deadline is Aug. 1, which doesn't really help. It starts to get close to fall quarter, and usually, the signing deadline is before that. It will have an impact on future classes, just because of numbers, and I feel like I need an accountant right now.
DB: Shifting gears, there hasn't been an official announcement from the Pac-12 just yet, but there are rumors of the potential for a Pac-12 baseball tournament right before the NCAA tournament starting in 2021. The ACC and SEC already decide their champions via a bracket-style competition, so what are your thoughts on the move for a postseason conference tournament?
JS: Well, I've never been a proponent of a tournament. I believe in 30 nine-inning games to decide a champion, but I think our league felt that we were getting short-changed in the selection process for the (NCAA tournament). People thought it was a potential try to see if we could get another team into the tournament. I don't know if this will help it. They haven't announced anything official, but somehow it got leaked to the press, (so) we'll see how it plays out. I'm not a huge fan of a team finishing eighth place winning the tournament and then getting an automatic bid to the (NCAA tournament). It just hasn't been in my DNA, but I guess we'll have to adjust.
Tay is currently a Sports senior staff writer. He was previously an assistant Sports editor for the baseball, men's soccer, men's tennis, cross country and women's tennis beats. Tay was previously a contributor on the men's tennis beat.
Tay is currently a Sports senior staff writer. He was previously an assistant Sports editor for the baseball, men's soccer, men's tennis, cross country and women's tennis beats. Tay was previously a contributor on the men's tennis beat.