An effective ally must keep their ears open, remember to be silent is to condone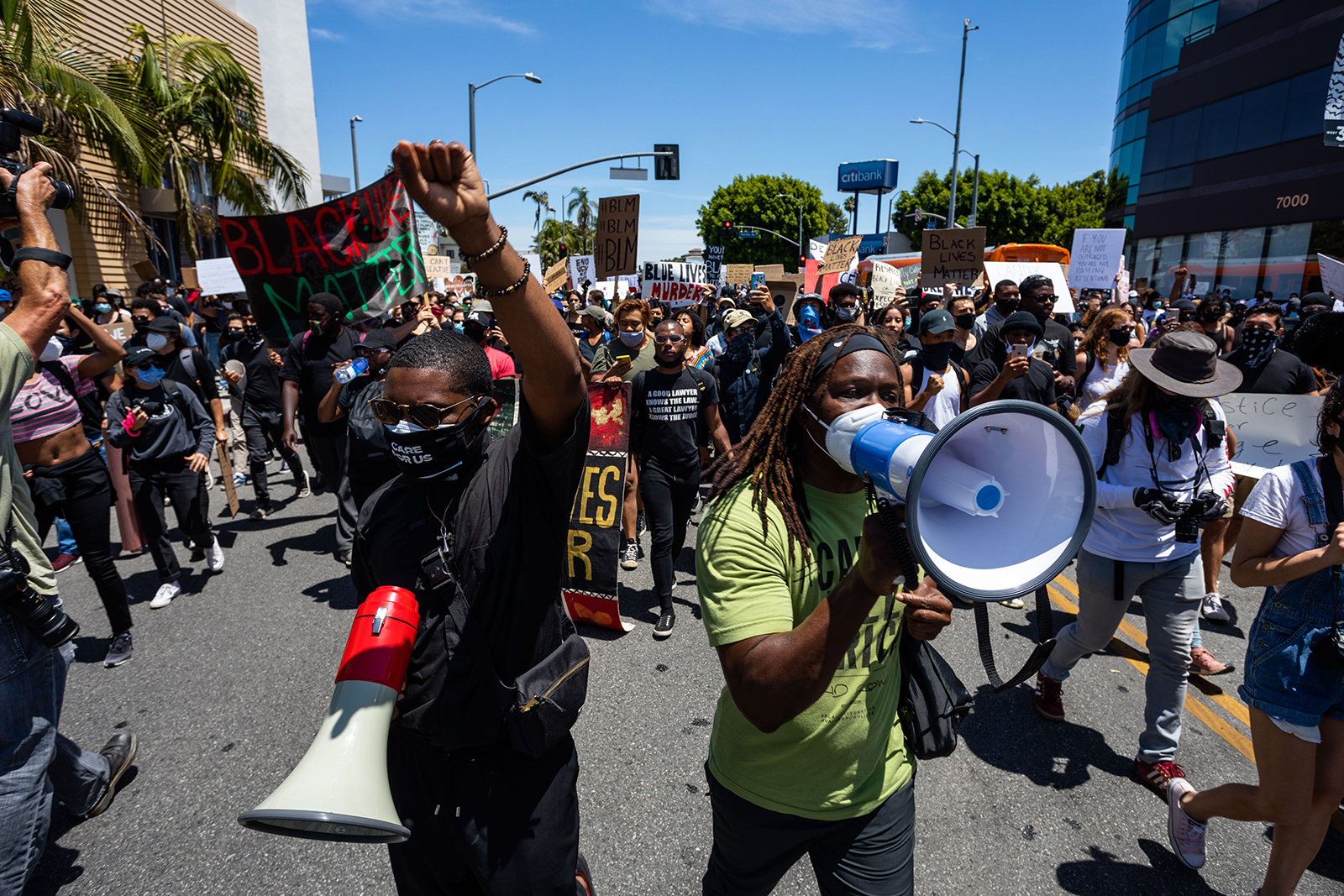 Being an ally means more than just posting on social media – it means actively trying to elevate black voices and using privilege to improve the lives of others. (Jintak Han/Daily Bruin senior staff)
It is a privilege to be able to turn off the news and continue with normal life. The videos depicting instances of police brutality from this past week are disturbing, horrifying and ugly.
But for many Americans, these televised moments are a daily reality.
In March, Breonna Taylor, a 26-year old black woman, was in her apartment when she was shot and killed by Louisville police. Last week, three men in Georgia were arrested for pursuing and killing Ahmaud Arbery, a 25-year-old Black man. Arbery was jogging in his neighborhood and was unarmed. Less than a week later, bystanders videotaped a Minneapolis police officer kneeling on the neck of and eventually killing George Floyd, a 46-year-old black man.
This video immediately gained traction on social media, sparking public outrage for its disturbing content, including Floyd's last words: "I can't breathe."
Those were also the last words of Eric Garner, a 43-year-old black man who died at the hands of the NYPD in 2014. "I can't breathe" became a rallying cry for protests against police brutality and has now returned at demonstrations across America, where protestors are demanding justice for Floyd and an end to police brutality.
Police brutality is an extension of systemic racism against black Americans dating back to times of slavery. From "Black Codes" created to limit black rights in the post-Civil War era to police attacks on black protesters during the civil rights movement, the institutionalized violence against black bodies is sadly nothing new.
"People have consistently said, 'You can't blame a few bad apples,' but it's not just the apples," said Alexandria Davis, fourth-year African American studies and political science student and president of Afrikan Student Union. "It's a whole rotten tree when an organization is rooted in racism and slavery. You cannot come back from that."
Black Americans have been demanding equality for centuries, and the events of last week demonstrate that the nation is nowhere near to achieving it.
We, the authors of this column, are not black individuals ourselves. But remaining silent or neutral signifies compliance with these injustices. In order to change systems of oppression, we all have the responsibility to empathize and become allies – because this issue demands everyone's full attention. This is never more true for institutions of education such as UCLA, which must serve as an ally to black students while also promoting solidarity.
This means calling local politicians and demanding change and accountability, signing petitions, donating to organizations and fundraisers and sharing these resources on social media. And UCLA as a whole needs to ensure they are providing the necessary resources to black students on campus.
Allyship starts with spreading awareness. But in order to do so effectively, we must not speak for black students – instead, we need to listen.
Despite a whirlwind of helpful information and overall support on social media, some well-intentioned users have been accused of sharing "trauma porn," – violent images and videos depicting police brutality for its shock value, according to Davis. This such content may be traumatic or triggering for black viewers.
Performative activism, or sharing graphics and messages done solely to partake in a trend, often lacks any real substance. This does not directly support the victims of injustice, nor does it enact actual change.
"I think that sharing posts is a good introductory step," said Trisden Shaw, president of the Black Graduate Student Association at UCLA and an African American studies graduate student. "But this type of performative allyship with hashtags and hashtag chains is not really doing much for people."
Words without associated action do not reflect true activism.
"Allyship often feels so performative," Shaw said. "To me, an ally is someone who is willing to fight the fight. An ally is someone with privilege that knows how to use their privilege."
Privilege for nonblack individuals means that the color of their skin is a selective advantage, like the choice to remain silent while black people cannot. And UCLA students with this privilege should not stay silent.
Otilia Danalache, a first-year political science student, said encouraging active contribution appropriately exhibits allyship.
"I saw a lot of people posting screenshots of their donations asking their friends to match them," Danalache said. "So I posted my donation to the Minnesota Freedom Fund and, within a day, (my followers collectively donated) over $200."
Due to overwhelming support, the Minnesota Freedom Fund has since asked that donations be redirected to other organizations, including the Black Visions Collective, Reclaim the Block and the North Star Health Collective.
Individual students should not be the only ones in the UCLA community demanding change. Student organizations have just as much of a responsibility to spread awareness and encourage activism.
Breeze Velazquez, the 2020-2021 Undergraduate Students Association Council Academic Affairs commissioner and second-year Chicano/Chicana studies and public affairs student, said she wants to see the AAC take an active stance against police brutality.
She also noted that it is important to take a step back and listen to the perspective of black individuals to learn how to be a good ally.
"The best thing that a white ally, a Latina ally, an Asian ally can do is learn this information and go into their communities, and speak out," said vice-chair of ASU and fourth-year African American studies student Saturne Tchabong. "Call out anti-blackness and talk about racial injustice."
ASU also stresses the importance of black mental health during this difficult period and encourages students to check in on their black friends, which can serve as another form of allyship.
"Checking in with your black friends is something that is very overlooked," Tchabong said. "I had a close friend, (who is) Latina, who did reach out to me and that meant more to me than any post that I spotted."
As a result of concerns about the mental well-being of black students, ASU created a petition asking the UCLA administration and Academic Senate to reduce the rigor of finals to accommodate students who may have difficulty focusing given the current global climate. The petition calls for signatures from both affected students and community members who empathize with those who need these adjustments.
In a campus-wide email sent out addressing recent events, UCLA vocalized its support for Black Lives Matter.
"We conclude by stating unequivocally that Black lives DO matter," the statement read. "They matter at UCLA. They matter in Minnesota. They matter everywhere."
But Tchabong said these efforts by the UCLA administration are long overdue.
"(This is) something that we've been telling them for five-plus years now: Black students need resources," Tchabong said. "We need a resource center that is fully funded. If (Chancellor Gene Block) truly believes that black lives matter, he would get us those resources."
And if UCLA is serious about its statement, it must serve as a proper ally to Black Lives Matter. This begins with listening to black students.
Of course, in the meantime, UCLA students should be given some credit for their efforts on social media, whether it be a hashtag chain or a link to a petition. Any form of acknowledgment is better than nothing.
But activism should not end once you leave the virtual sphere.
To those who want to be allies: Use your privilege as a platform to educate yourself and others, post appropriately and remember that it is not enough to be "not racist"— we must be proactively anti-racist. Listen to black voices and amplify them. Channel your discomfort, frustration and anger to empathize with victims of systemic racism and partake in a movement beyond yourself.
And remember how you feel today when it comes time to vote in November.