Men's water polo sees largest loss since 2008 to Stanford in regular season finale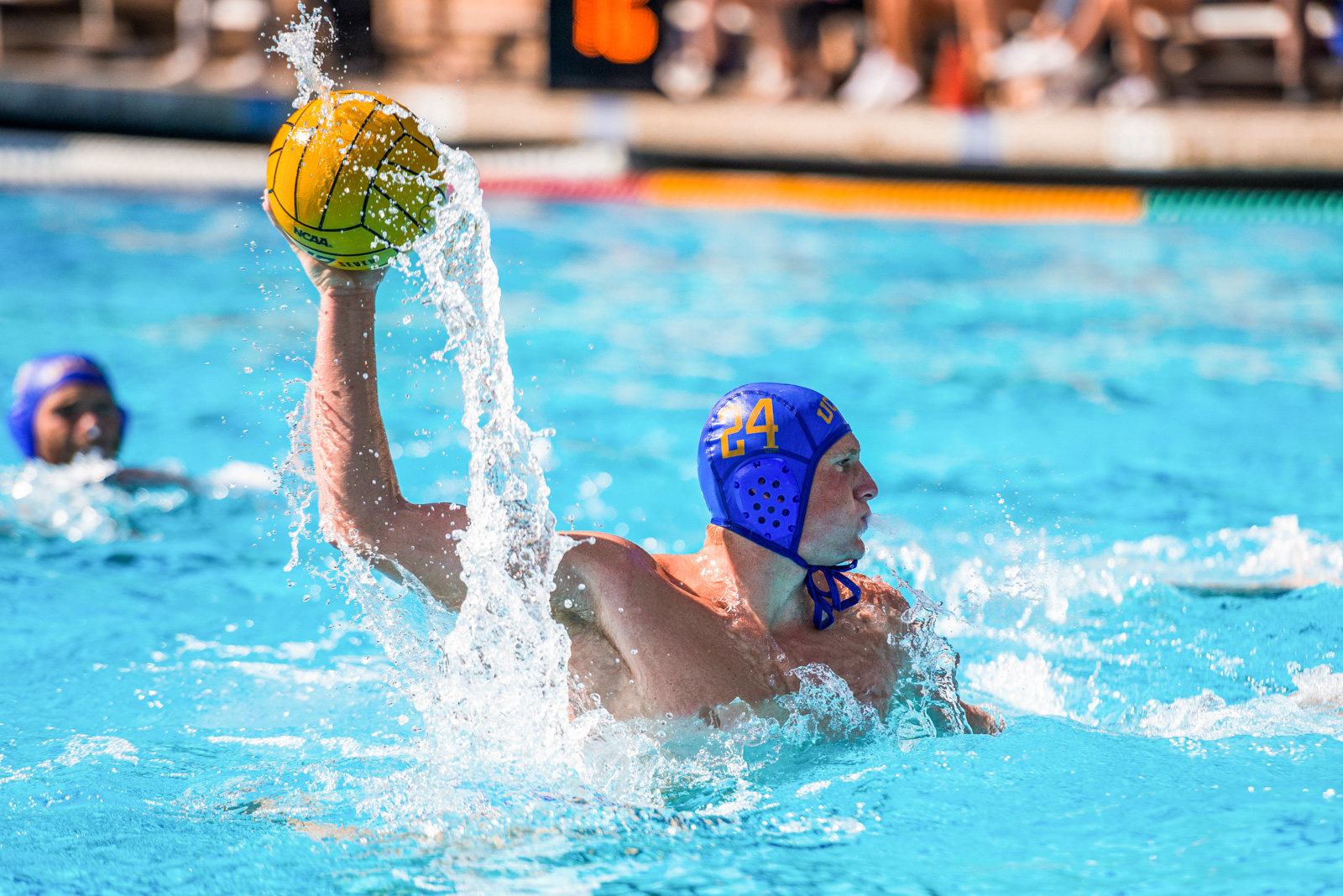 UCLA men's water polo freshman attacker Tommy Gruwell notched one goal against Stanford, matching his performance from the Bruins' first game against the Cardinal on Sept. 29. (James Schaap/Daily Bruin)
Men's Water Polo
---
| | |
| --- | --- |
| No. 3 UCLA | 11 |
| No. 1 Stanford | 17 |
The Bruins lost the battle for the second seed in the upcoming Mountain Pacific Sports Federation conference tournament.
No. 3 UCLA men's water polo (16-3, 1-2 MPSF) lost to No. 1 Stanford (17-2, 2-1 MPSF) 17-11 to earn a third-place finish in conference play. With a win, the Bruins could have clinched the No. 2-seed and a bye in the first round of the MPSF conference tournament.
"Defensively, we just can't give up as many goals as we gave up," said coach Adam Wright. "We didn't put our goalie in a good position, we didn't hold our zone blocks the right way and we let the ball go all over the place."
The Bruins' six-goal loss was their largest margin of defeat since losing to Stanford 12-2 on Oct. 18, 2008, and their largest loss in Wright's tenure – which began in 2009.
UCLA held the match scoreless for most of the opening three minutes, but Stanford scored five unanswered goals to go up 5-0 with one minute and 28 seconds remaining in the first quarter.
Stanford had three of the MPSF's top-seven scorers entering Saturday's match – center Ben Hallock, attacker Bennett Williams and attacker Tyler Abramson – and the trio scored the first three goals of the match to put the Cardinal up 3-0, with Hallock and Williams tallying hat tricks by the end of the first half.
UCLA outscored Stanford 5-4 in the second half but could not overcome the 13-6 halftime deficit. Sophomore attacker Matthew Kacura, who co-led the Bruins with two goals, said the Bruins' lack of confidence in each other led to UCLA's slow start.
"I definitely think our team chemistry isn't where it's supposed to be," Kacura said. "It didn't feel like we trusted each other in the pool today, and we didn't give it all that we had."
Freshman goalkeeper Bernardo Maurizi was in the cage for his fifth start of the season, having posted a 5.07 goals-against average prior to Saturday. But against Stanford, Maurizi let in 13 goals in the first half alone and finished the game with eight saves and a .320 save percentage.
Freshman attacker Tommy Gruwell said it was also the defense – not just Maurizi – that led to the deficit.
"Our shot-blocking was bad," Gruwell said. "Our defensive positioning didn't put (Maurizi) in the right position to be successful. (Maurizi) is a great goalie coming from Italy, and it was pretty much his first game starting and playing that many minutes."
For the Cardinal, goalkeeper Andrew Chun – who had the second-highest save percentage of qualifying MPSF goalies entering Saturday's match – logged nine saves for a .450 save percentage.
One of UCLA's only statistical advantages on the day was in power-play efficiency, with its conversion percentage of .500 eclipsing Stanford's mark of .400. Nonetheless, Stanford was more efficient on offense overall, outshooting the Bruins with a percentage of .531 compared to .440, while also taking seven more shots than UCLA.
The Bruins' two-game losing streak is their longest of the season, but Wright said UCLA has a chance to reverse course at the MPSF tournament.
"We have what I feel like is the most difficult conference tournament to play in starting this coming weekend," Wright said. "We have a great opportunity. If we can really lock it in and get on the same page, then we're going to have our chances. And if we can't, we're going to see something like what we saw today."
The Bruins will face the loser of the matchup between Austin College and Penn State Behrend in the first round of the MPSF tournament at 1 p.m. on Friday at the Spieker Aquatics Complex in Berkeley.
Foote is currently a Sports contributor. He was previously a contributor on the baseball, women's soccer, men's volleyball and men's water polo beats.
Foote is currently a Sports contributor. He was previously a contributor on the baseball, women's soccer, men's volleyball and men's water polo beats.