LA Metro report finds men, women perceive public transport safety differently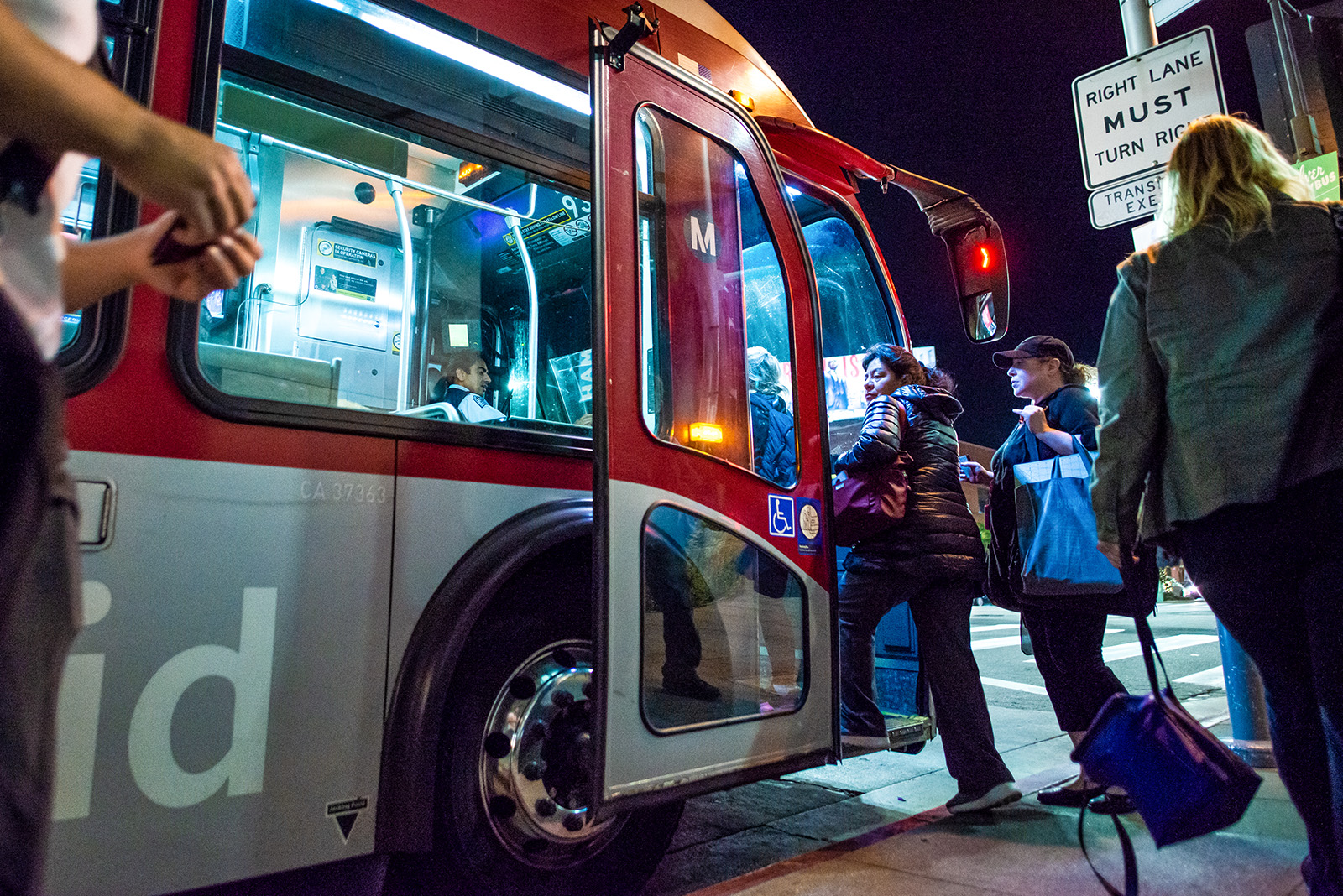 More women feel unsafe riding the Metro at night than during the day, according to a study released Aug. 30. The comprehensive study examined how women use public transit and how they feel about safety and access. UCLA researchers helped produce the study. (James Schaap/Daily Bruin)
This post was updated Oct. 11 at 11:03 a.m.
Women are more fearful of using Los Angeles public transit than men despite taking more trips, according to an LA Metro report released Aug. 30.
The report studied women's use of public transportation in the Metro public transit system. It found many women are making more trips per day than men. However, these trips are also generally shorter than trips by men.
Women also feel significantly less safe riding the metro at night than during the day. Just 20% reported feeling safe at night compared to the 60% who felt safe during the day, according to the report.
Such findings may not be surprising to many women, especially female students who tend to belong to a lower-income bracket and are more likely to use public transit, said Madeline Brozen, deputy director at the UCLA Lewis Center for Regional Policy Studies.
Sheila Kuehl, LA county supervisor for the third district which includes the Westwood area, said in an email statement that the findings of the report do not seem like they would be surprising for many women.
Kuehl, also a Metro board of directors member, said this report focused on how women worried about nighttime safety. These findings will inform how Metro will operate its public transit system in the future, she added.
"The timing of this study couldn't be better because, right now, Metro is in the middle of rethinking everything about our bus system so we will be using these insights in considering needed changes to the system," Kuehl said.
Brozen, who was credited for the literature review and as a research advisor, said female students are generally more likely to use public transport because they tend to have lower incomes.
"In addition to that, UCLA is sponsored by public transit, and the campus does a lot to promote public transit use among students," Brozen said.
The study found 80% of women who use public transit perceived safety to be fair, good or very good, compared to 85% of men. For women who don't take public transit, 54% perceived safety to be fair, good or very good compared to 65% of men.
Brozen said these perceptions could be improved by enhancing security around bus stops.
"I would say that the biggest need is around safety and security," Brozen said. "There's a lot of concerns around sexual harassment, and around the conditions at the stops as well."
Brozen said Metro could improve the situation by enacting a courtesy stop system, which has been very popular in Toronto among female and male public transport riders.
"Essentially, at night, women could ask the bus driver to drop them off at an alternative stop," Brozen said. "There wasn't a bus stop, but it was closer to the destination. They didn't have as long of a walk home."
She also said Metro could shorten the waiting time between buses and add a more detailed bus schedule so people do not have to wait as long at the bus stops.
Brozen added many women working on this issue have backgrounds at UCLA, whether as university researchers or alumni.
"One of the things that's very exciting is that UCLA is being involved in this, and that UCLA is involved in efforts in the city to make the city better for women and for everyone," Brozen said.
Female students at UCLA shared some of their concerns with public transit systems. Juliette Robelo, a fourth-year international development studies student, said she doesn't feel very safe using public transit, especially considering her smaller size.
"I'm just super cautious and stuff," Robelo said. "I feel like I could be an easy target, especially because I'm kind of small. … There should be some type of security, especially at nighttime."
Isa Gordon, a second-year undeclared student, said she felt fine taking public transit during the afternoon but she would not take it by herself at night.
"The afternoon, that was fine because it was just people coming back from work or going to work," Gordon said. "(Once) we came back at 9:10 p.m. and if I was not with a person, I definitely would not have felt comfortable taking it by myself."
Alexis Adams, a fourth-year English student, said she hasn't had many bad experiences but said she felt like there were more people that made her feel unsafe at night. She added she tries to avoid such people and keeps her guard up.
"I definitely feel like as a woman on public transit at night, especially, you have all your guards up," Adams said. "I had pepper spray with me ready just in case."
Metro could improve the lighting at bus stops and drivers could be more aware of their passengers, Adams said. However, these small improvements do not address greater societal problems that factor into the fear women feel, she added.
"We'd have to change as a civil society for women to stop being scared when they're by themselves on public transit (and) walking alone at night on the street," Adams said. "It's something that I feel like there's no easy solution (for)."
Bilbao was the Assistant News editor for City and Crime from 2019-2020. He graduated with a degree in political science student and previously worked as a News contributor for Features and Student Life.
Bilbao was the Assistant News editor for City and Crime from 2019-2020. He graduated with a degree in political science student and previously worked as a News contributor for Features and Student Life.