Need help navigating UCLA? Here's a starter's guide to key campus organizations.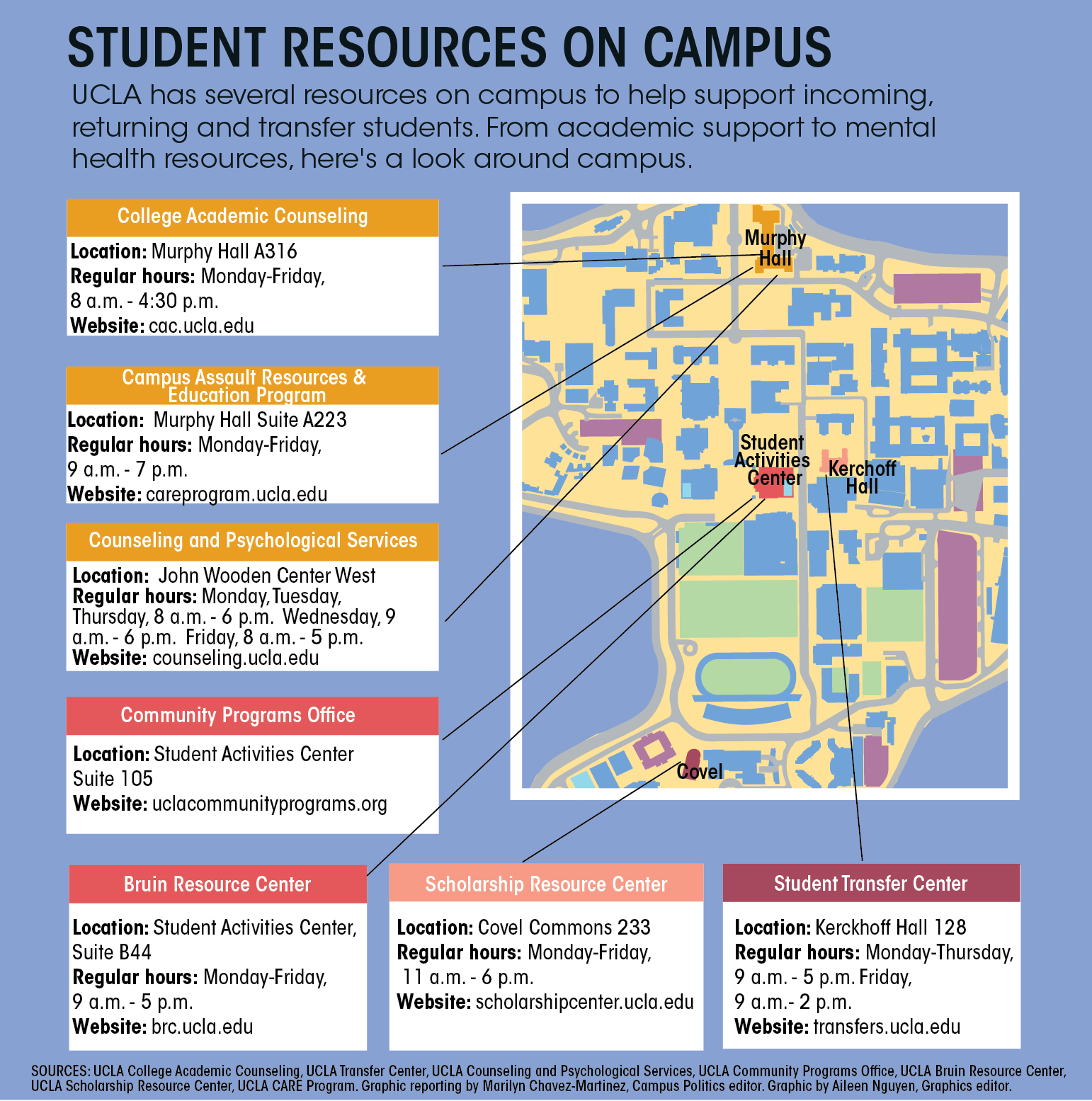 UCLA is a buzzing hive of activity, offering more than 1,000 student clubs and organizations. For more than 9,000 admitted students entering UCLA this fall, understanding everything UCLA has to offer can be an overwhelming experience.
Here's a starter's guide to some of the resources and programs on campus dedicated to helping new students smoothly transition into college.
Academic:
College Academic Counseling
Murphy Hall
CAC provides academic counseling for all UCLA students within the College of Letters and Science. Students can meet with counselors to plan their degrees, select courses, create postgraduate plans and navigate campus resources. Students can schedule appointments at A316 in Murphy Hall, or drop in during open hours. CAC also hosts a variety of academic workshops each quarter.
CAC workshops are taught in either 30 or 90 minute sessions and are designed to help students learn how to plan out their degree requirements, prepare for graduation or learn about the Expected Cumulative Progress policy, which expects students of the College of Letters and Science to take a minimum of 13 units per quarter in order to stay on track to graduate.
Student Transfer Center:
Kerckhoff Hall
The UCLA Transfer Student Center provides resources specific to transfer students, such as advice on finding internships or how to become involved in research. For students with financial need, the transfer center gives out scholarships and financial support through meal vouchers and grants. The center also connects new students with continuing students through a mentorship program and hosts social events for new students such as "Transfer Transitions," in which incoming transfers are connected to other students in their major and learn about campus resources available to them.
The Dashew Center for International Students and Scholars
Tom Bradley International Hall
The Dashew Center is dedicated to providing resources and information for international students. It also offers programming such as the English Language Circle, in which students can learn about the English language and practice their speaking skills. Students also have access to a study space at Tom Bradley International Hall, complete with coffee and snacks.
Additionally, the center offers regular workshops for academic and financial planning announced on its website and Facebook page. The center offers programs for undergraduate and graduate international students, as well as faculty.
Health and Safety:
Counseling and Psychological Services
John Wooden Center West
CAPS is the mental health clinic at UCLA. It offers crisis counseling, group therapy and individual psychotherapy sessions, among other services. CAPS provides a maximum of six appointments per academic year for students covered by the University of California Student Health Insurance Plan, and three appointments for those without the plan. Students seeking the center's services can drop by the center to complete a "Brief Screen" form and meet with a counselor to assess treatment needs.
Related student groups: Wazo Connect, the Outreach Peer Network at UCLA, the Undergraduate Students Association Council Student Wellness Commission.
Title IX Office
Murphy Hall
The Title IX office investigates allegations of sex and gender discrimination. All UCLA students and faculty can file an anonymous report, which the office will assess to determine if the incident counts as prohibited conduct and whether or not it falls under the university's jurisdiction. After the preliminary assessment, the report is addressed depending on the severity of the case. The report may be resolved through informal processes such as mediation and separation of parties, or formal processes that may lead to disciplinary actions ranging from warning to suspension to dismissal.
Campus Assault Resources & Education Program:
Murphy Hall
The UCLA CARE Program provides support to victims of sexual assault and harassment at UCLA. It helps victims navigate the reporting process, obtain school accommodations and locate financial and medical resources. It also offers healing programs for survivors, such as yoga, journaling, music and art. In addition, CARE regularly hosts prevention education workshops on topics such as dating violence, stalking and rape culture.
Related student groups: Bruin Consent Coalition, the Center for the Study of Women, the UCLA Sexual Health Coalition, the LGBT Campus Resource Center, the UCLA School of Law and Resilience In your Student Experience.
Financial:
Scholarship Resource Center
Covel Commons
The UCLA SRC helps students apply for scholarships and offers a large database of scholarship listings. Students can schedule individual appointments to get help writing and proofreading their scholarship applications. Additionally, the center hosts quarterly workshops on topics like requesting letters of recommendation and writing personal statements.
Interest groups:
Community Programs Office
Student Activities Center
The CPO supports students from underserved communities. Its stated goals are to increase access to higher education, raise retention and graduation rates, and improve health care outcomes for disadvantaged communities. It is the umbrella department for 25 student-initiated community service projects such as the Mentors Empowering and Nurturing Through Education program.
Bruin Resource Center
Student Activities Center
The UCLA Bruin Resource Center is dedicated to creating a more inclusive campus environment. It is the umbrella organization for group-specific programs such as the Transfer Student Center, the Veteran Resource Center and the Undocumented Student Program.
LGBT Campus Resource Center
Student Activities Center
The LGBT Campus Resource Center compiles resources on LGBTQ issues such as coming out and sexual health. It hosts the Lavender Graduation ceremony every year to highlight the achievements of LGBTQ students. The center also hosts a series of informational programs open to all students, such as Allyship Training and LGBTQ 101 and Ally Resources workshops.