7.1 magnitude earthquake hits Southern California, marks second in two days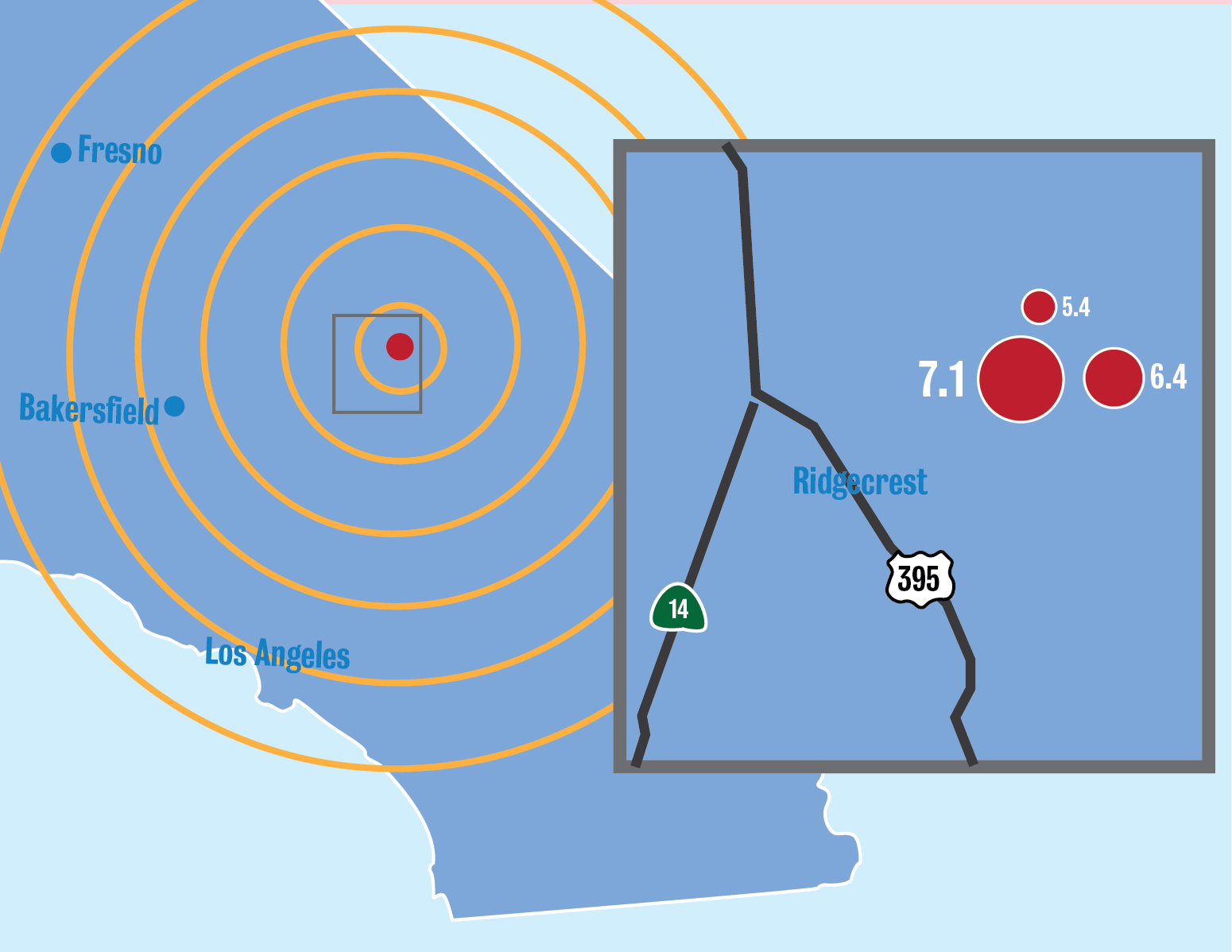 (Aileen Nguyen/Graphics editor)
This post was updated July 9 at 1:10 a.m.
A 7.1 magnitude earthquake struck Southern California on Friday around 8:19 p.m., according to the U.S. Geological Survey.
The earthquake comes on the heels of a 6.4 magnitude earthquake Thursday, which seismologist Lucy Jones identified in a tweet as a foreshock to Friday's quake.
Long Beach, California, experienced power outages, downed wires, traffic signal failures and transformer fires due to Friday's earthquake, according to a tweet from the Long Beach Fire Department.
The Ventura County Fire Department also reported in a tweet that Fillmore, California, experienced a power outage, and some docks in the Channel Islands Harbor were dislodged.
The Los Angeles Fire Department reported no major damage to infrastructure and no serious injuries or deaths that could be attributed to Friday's earthquake, according to a tweet from the Los Angeles City Emergency Management Department.
The Thursday earthquake struck at 10:33 a.m. about 7.5 miles southwest of Searles Valley, California, and about 122 miles north of Los Angeles, according to the USGS. Ridgecrest, California, experienced several emergency situations that arose due to the earthquake, and shaking was felt as far as Los Angeles, Las Vegas and San Diego.
Jonathan Stewart, a civil and environmental engineering professor at The Henry Samueli School of Engineering and Applied Science, said he was in Ridgecrest at the time of the Friday earthquake. Stewart said he was leading a Geotechnical Extreme Events Reconnaissance team, which was collecting data related to the earthquakes.
"We had just left our hotel room and were standing in the parking lot to go get dinner, and we got a heck of a ride," Stewart said.
Stewart said an earthquake with an epicenter in a location such as Ridgecrest is unlikely to affect Los Angeles or its residents in any substantial way. However, he said the probability of an earthquake of a similar magnitude striking near Los Angeles is high.
"When we look over a timeline of several decades, we find that an earthquake in the midsix to low-seven magnitude range that strikes near Los Angeles is pretty likely, especially with all the faults that we have," Stewart said. "There's also a high probability of a much bigger earthquake striking the San Andreas Fault east of LA, which would really impact us."
Lukas Feuerstein, a rising fourth-year political science student, was working out at John Wooden Center when the Friday earthquake began.
"It was actually pretty dangerous because I was at the gym and I was literally midsquat, and I just felt the shaking and I just kept my balance and pushed myself up and put it on," Feuerstein said. "I think I saw someone like wipe out on the treadmill, but they seemed to be okay."
Jessica Saldana, a rising third-year political science student, said as a lifelong California resident, she did not think much of the Friday earthquake, until it got progressively worse.
"It freaked me out a little bit, not going to lie, I didn't feel prepared. … You don't really know how to prepare for something you've never felt before," Saldana said.
Martin Ibarra, an incoming graduate student, said he felt the earthquake in Granada Hills, California. Ibarra, who has lived in the San Fernando Valley his entire life, said the earthquake was one of the strongest he had ever experienced.
"I was about (five years old) during the Northridge (earthquake) in (1994) and I have vague memories of it," he said. "This was certainly the longest and strongest earthquake I've experienced since that time."
Ibarra was at his fiancee's home during the earthquake and both were able to get to a safe place before it stopped, he said.
"We felt the waves below us immediately and noticed power lines nearby shaking back and forth," Ibarra said. "We were scared and are now taking measures to prepare ourselves in case more earthquakes occur, considering that we've had two larger magnitude earthquakes in two days, preparing backpacks, putting away important electronic devices and hard drives, filling our cars with gas."
Tina Mosaferi, a physician at the Ronald Reagan UCLA Medical Center, said she went underneath her dining room table and called her fiance during the earthquake to talk about important items and documents to have on hand during an emergency.
"Other than that, like stay secure and during the earthquake itself, underneath a table or something secure," Mosaferi said. "I think, ultimately, there's not much else to do, right. You just have to take what you can that's either valuable or important identificationwise and kind of get yourself to an area that you think is slightly safer."
Contributing reports from Amy Dixon and Kristie-Valerie Hoang, Daily Bruin senior staff.