Columbia professor discusses issues involving refugees, asylum seekers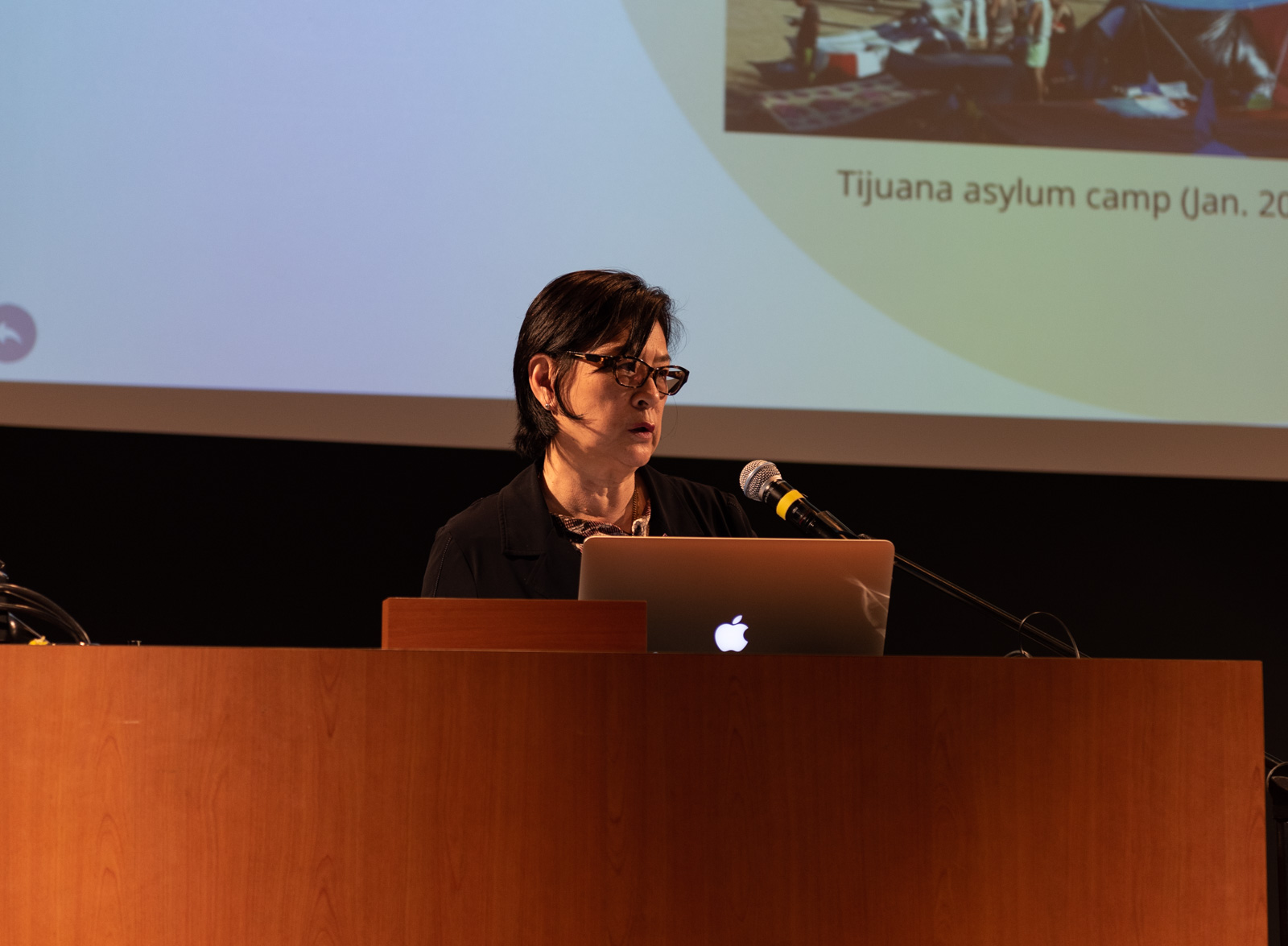 Mae Ngai, a history and Asian American studies professor at Columbia University, gave a lecture at UCLA Wednesday about the history of refugees and asylum seekers in the United States and around the world. The lecture is a part of a two-part series on asylum and deportation. (Tess Horowitz/Daily Bruin)
Correction: The original version of this article incorrectly stated the lecture celebrated the 50th anniversary of ethnic studies like the Latin American Studies Center. In fact, it is the Chicano Studies Research Center.
This post was updated on May 17 at 5:36 p.m.
A Columbia University professor said Americans should show greater compassion toward refugees and asylum seekers coming to the United States at an event on campus Wednesday.
Mae Ngai, a history and Asian American studies professor at Columbia, gave a lecture about the history of refugees and asylum seekers in the U.S. and around the world as a part of a two-part lecture series on asylum and deportation.
The lecture marks the 50th anniversary of Asian American studies at UCLA, as well as other ethnic studies centers like the Chicano Studies Research Center, said Karen Umemoto, a professor of urban planning and Asian American studies and the Helen and Morgan Chu Endowed Director's Chair of the Asian American Studies Center.
Umemoto said the center held the event because immigration is an issue that is relevant to UCLA students, especially Asian and Pacific Islander students.
"The issues of immigration and asylum have been in the headlines … for the last several years in ways that have caused a lot of anxiety for a lot of students," she said. "So we thought that given the degree of political controversy over this hot-button issue, that it would be good to bring in some scholars who can give us a little bit more of a historical context to understand what's happening today."
Ngai's research focuses on questions surrounding immigration restrictions and undocumented immigration.
"I call (undocumented immigrants) impossible subjects because they are people who are here and yet they legally have no identity," Ngai said.
Ngai said she became more interested in refugees and asylum seekers because of a rise in refugee crises around the world, such as the displacement of Syrian refugees during the Syrian civil war.
She said she thinks everyone should care about these issues and that she has dedicated her life to educating people on the difference between immigrants and asylum seekers, who flee their home countries to seek protection or refuge in another.
"I feel that what is happening today with refugees and asylum seekers should be important to everybody because what we see happening around the world, it's not just the United States; what we see around the world and on our southern border is a real emergency," Ngai said.
Ngai said she thinks President Donald Trump's administration has created this emergency through border policies that limit the number of asylum seekers who can enter the country each day, which she said violates national and international law.
"The emergency is how this administration and how this government is treating people," she said. "Who has a lawful right to enter the United States and to make a claim for asylum and have their case heard? … They are not allowed to come in except for a few a day."
Once asylum seekers enter the U.S., they often need support with adjusting to life in a new country, Ngai said.
"How can we help people start a new life in a new home without pressuring them to give up themselves and their cultures, without pressuring them to assimilate? We're recognizing their agency and respecting their own strategies for survival, healing and adjustment," she said.
Sophia Neman, a fourth-year sociology student, said she thinks this event could inspire other UCLA students to look into the legislation and policies behind the asylum process.
"I think there's a lot of misconception about what goes on when people enter through a port of entry, and the difficulties and the process they go through to get here, so I think it would just really encourage people to become more educated on the topic," Neman said.
Ngai said people in the U.S. have a moral obligation to vote for leaders who will advocate for the rights of refugees and asylum seekers.
"These things are outrageous. It's horrible," said Ngai. "So I think it is something every person in America has to stand up and say, 'This is outrageous, we can't do this.'"