UCLA needs equitable allocation of private donation funds to all departments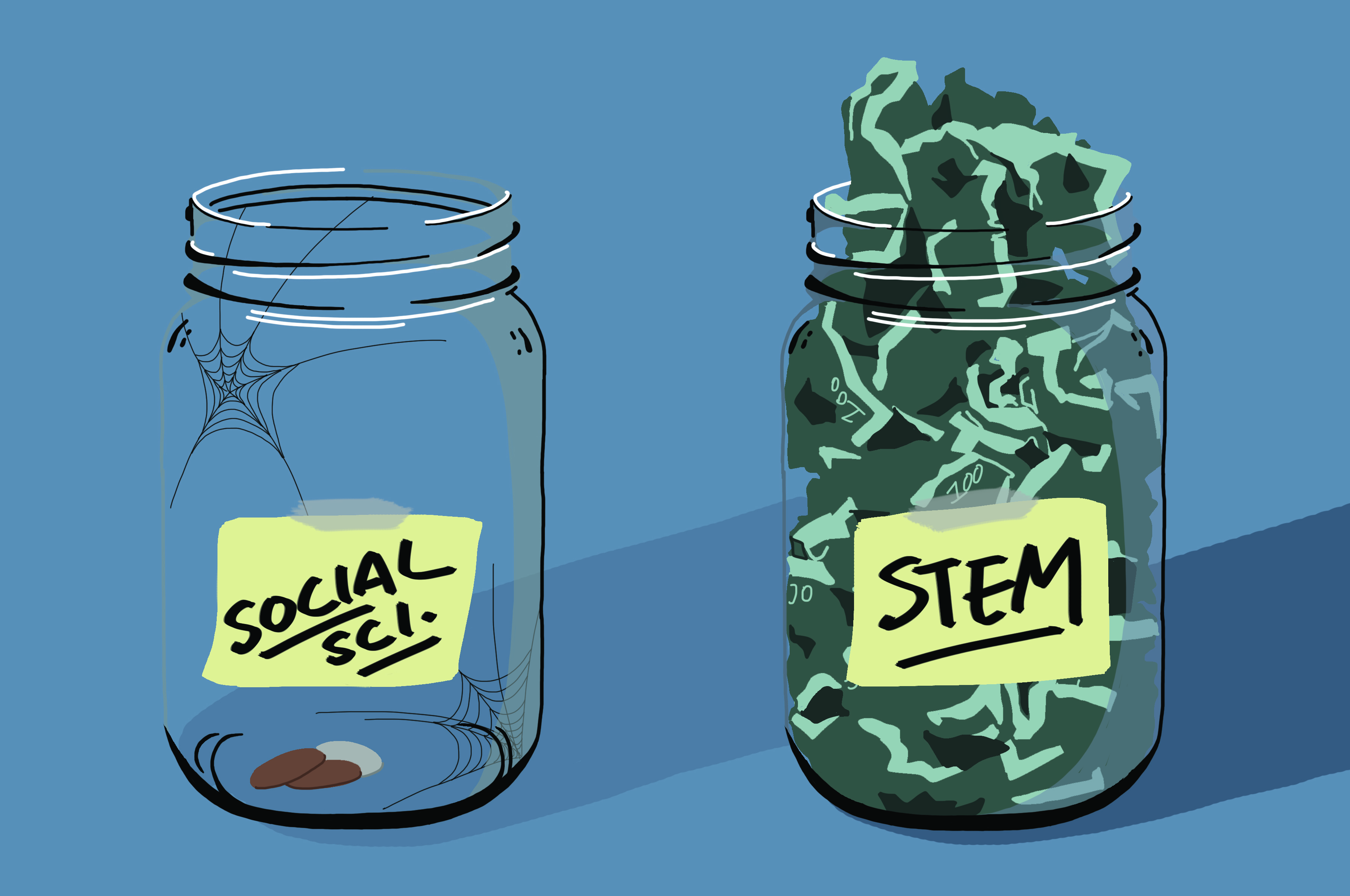 (Andrea Grigsby/Daily Bruin)
The year is 2050. State funding for the University of California has dwindled to mere pennies. UCLA departments are forced to grovel for donations with flashy titles and perks, and department chairs vie for philanthropists like players in the Hunger Games do.
If only the nation's top public university weren't so private.
State support for the UC has dropped by 17% since 1990. The result is that the University's operating costs continue to rise. Campuses like UCLA have progressively become less public as they shift toward a funding model more akin to a business.
To make up the gap in state funding, UCLA has had to turn toward more funding from private donors. And while it's good that philanthropists have stepped up to the plate to cushion the blow, this has created an imbalanced distribution of funds.
After all, some donors have specific interests, which leads to greater preference for some subjects over others and can put a greater emphasis on more practical and conventionally profitable departments. This forces less-popular departments to pick up the slack in finding money to function. If they aren't able to find the funds they need, they are forced to cut faculty and research.
This is a troubling trend. Departments shouldn't get less support because they are not seen as valuable or interesting to donors. The university is for the exploration of new knowledge, and it should ensure more equitable distribution of donations to make sure a diverse range of research and learning is supported.
UCLA brought in $379 million in private gifts in 2018, more than twice its 2008 collection of $170 million. Most recently, the university has raised $4.7 billion in its ongoing Centennial Campaign.
These trends are important, especially given that a significant portion of the Centennial Campaign fundraising is made up of gifts or donations to UCLA's endowment. Donors can specify what departments they want their gifts to fund, so departments they consider more important get more of their funding.
We can see this already with the UCLA Anderson School of Management.
As state funding dwindled, the Anderson School laid out a plan to become fully self-supportive without any reliance on state funds. This plan was approved in 2013. This model gave it greater flexibility in hiring faculty, more stable tuition and fees and increased ability to raise money from donors.
Marvin Lieberman, a professor at the Anderson School, said salaries of faculty are set at levels to be competitive with other business schools.
The Anderson School has hired high-quality faculty, which further bolsters its brand and donor confidence. It seemingly has been a success: The school can operate independent of state politics and better curate an environment that donors want to give to.
But UCLA should not lean in on this approach for other departments. Donors do not donate to all departments equally because the demographic tends to slant toward certain academic backgrounds, like STEM or managerial professions.
For less-popular majors, such as history or Asian American studies, funding is harder to come by. And unlike more-popular departments, the donors they do have are more likely to influence what subtopics get funding.
Carla Pestana, the history department chair, said part of her job is reaching out to potential donors to compile the necessary funds the department needs.
"The money is used to hire staff, set up educational conferences and fund graduate and some undergraduate research trips," Pestana said.
But even with private donations, the history department has suffered setbacks due to the lack of state funding. Pestana said the department has gone from having 80 faculty members to about 50. This makes it harder to give students a large set of courses in its curriculum, and limits the depth of research it conducts.
Pestana added that the history graduate program has also been pulled back and only admits as many graduate students as it can fund. The funding that the history department does receive is unequal across topics, which limits the department's scope of research.
The UC Office of the President Budget for Current Operations report states the University's value is in educating the workforce for the demand of the economy and in providing students with dynamic cultural opportunities, which have less explicit values.
Unfortunately, donors aren't always capable of recognizing or appreciating those values.
There are a variety of solutions to this problem. More state funding would help, and UCLA is pushing for this. UCLA should also be vigilant in reorienting donation policy so that private gifts are not restrictive, which would prevent the unequal distributions of department funding.
Some might argue that the reason department donations are disproportionate is because alumni from the conventionally profitable majors have more money, making for a larger donation base for certain departments. But David Geffen, UCLA's largest donor, never went to the university – and still chose to direct the majority of his donations to the UCLA medical school.
The university is meant to be a unique forum for academic freedom of all areas of study. Donations are supposed to help achieve that ideal, and UCLA should ensure that.
Otherwise, 30 years from now, departments might just end up being sent into the arena to scrounge for donations.