Scholarship fund struggles to reach half mark, Centennial raises extra $500 million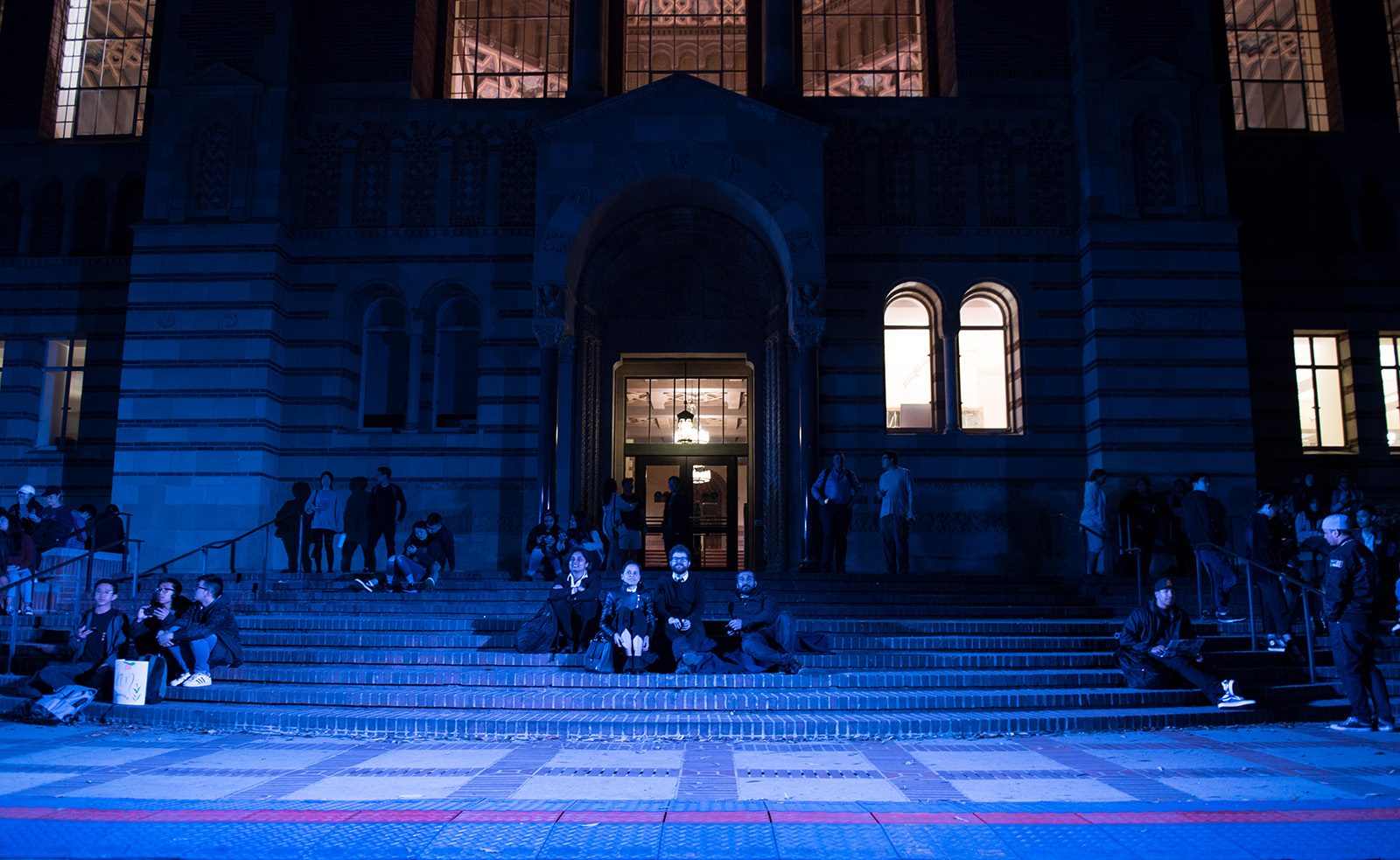 UCLA starts its celebration of its 100th year with a light show in front of Royce Hall. The university is still raising funds for student scholarships as part of its Centennial Campaign. (Axel Lopez/Assistant Photo editor)
Correction: The original version of this article misspelled Ricardo Vazquez's name.
This post was updated on July 28, 2020 at 4:30 p.m.
Despite being more than half a billion dollars short of its target donations for student scholarships, UCLA reached its Centennial Campaign fundraising goal nearly a year ago.
UCLA began its Centennial Campaign fundraising efforts May 2014 and pledged to raise funds for areas such as athletics, graduate programs, research and scholarships. In July, UCLA announced the campaign reached their $4.2 billion total target.
Since then, the university raised an additional $500 million, totaling $4.7 billion raised as of this story's publication. About $50 million of the additional amount were for student scholarships. Fundraising for scholarships has been nearly 10 times slower than fundraising for all the other areas combined.
The additional funds raised also included $15 million to rename the Botany Building, $25 million to rename the Humanities Building and support humanities departments, and $15 million contributing to a new on-campus student-athlete academic facility.
"I keep reminding people (scholarships are) my main priority. Slowly but surely we are going get to a billion. We may not get to a billion dollars by the end of the campaign, who knows? But we will keep working," Chancellor Gene Block said.
UCLA's target for scholarships is $1 billion. Currently, UCLA has raised $496 million for student scholarships, according to its website.
Vice Chancellor of External Affairs Rhea Turteltaub said UCLA will continue fundraising for student scholarships even after the Centennial Campaign concludes in December.
More than half of the campaign's donors are first-time givers. Individual donations under $10,000 make up 488,000 of the campaign's more than 500,000 donations.
Alumni make up over 100,000 donors to the campaign, totaling about $1.3 billion in donations. Aside from alumni, donors come from other sectors, such as private companies, parents of UCLA students and philanthropists.
UCLA development coordinators work to cultivate relationships with prospective or current donors to entice giving or broaden the scope of that donor's gift. Turteltaub said the most important factor is engaging donors with the impact of their gift. For example, scholarship donors have opportunities to meet with scholarship recipients through UCLA-sponsored luncheons or dinners.
Block said he has sat through a number of scholarship fundraising events, some of which are dinners at his residence.
"It was truly moving. We heard the impact on students' lives. And these are students who wouldn't be at UCLA without donor support," Block said.
Beyond these events, Block said the health system and athletics remain two areas where donors donate before giving to the College.
"Not everybody wants to give to scholarships, some people want to give to other things. But we are working hard to try to attract donors to scholarship support," he said.
The campaign's development coordinators said it is difficult to convince donors to give toward student scholarships because contributors have different interests.
"It's very much donor driven. We do try to explain it's expensive to go here, but they might not be interested," said Senior Executive Director of Development Melanie Burzynski. "They might say they would rather fund research. We just listen to them in the best way that we can."
Burzynski said it is important to respect donor wishes.
"You got to go back to where the donors feel like where they want to give the money. It really goes back to where they want (to put) their investment in," Burzynski said. "You kind of have to honor that in all of it."
UCLA sends a quarterly campaign newsletter to donors with a lifetime giving of $100,000 or more, according to UCLA spokesperson Ricardo Vazquez. The campaign website is also refreshed quarterly.
The Centennial Campaign primarily receives donations through its website. Potential donors can find anecdotes that explain what previous donations were used for. Of the stories featured on the page, almost a quarter promote student scholarships.
One of the stories publicized by UCLA features students receiving scholarships from "The Big Bang Theory" Scholarship Endowment. The endowment was initially funded by the Chuck Lorre Family Foundation in 2015 as part of the Centennial Campaign.It provides need-based scholarships for students pursuing degrees in STEM.
Kemeka Corry, a fourth-year psychobiology student, said the scholarship enabled her to attend UCLA as an out-of-state student. Her brother graduated from the University of Washington, and her sister plans to stay in Washington for college.
"I don't even want to imagine what my life would be like if I didn't come here," she said. "This scholarship is what enabled me to come here."
The scholarship provided Corry with more than just the funds needed to finance her education at UCLA. She said she also found networking opportunities, joined a community of STEM students and fostered a relationship with UCLA alumna Mayim Bialik.
"For me, as a die-hard Bruin, it has a special significance because when I was a Bruin. … I applied to every scholarship that I could," Bialik said. "To meet students from my alma mater is really special."
Bialik, who plays Dr. Amy Farrah Fowler on "The Big Bang Theory," is one of 50 cast and crew members who contributed gifts to "The Big Bang Theory" Scholarship Endowment. An inaugural group of 20 students were awarded this scholarship in 2015. Five additional students were selected each year in the years following.
Bialik attended UCLA for 12 years, earning her undergraduate and doctoral degrees at the university. She said she remembers applying for many scholarship opportunities throughout her college career.
"I know what it's like to be a student and have to balance everything, and I had many friends who were holding down jobs and trying to get to class," Bialik said.
Other donors funding "The Big Bang Theory" Scholarship did not attend UCLA. But Bialik said that cast and crew members wanted to help support students who were entering college to study sciences and felt inspired by their show.
"People really like the 'brick and mortar' donation, where they get to build a building or put their name on a wall, but I think it's really important to remember that the backbone of our university is the students who go there," Bialik said.
Hoang was the 2019-2020 Digital Managing editor of the Daily Bruin. She was last year's Social Media Director and was previously an Assistant Photo editor on the Arts and Entertainment beat before that. Hoang additionally covers campus politics, national and higher education and is a senior staff photographer.
Hoang was the 2019-2020 Digital Managing editor of the Daily Bruin. She was last year's Social Media Director and was previously an Assistant Photo editor on the Arts and Entertainment beat before that. Hoang additionally covers campus politics, national and higher education and is a senior staff photographer.