Nursing lecturer delivers last lecture on death, terminal illnesses of loved ones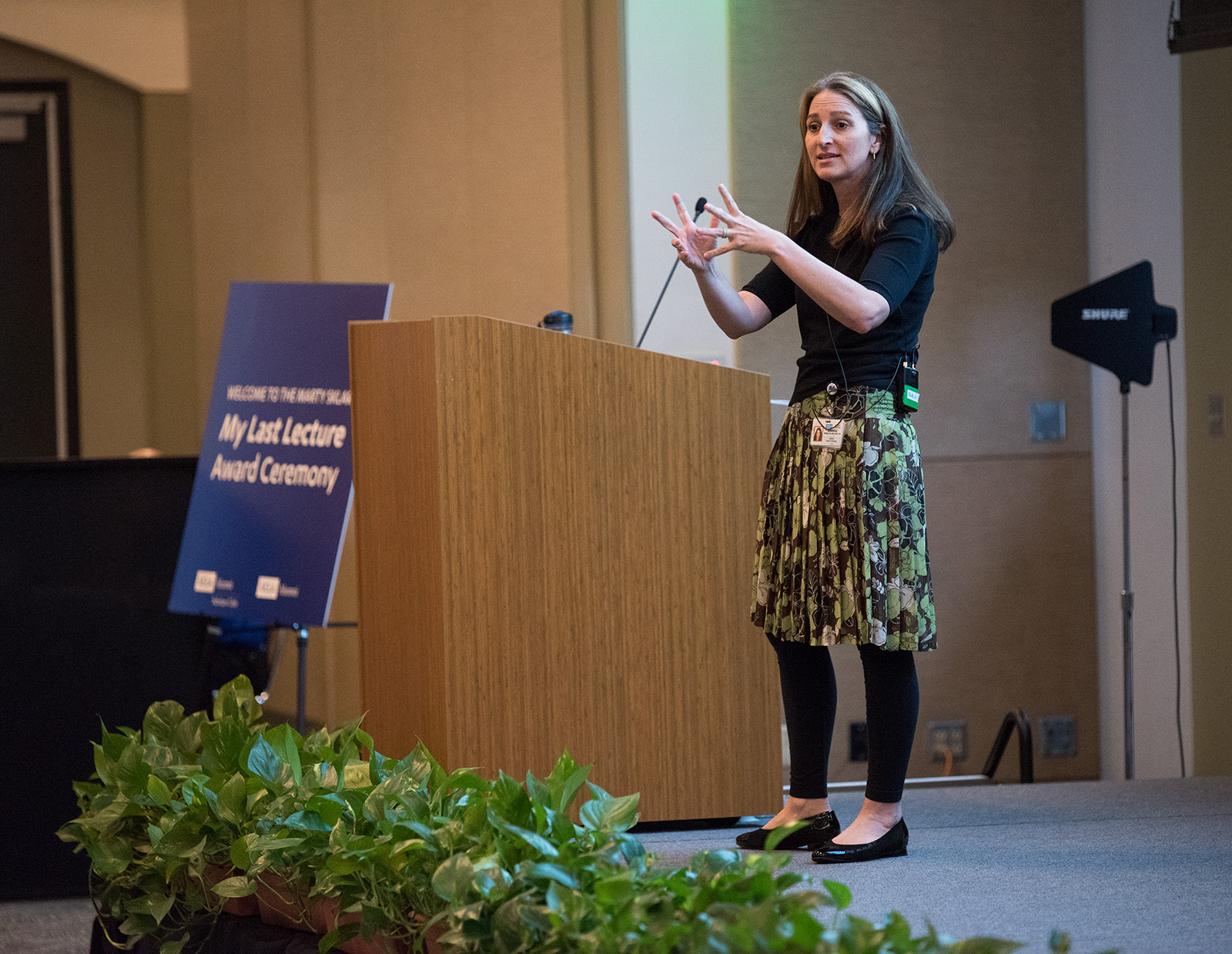 Barbara Demman was chosen by students as the winner of the My Last Lecture Award from the UCLA Alumni Scholars' Club. She discussed coming to terms with death in her lecture. (Daniel Leibowitz/Daily Bruin staff)
Barbara Demman said she and her husband created a catchphrase while working with dying patients. As her class gathered for a group photo after her last lecture of the year, she said one of her students shouted it before the flash.
"Somebody said, 'Yay, we're alive, on the count of three! One, two three,' and then everyone shouted, 'Yay, we're alive!'" Demman said.
Demman received UCLA's My Last Lecture Award and gave the titular lecture Tuesday. The award, created by the UCLA Alumni Scholars' Club, honors a student-nominated professor and gives him or her the opportunity to lecture as though it were his or her last lecture on earth.
Demman, a lecturer at the school of nursing, is the first woman to receive the award since it was established in 2010.
Demman talked about dealing with the terminal death of loved ones in the lecture. Demman primarily works as a hospice nurse for UCLA Health, serving patients who have fewer than six months to live.
Demman said most people do not want to discuss death. Those who do, she said, have often lost loved ones to terminal illness.
"Because you see, having exposure to death or (being) familiar with that, one way or another decreases some of the unknown about death or the fear that's associated with it," she said. "So I thought, what could I speak to? So I thought, let's talk about that."
Demman told stories about her experiences working with people as they die. She also talked about how to explain the death of loved ones to children and how coming to terms with death helps people find perspective when dealing with problems in their everyday lives.
"If we can have some exposure to it, and some familiarity with it, then when our loved ones are dying, we can really be there for them and be loving, you know, and create a wonderful environment and honor their wishes, rather than just being afraid," she said.
Demman said she enjoyed being a teaching assistant when she attended graduate school at UCLA so much that she decided to dedicate her life to becoming a nursing professor.
"And that way, you know, I was at the bedside with many patients, but I thought if I could teach people how to care for others, then maybe I could impact even more people in the world," she said.
Demman has been teaching at UCLA for more than a decade. When she gave birth to her daughter in 2018, many of the nurses who took care of her were her former students. Some of her students threw her a surprise baby shower during a lecture.
Samantha Feliciano, a former student of Demman, who now teaches a nursing theory class with her, said Demman's positivity and passion for nursing and teaching impacted the lives of thousands of patients, students and colleagues.
"She has this like welcoming, just wonderful, profound compassion for all that she did and … all the people that she encountered," Feliciano said. "Her passion is contagious, so I, as a student, I just felt like she made it worthwhile to learn."
Feliciano said Demman would provide safe spaces for the training nurses while they participated in residency. Demman emphasized de-stressing and helping the nurses work through their emotions while they dealt with situations of life and death, Feliciano said.
She said the students in her nursing class would often ask, "What would Barbara Demman do?" whenever they faced a problem.
"She was like, the pinnacle of nursing," Feliciano said. "We all wanted to be a nurse like her."
William Cho, the vice president of the Alumni Scholars Club and a fourth-year business economic student, said Demman's compassion was also evident in the work she did internationally, such as a running a nursing certification program in Ghana.
Feliciano said she was glad Demman talked about death, because it was something she still felt uncomfortable discussing at times as a healthcare professional. However, she said Demman appeared confident and comfortable when talking about the sensitive subject.
"It's still 'What would Barbara Demman do?'" she said.
Contributing reports by Sara Hubbard and Marilyn Chavez-Martinez, Daily Bruin staffers.
Nucci was the 2019-2020 Assistant News editor for the Features & Student Life beat. She was previously a contributor for the Campus Politics beat from 2018-2019 and Copy staff from 2017-2019.
Nucci was the 2019-2020 Assistant News editor for the Features & Student Life beat. She was previously a contributor for the Campus Politics beat from 2018-2019 and Copy staff from 2017-2019.