New UCLA association creates community for first-generation college students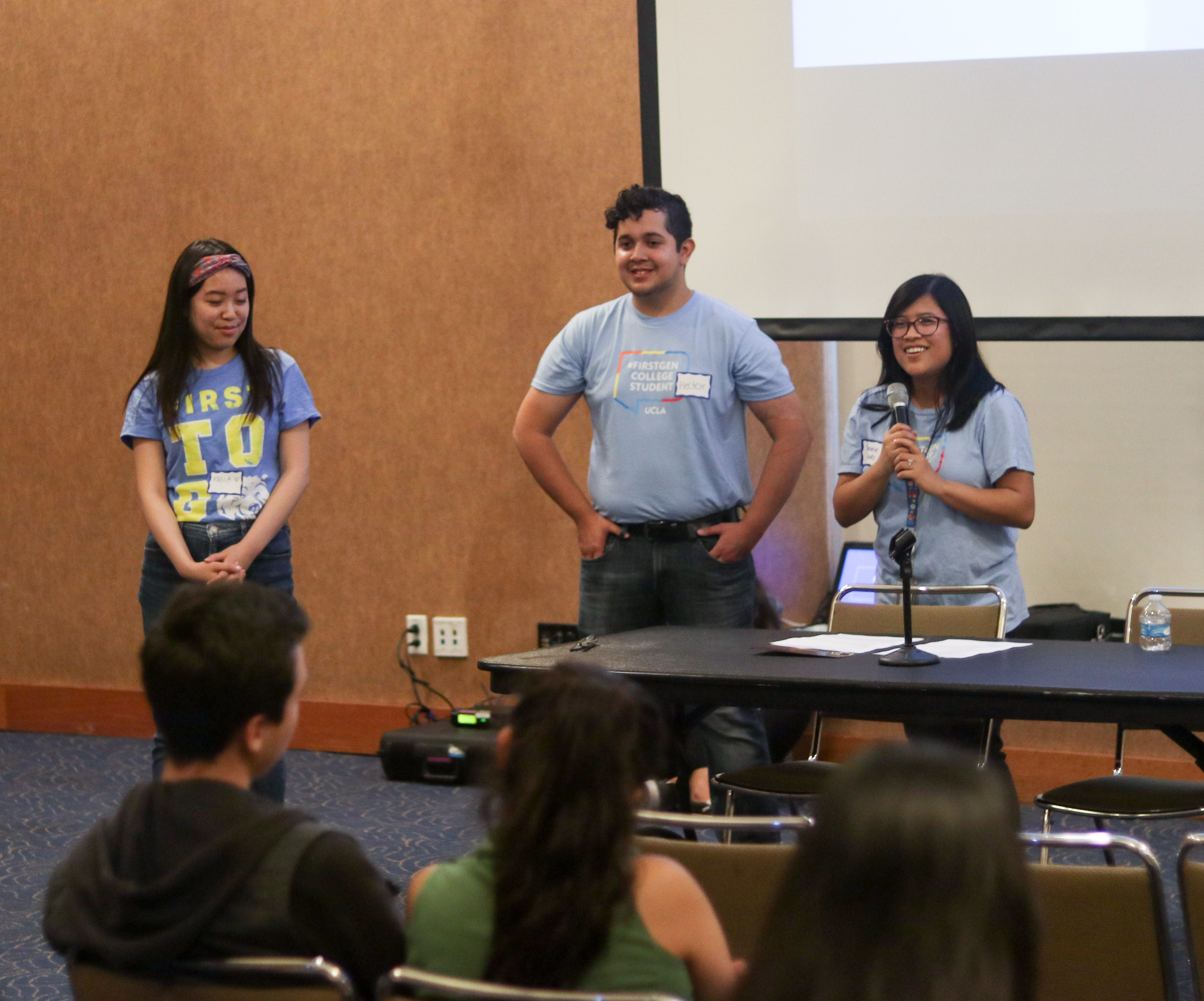 Kesia Eng, a third-year political science student, Héctor Osorio, a third-year sociology student and Stephanie Toledo, a third-year sociology student (left to right), spoke about their experiences as first-generation undergraduate students at an event Monday. (Esther Li/Daily Bruin)
Belen Bravo did not realize her experiences as a first-generation college student made her different from other students until her first year at UCLA.
"I was on my floor last year and there was someone who said, 'Yeah, I think my mom has like a Ph.D.' My mom only went to middle school," Bravo said. "That's a very stark difference."
Bravo, a second-year human biology and society student, created the Association of First-Generation Undergraduates at UCLA in April. About 30 students attended the organization's first general meeting Monday.
About a third of the undergraduate population identify as first-generation students, said Symone Morales, the coordinator for First to Go, a UCLA program that offers resources and support for incoming first-generation students. AFGU aims to offer these students academic support, opportunities for professional development and a sense of community, Bravo said.
Stephanie Toledo, the president of AFGU and a third-year sociology student, said she wants to implement a mentorship program similar to one she participated in at the UCLA Transfer Student Center, an office that supports transfer students and connects them with resources on campus. However, her program would focus on the needs of first-generation students.
"I would like to adapt that in mind with first-generation students because we have our own kinds of struggles and experiences that not other people can really relate to," Toledo said.
Bravo said the program will pair up fourth-year students and third-year students with new students to ease their transition into UCLA. AFGU also aims to create study groups for first-generation students to create a sense of community.
After Bravo learned how to navigate the university system on her own, she said she felt motivated to create AFGU to share her knowledge with incoming undergraduates about how to handle UCLA as a first-generation student. Bravo began organizing AFGU during the winter with encouragement from Morales, who served as her supervisor.
"I think as a freshman student, you have to do a lot on your own and then also just keep up with schoolwork," Bravo said. "It's kind of like a double (burden)."
Kesia Eng, a third-year political science student and director of media and communications for the association, said many first-generation students, such as herself, cannot rely on their parents to inform them about how university systems work. First-generation students can be less aware of campus life and helpful resources and more likely feel like they don't belong on campus, Eng said.
"My mom was kind of surprised … that you lived at college, (that) there were dorms and things like that," Eng said. "Going to school was a whole new experience, not just for me, but for her, too."
Toledo said she did not even know the term "first-generation" existed until she came to UCLA and realized it applied to her. She joined AFGU because she wanted to support her peers through the same issues she faced, she said.
"Knowing that those struggles happened to me, I'm pretty sure they happen across the board for other first-generation students," Toledo said. "Coming into UCLA is pretty scary and it's really hard to navigate because there's so many things going on."
During the Monday meeting, AFGU held a panel featuring a graduate student and alumna who talked about their experiences as first-generation students at UCLA.
Leticia Trevino, a graduate student in Spanish and Portuguese languages and cultures, said at the panel that it was still difficult to navigate graduate school at UCLA as a first-generation student, despite having already completed her undergraduate education.
"I had no idea how to maneuver anything," Trevino said. "Because it's so big and the offices are so separate, it's just really hard to get information."
Megan Acosta, who graduated in 2018, said she thinks current first-generation students should ask for help when they need it and be confident about their place at UCLA.
"How I managed and ended up graduating was by asking a lot of questions and learning to advocate for myself, learning that I can get what I deserve, that I belong here at UCLA and that they accepted me for a reason," Acosta said.
James Tinajero, a first-year applied mathematics student, said he attended the meeting initially looking for internship opportunities. He said he appreciated finding a community of students with backgrounds similar to his.
"I thought it was really helpful just to see other people who are also in my situation as well," Tinajero said. "Just having the opportunity to bond with other people and share my experiences as well as theirs, it kind of gives you a feeling of home."
Bravo said she is looking forward to planning more events that promote professional development and health and wellness.
Bilbao was the Assistant News editor for City and Crime from 2019-2020. He graduated with a degree in political science student and previously worked as a News contributor for Features and Student Life.
Bilbao was the Assistant News editor for City and Crime from 2019-2020. He graduated with a degree in political science student and previously worked as a News contributor for Features and Student Life.