UCLA continues to attract transfer students through Bruin Day welcome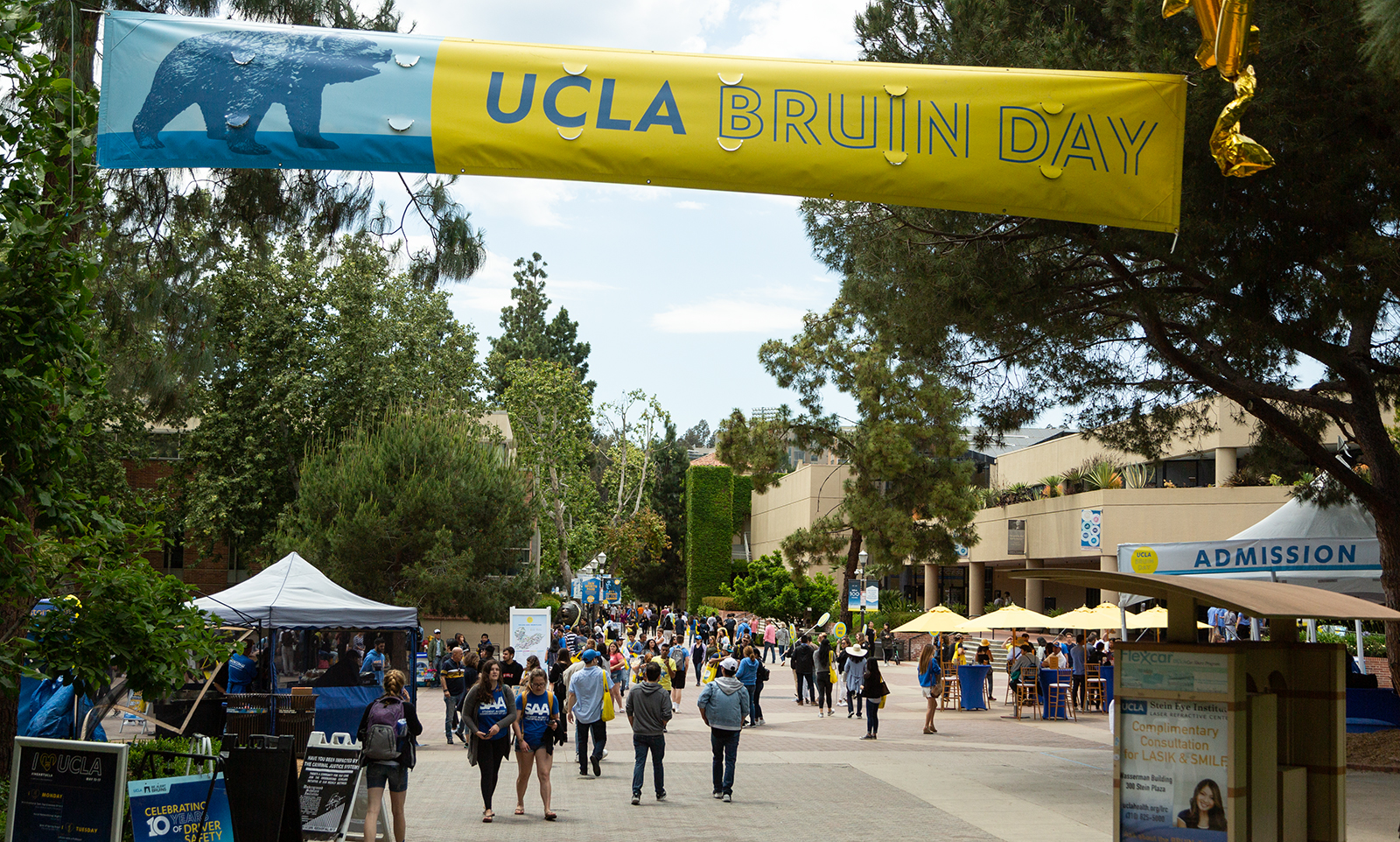 Over 2,000 transfer students accepted for the 2019-2020 school year attended Bruin Day on May 11. They discussed why they chose to enroll at UCLA, and why they preferred UCLA over Berkeley. (Amy Dixon/Photo editor)
This post was updated May 15 at 12:46 p.m.
Prospective students said Los Angeles' diversity, UCLA's prestige and its reputation for welcoming transfer students convinced them to apply to the university.
Roughly 2,000 students and their families and friends attended Bruin Day held for transfer students Saturday, participating in events such as activities fairs, presentations on student fees and campus tours.
Dom Fernandez, a prospective English student, said he first joined the military, but decided to pursue higher education instead due to encouragement from his mother.
"One of my earliest memories was seeing (an acquaintance's) degree from UCLA posted up on the wall," he said. "I remember seeing that and seeing how nice it looked, and just imagining myself following that for a little bit."
Tramy Dong, another prospective transfer student, said she was not a good student in high school, but became motivated to do better in school after watching tours of UCLA on YouTube.
"I was so interested, I watched another and then I watched another – and it seemed like I watched every single video there is on YouTube about UCLA," she said. "Falling in love with this school made me such a great student because I wanted to go here so badly that I was studying every minute, I was doing any extracurricular I (could) to get in."
Several prospective students said they had always known they wanted to come to UCLA after community college.
Temo Sandoval, a prospective transfer student, said he thinks community college offered him a path to pursue his degree at a prestigious university.
"I had the grades and SAT (score) to get into a decent state school or a random (private) … but that's not really what I want to do," he said. "(So I decided) I'm just going to go to (Harvard Community College), and I'll have a better chance of getting (admitted to) the school I really want to be at."
Lucas Mackin, a prospective pre-Asian studies student, said he had attended several schools – including Santa Monica College, the University of British Columbia and the University of Oregon – before choosing UCLA on his path to find the right university.
Gabriel Batta, a prospective third-year political science student, said he was accepted as a transfer into both UCLA and UC Berkeley, but ultimately decided to attend UCLA because he liked the environment better.
"When it came to the vibe of the people (at Berkeley), it's completely different than LA," he said. "Here in LA, you feel like it's so diverse, and the campus is beautiful and in a very nice area."
Elektra Mirzakhanian, a third-year philosophy student who transferred into UCLA in her second year, said she was impressed with the welcome transfers received on campus.
"UCLA has such an open environment, where they really want to be involved, and the transfer representation on campus is like none other," she said. "Plus, (UCLA is the) top public university in the nation."
As Dong learned more about life at UCLA, she said she felt a greater sense of belonging on campus.
"Being here, seeing everyone … the proud parents, the ceremony, the boots and stuff – it made it sink in a little deeper that … we're actually here, and we're actually … admitted," she said. "We are actually Bruins."