Softball shares Pac-12 title with Washington, receives several conference honors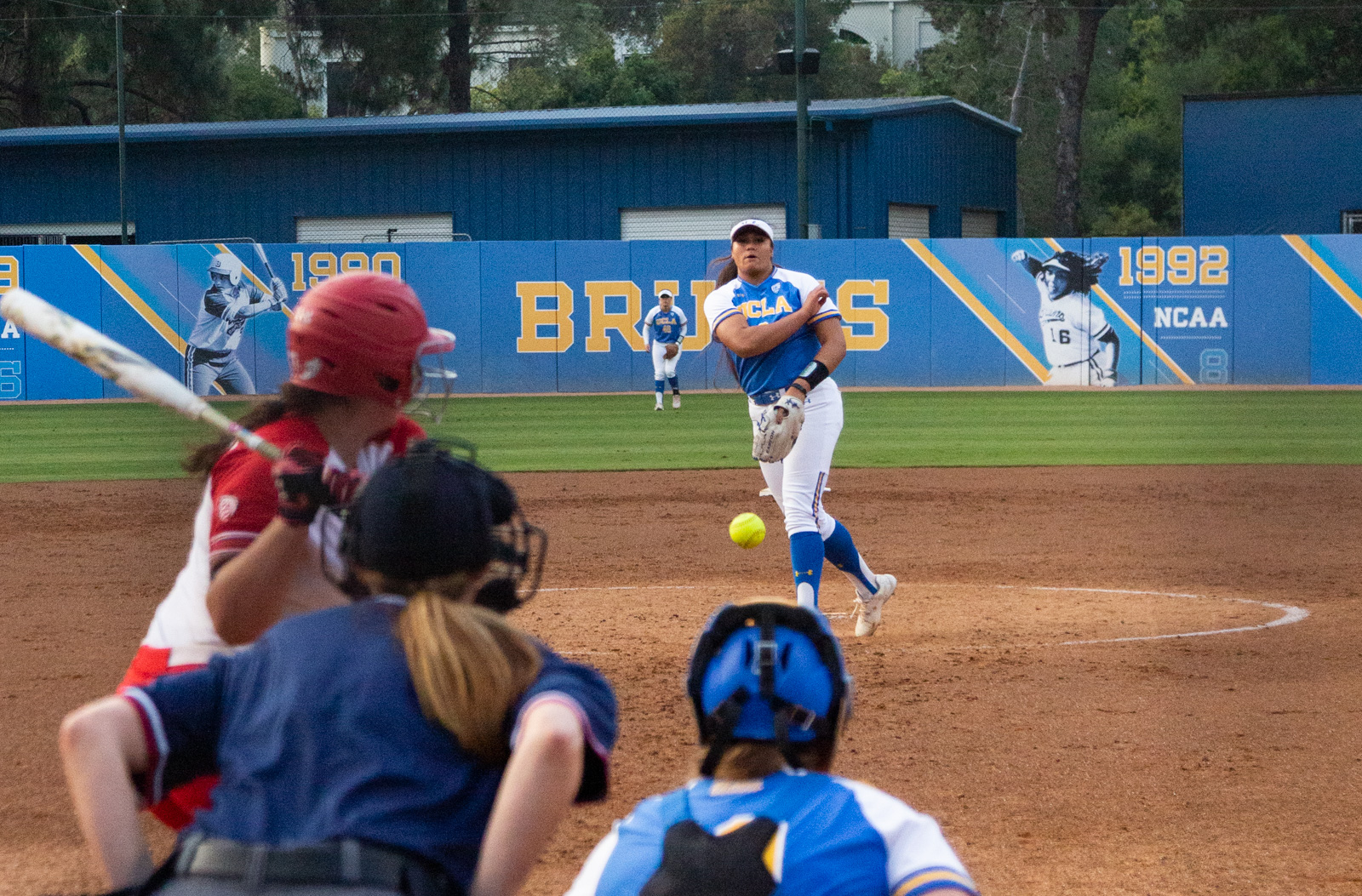 Freshman pitcher Megan Faraimo earned this season's Pac-12 Freshman of the Year award, becoming the third consecutive Bruin to receive the honor. Faraimo finished the regular season with a 1.33 ERA. (Emily Ng/Daily Bruin)
The Bruins' 10-year drought is over.
No. 3 UCLA softball (46-5, 20-4 Pac-12) concluded the regular season by earning a share of the Pac-12 title – its first conference championship since 2009 – and an automatic berth to the NCAA tournament.
"I'm a Bruin, so I've been here a long time, and it's big to be able to win championships," said coach Kelly Inouye-Perez. "It's been such a solid year with a lot of big wins, and there were times that we were up by a little bit and we had the engine to keep on going and not let up. … Now our next phase is to enjoy the ride."
The winning streaks
Through the first 36 games, the Bruins lost once.
UCLA started the season on a 16-game winning streak with a perfect record through the first three tournaments of the season. UCLA's first loss came at the hands of Michigan – another top-25 team – in the Judi Garman Classic on March 1. It was their only loss of the nonconference schedule, but UCLA responded by winning their next 19 games, a streak that included its first three Pac-12 series against Washington, California and Arizona State.
In the series against Cal, freshman pitcher Megan Faraimo made her Pac-12 pitching debut. She and sophomore pitcher Holly Azevedo threw a combined five-hit shutout and Faraimo said that game was her favorite moment of the season.
"It was a huge stage for me and I'm going to remember it forever," Faraimo said. "The team helps keep me loose and we are playing intense competitive ball."
UCLA takes home several conference honors
Eight different Bruins received All-Pac-12 conference honors this season.

Redshirt junior pitcher Rachel Garcia won the conference Pitcher of the Year and Player of the Year – which no Pac-12 player has done in the same year before. This is her second year in a row being named Player of the Year and was named to the All-Pac-12 team for the third time in her career.
Fellow member of the staff, Faraimo, earned Pac-12 Freshman of the Year. Faraimo is the third consecutive player from UCLA to win the award, with redshirt sophomore outfielder Aaliyah Jordan winning last year and Garcia winning in 2017.
Joining Garcia and Faraimo on the conference first team were senior catcher Taylor Pack, junior utility Bubba Nickles, Jordan, sophomore infielder Briana Perez and freshman utility Kelli Godin. Perez and Godin saw their names on the Pac-12 All-Defensive Team while Faraimo, Godin and freshman catcher Colleen Sullivan were recognized on the All-Freshman Team.
"I've never played with so much talent before," Faraimo said. "I'm very honored to be freshman of the conference because I know there are a lot of other freshmen that had great seasons."
Another 20-win record in the Pac-12
In a conference that has three teams ranked in the top six, the UCLA either swept or took two out of three in all but its final series against Arizona.
UCLA won the first nine games of Pac-12 play starting with a sweep of Washington on the road – the other team that shared this year's conference title. The Bruins went 20-4 against the Pac-12 – matching last year's record – but ended the regular season with a 3-3 record in their last six games.
UCLA still claimed the title for the 10th time in school history, and senior infielder Brianna Tautalafua said the Bruins are prepared and excited for the road back to Oklahoma City.
"We're always ready for postseason, this is our time to shine and what we've been waiting for," Tautalafua said. "Postseason is the fun time for us."
Veal is currently a Sports staff writer for the baseball beat. He was previously a reporter for the softball, women's water polo, men's soccer and cross country beats.
Veal is currently a Sports staff writer for the baseball beat. He was previously a reporter for the softball, women's water polo, men's soccer and cross country beats.