UCLA considers changes to bike share program after increase in electric scooter use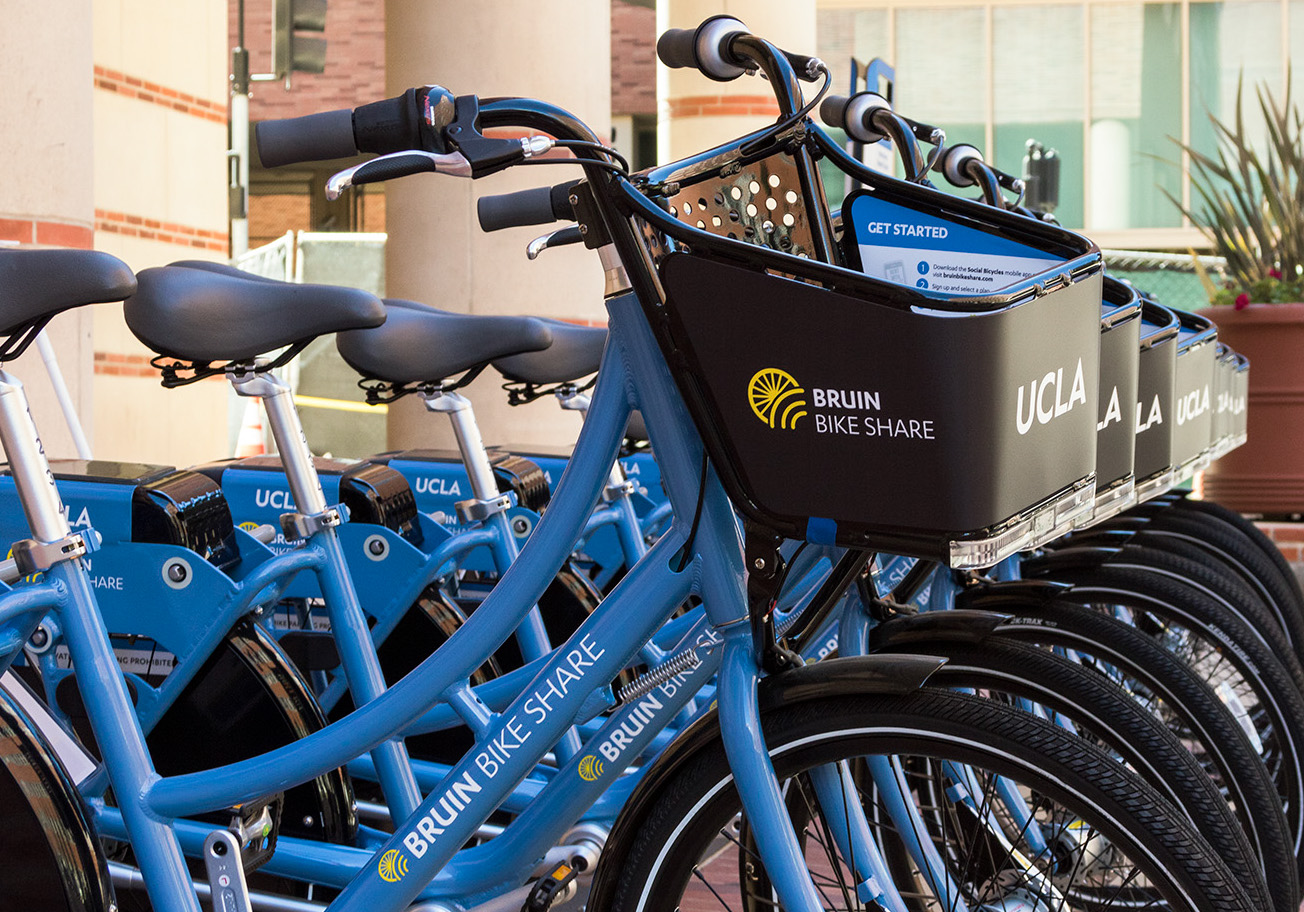 Bruin Bike Share has seen a decrease in usage as a result of electric scooters since their appearance on campus in 2018. UCLA Transportation is considering several possibilities to mitigate this decline, said Alison Hewitt, a UCLA spokesperson. (Daily Bruin file photo)
A rise in electric scooter usage has led to declining ridership of an on-campus bike share program.
The number of electric scooter rides in the United States doubled between 2017 and 2018, according to a report from the National Association of City Transportation Officials. UCLA Transportation said in an email statement this has resulted in declining usage of its Bruin Bike Share program, which allows riders to rent and unlock bikes from one hub and return them to any other hub in Westwood, Beverly Hills, Santa Monica and West Hollywood.
Of the 84 million micromobility trips in 2018, 38.5 million were taken on electric scooters, according to the report. Micromobility refers to small transportation vehicles that go 30 mph or less and are propelled by either humans or electric motors, according to UCLA Transportation.
Electric scooter companies, starting with Bird Rides Inc., first arrived on campus early 2018. Since then, at least five scooter companies have taken root in Westwood, including Lime, Jump and Lyft. The latest arrival, Wheels, first began offering rides in March.
Alison Hewitt, a UCLA spokesperson, said in an email statement that despite the rising popularity of the scooters, the bike share system offers different benefits, such as lower prices.
"The system is still in regular use, and the price point is much lower than the scooters or e-bikes," she said. "Some people prefer regular bikes to e-bikes, and many people prefer bicycles of any type over scooters."
UCLA Transportation is considering several changes to its bike share system to mitigate the decrease in ridership, such as a scan-and-go feature which would make it easier for students to unlock the bikes by scanning a QR code on their phone, Hewitt said.
UCLA Transportation said it is also considering developing its own electric scooter line or partnering with preexisting electric scooter companies.
"UCLA could add electric scooters and e-bikes to campus and still retain the existing bike share system, providing even more options for mobility on campus," Hewitt said. "Seven public transit agencies serve UCLA because one bus does not fit all. That may well be the case with micromobility."
UCLA Transportation said in the statement that partnering with scooter companies such as Bird and Lime would help the administration improve pedestrian and rider safety on campus.
"We like our campus community to have options, and a formal partnership would provide leverage allowing the university to better ensure the safety of the devices, and to require that the scooter vendors provide an option to obtain a helmet and inform riders of local laws," Hewitt said.
Several students said they think the rise in electric scooter usage was cause for safety and environmental concern.
Caroline Wang, a fourth-year molecular, cell and developmental biology student, said she thinks bikes are safer and more practical than electric scooters.
"(The scooters are) something that's low in practicality but high in entertainment," Wang said. "I think it's a safety hazard to pedestrians, cars and users since people don't wear helmets, follow traffic laws or even realize they are actual electric vehicles – some of them treat them as toys."
Ryan Hallman, a fourth-year environmental science student, said he thinks electric scooters became popular because people assume they are safe to ride.
"Not every individual is capable of safely riding e-scooters," Hallman said. "Having the scooters publicly available creates a false sense of security for prospective riders – people who can't ride a bike are unlikely to rent one. However, I think most people assume they're capable of riding a scooter."
Hallman added he also thinks electric scooters are not as environmentally beneficial as many may assume.
"E-scooters are marketed as a sustainable alternative to using a car, but they're more often used as an alternative to walking," Hallman said.
Addiy Giron, a fourth-year neuroscience student, said she thinks electric scooters have overtaken bike share programs because they are more convenient, but that she is worried about the scooters' environmental impact and riders' lack of safety compliance.
Hewitt said UCLA Transportation faced safety concerns from electric scooters early last year but has since then worked to spread awareness of how to properly operate electric scooters.