Panel discusses need for space agriculture as Earth's climate changes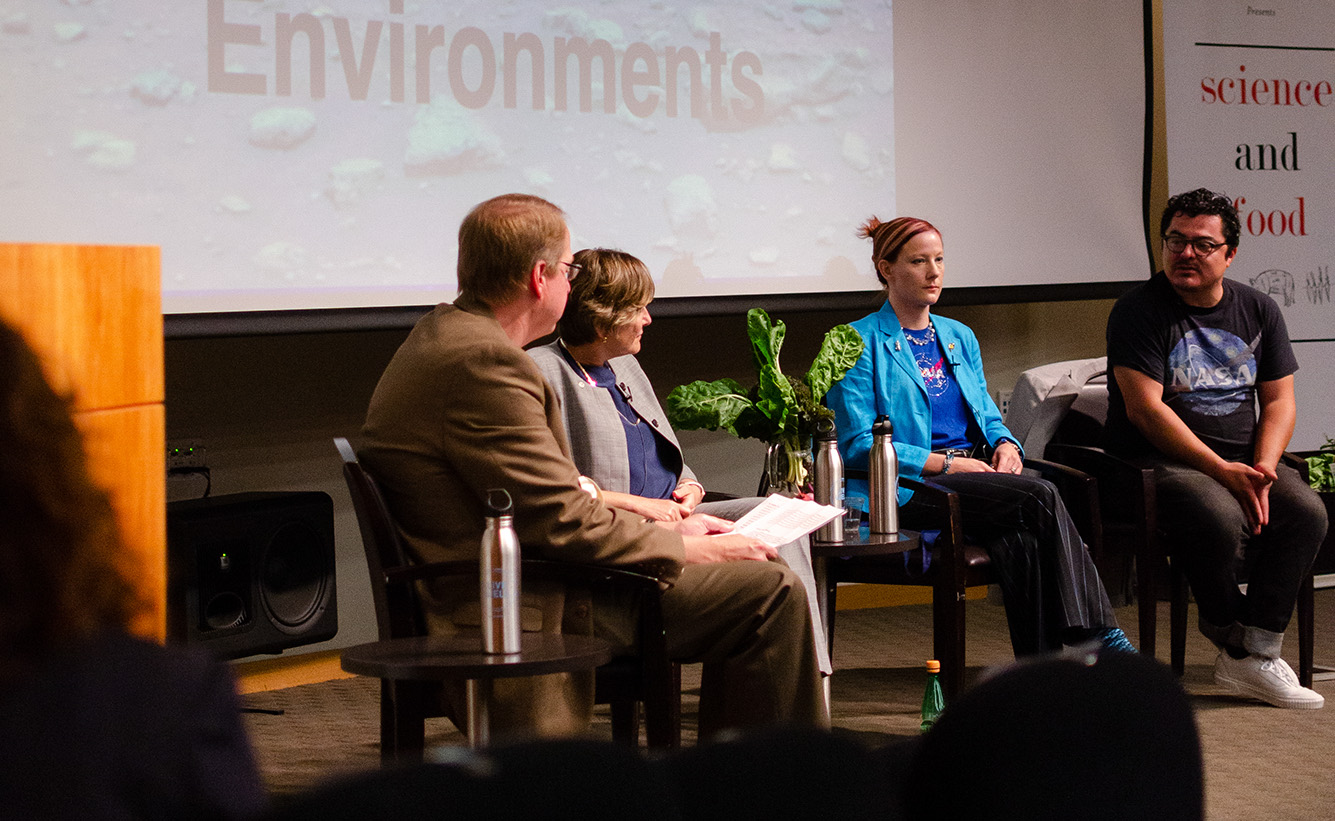 Scientists will have to grapple with improving the taste and feasibility of growing food in space, speakers said at a panel Tuesday. The event was hosted by Science and Food, a UCLA nonprofit organization which aims to promote knowledge of food science, as part of its annual speaker series. (Kanishka Mehra/Daily Bruin)
Scientists will have to improve the feasibility of growing food in space as space travel and colonization become a more realistic future due to increasing climate change, panelists said at an event Tuesday.
Science and Food, a UCLA nonprofit organization which aims to promote knowledge of food science, hosted panelists at "The Future of Food in Extreme Environments" to speak about food in space as part of its annual speaker series.
Amy Rowat, the founder of Science and Food, said promoting scientific discussion of food is important given that traditional ways of growing food may become infeasible due to climate change.
"I could go on about how critical it is to engage in discussions of alternative ways to grow food in space, given the face of climate change and the increasing world population," Rowat said.
Leon Gold, the son of late LA Times restaurant critic Jonathan Gold, helped develop the event topic and spoke about his longtime interest in food and space. He said food has been historically difficult to transport into extreme environments, particularly in space.
"The first problem is because food is very heavy," Gold said. "If you can transport water into space, then it's a lot more efficient than leaving the water in the food."
Gold said scientists have figured out ways to dehydrate food to transport it more efficiently in space. However, many astronauts have complained the food does not taste good, he said.
"Some astronauts dreaded (the food) so much that the astronaut John Young snuck a corned beef sandwich inside his pocket," Gold said. "(He would) take a bite out of it during his flight, but then put it back in because it was a crumbly sandwich and could have clogged the air ducts."
As space missions become longer, food may need to provide more than just nutrition to astronauts. Heather Hava, co-founder and CEO of Autoponics, said food can also increase the morale and productivity of astronauts.
"You are what you eat and variety is the spice of life," Hava said. "You can have improved palatability, improved food intake, performance and improved mood."
Hava's company designed a Mars greenhouse system called Sustainable Integration of Regenerative Outer-space Nature and Agriculture, which features many biological systems such as a food forest and aquaponics that use living organisms to increase the output of the greenhouse. SIRONA also doubles as a living space which includes a kitchen, a bathroom and a deployable sleep structure. She said the integrated greenhouse system aims to maximize nature's benefits on mental health.
"If you like to go outdoors or you want to destress and go for a run, I want to use (SIRONA) to help astronauts stay healthy," Hava said. "We can also give them other things like sensory stimulation, improved nutrition, variety and more self-sufficiency."
Hava said once scientists find how to reliably transport enough food over long distances, they can focus on developing the quality and variety of food.
Traveling to Mars would require a 32- to 34-month mission, said Michele Perchonok, president of the Institute of Food Technologists. Due to the length of the trip, astronauts could face several logistical problems in transporting food, such as shelf life and weight.
Transported food would need to have a shelf life of five to seven years, Perchonok said. Food can also be heavy and cause transportation problems for astronauts. She said food supplies for a crew of six traveling to Mars could weigh up to 24,000 pounds.
Meals that are not prepackaged require more time to prepare, and it could take one person eight hours a day to feed a crew of six, according to a study Perchonok did at NASA.
"I don't know about you, but if I were to go to Mars, I'm not sure how much (time) I would want to spend in the galley or the kitchen," Perchonok said.
Carlos Salgado, a panelist and chef at Taco María, a Mexican restaurant with American influence, said the food that people decide to bring to space could ultimately influence the lifestyles and culture that people create in space.
"If we aspire to get ourselves off this rock and go to Mars and sustain human life on a second planet, then there's the question of who's going, what do they take with them, because wherever you put two or more people together, a culture will naturally emerge," Salgado said.