UCLA softball drops regular-season finale, ceding first series loss to Arizona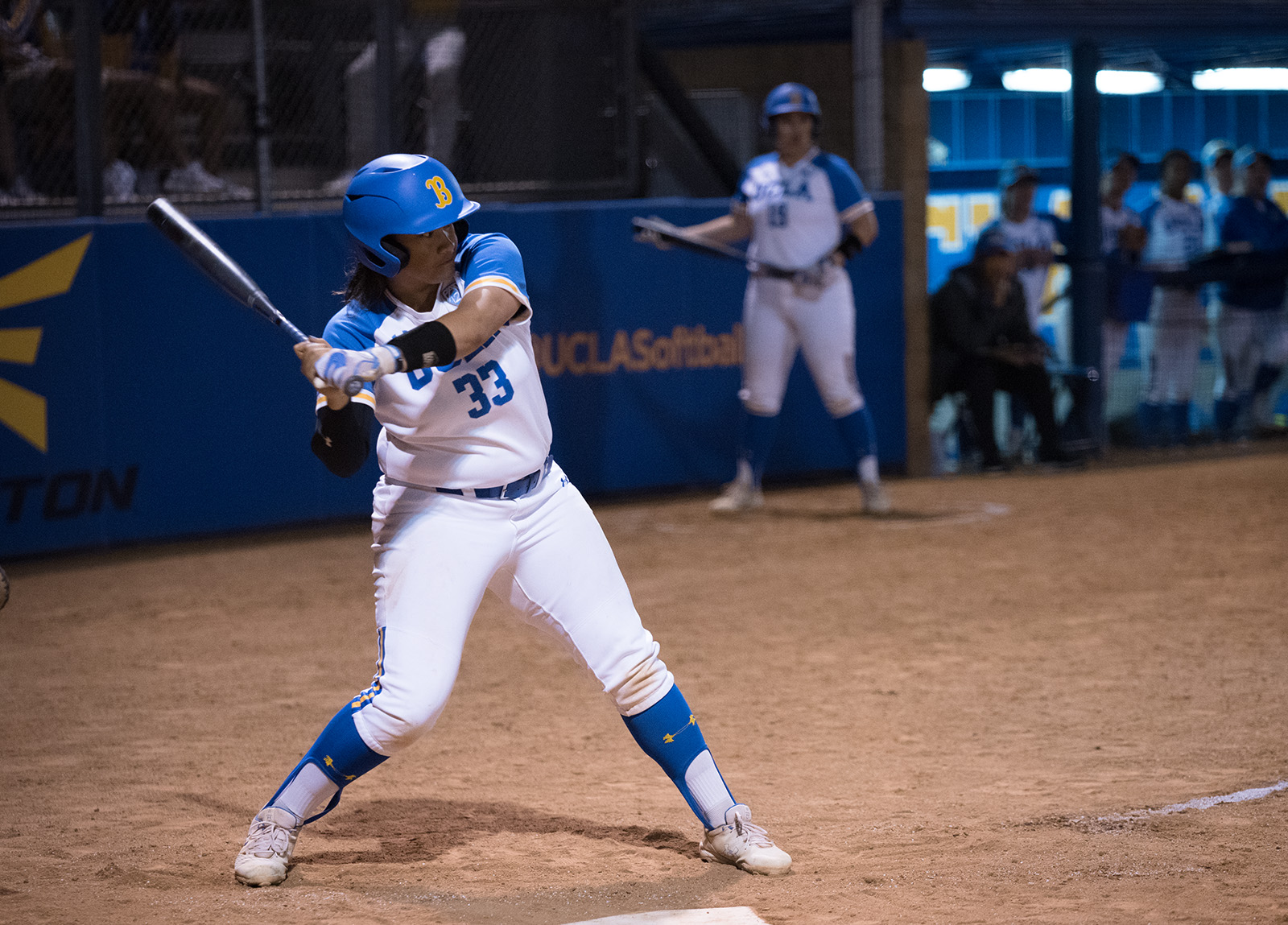 Senior third baseman Brianna Tautalafua was one of the seven seniors honored Saturday in UCLA softball's regular season finale against Arizona. In the Bruins' loss to the Wildcats, Tautalafua went 0-for-3. (Daniel Leibowitz/Daily Bruin staff)
Despite co-clinching the conference title for the first time in a decade, the Bruins left Easton Stadium on Saturday with their first series loss of the season.
No. 2 UCLA softball (46-5, 20-4 Pac-12) fell to No. 6 Arizona (42-12, 19-5) 3-1 in its final regular season game of 2019. Saturday saw the Bruins match their conference performance last season – 20 wins and four losses – and similarly finish with a single Pac-12 series loss.
The game also marked the farewell of seven senior Bruins, including senior utility Taylor Pack, who notched in a two-run home run Friday, and senior catcher Paige Halstead, who finished Saturday 2-for-3 with two singles.
Senior third baseman Brianna Tautalafua said it is bittersweet that her time with the program is coming to an end.
"I'm very grateful for the opportunities that the coaches gave me for all four years and for believing in me when I didn't believe in myself," Tautalafua said. "I'm really proud to be a Bruin for life and to be playing with some of the top athletes in the country right now."
Freshman pitcher and Pac-12 Freshman of the Year Megan Faraimo also touched on the departing seniors, noting their presence in the squad when facing high-ranked opposition.
"They were huge and played a big part in this team, whether they were playing (on the field) or in the dugout," Faraimo said. "A lot of our success is because of them."
Coach Kelly Inouye-Perez said she is proud of the departing seniors, but as a former Bruin, she is certain that they will have off-field success moving forward.
"I told them that they've made UCLA a better place," Inouye-Perez said. "We've made the (Women's College) World Series every year since they've been here, and although we aren't the outright Pac-12 champs, we are co-champs. They left their mark here and know that our program is better off because of them."
Before the start of the game, the departing seniors' mothers lined up to throw simultaneous first pitches to their daughters. The group instead acted out an impromptu skit of a home run in motion that drew laughs from both dugouts.
"They decided to take the moment on their own stage, because that's what mothers do," Inouye-Perez said. "Mothers put a lot of time and work into everything that their kids do and support them, so if they have a minute or two, they deserve it."
After pitching 4 1/3 scoreless innings with one hit and seven strikeouts in Saturday's loss, Faraimo said that falling to Arizona checked UCLA's mentality heading into NCAA regionals next week.
"There are a lot of lessons that we learned because we didn't give up the game today and had a lot of fight," Faraimo said. "Maybe there were some pitches that I could have thrown better, but we learned to pay greater attention to detail. We learned to keep a level head and to stay confident."
Faraimo replaced sophomore starting pitcher Holly Azevedo in the third inning, who was quickly pulled by Inouye-Perez after giving up two home runs. Saturday's loss was Azevedo's first as a Bruin, who finished 2019 short of her 15-win total from last season.
The Bruins had two more hits than the Wildcats on Saturday, despite pitcher Gina Snyder striking out three batters in her fifth win of the season. Between junior center fielder Bubba Nickles' solo shot to left in the sixth and the Wildcats' three-run display in the third, the two Pac-12 teams combined for a series total of 10 home runs.
UCLA will look to get back to its winning ways and fight for the first-division title when it commences postseason play next week.
Davidian joined the Bruin as a senior in 2018 and contributed until he graduated in 2019. He spent time on the men's soccer and softball beats.
Davidian joined the Bruin as a senior in 2018 and contributed until he graduated in 2019. He spent time on the men's soccer and softball beats.