USAC sees first independent president, lowest voter turnout in years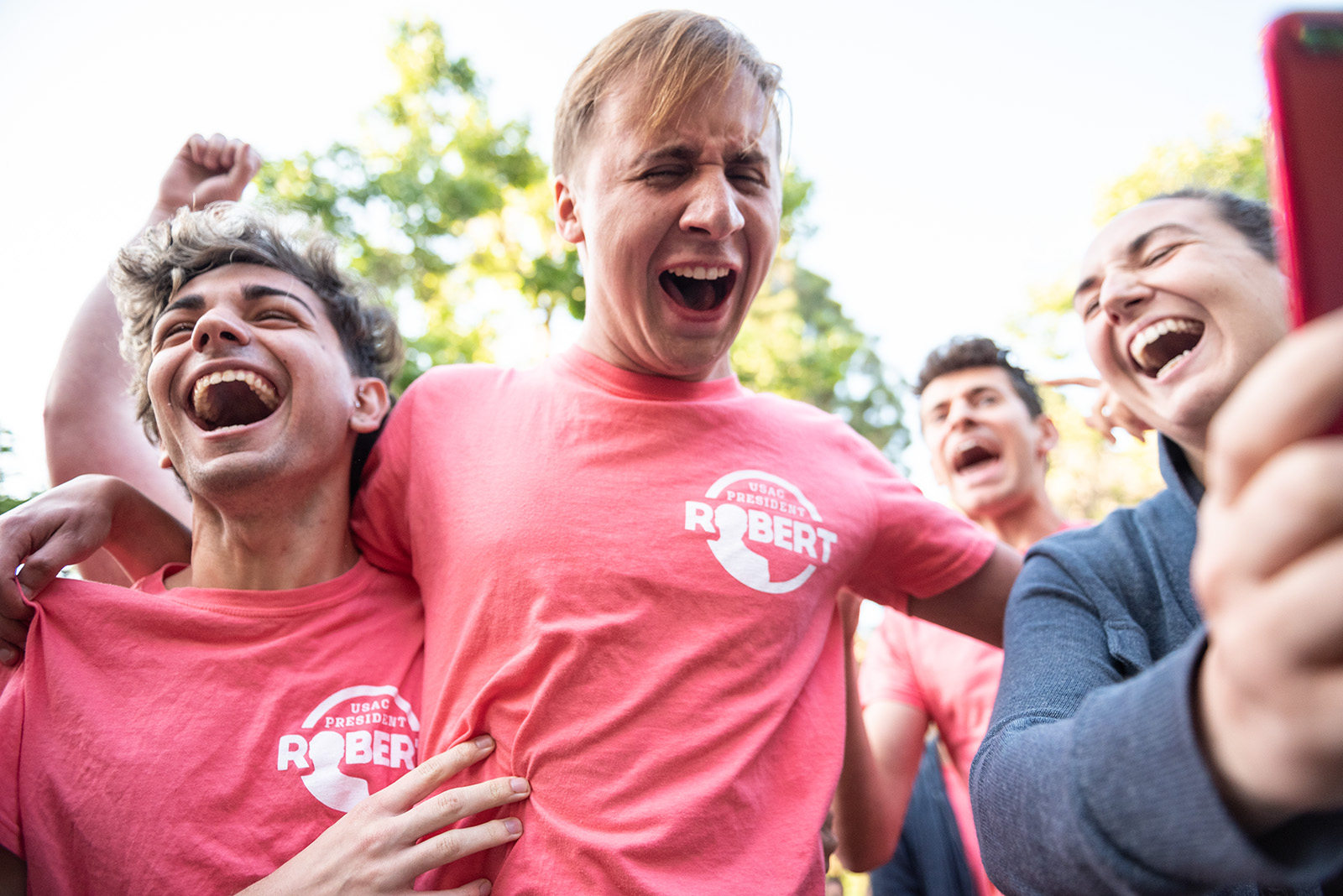 Robert Watson will be the first independent Undergraduate Students Association Council president in 19 years. Watson won the election by a margin of 6%. (Liz Ketcham/Assistant Photo editor)
Correction: The original version of this article misquoted Robert Blake Watson.
This post was updated May 5 at 11:38 p.m.
For the first time in 19 years, students elected an independent candidate as the undergraduate student government president.
This year's Undergraduate Students Association Council election featured 16 candidates running for 12 positions, with only one slate that consisted of four candidates. All four For the People slate candidates won their seats.
Only three positions were contested, while three others had no candidates. A special election will be held in the fall for the Financial Supports commissioner and the remaining two general representative positions.
Robert Watson, the current internal vice president, was elected president as an independent candidate. The past four presidents have all come from the Bruins United slate, which did not run any candidates this year.
Watson said he was honored students have faith in him to lead the council next year and said he hopes to live up to students' expectations.
He added he thinks the elections could have had a larger turnout.
"Obviously, elections could have gone better," Watson said. "I think there always can be more turnout, you know, anything lower than 100%."
At 16.18%, voter turnout for the election was the lowest it has been in at least 10 years, falling around 10% compared to 26.5% in 2018 and 27.5% in 2017.
Shahamah Tariq was elected as the inaugural international student representative. She said she was disappointed that some of the positions remain unfilled.
"It's kind of disheartening and upsetting to see that not all positions are filled, but I'm hoping that this council will be able to project a positive image of USAC and we'll be able to do work that will encourage students to actually apply for USAC," Tariq said.
Several candidates said they did not think this year's council and election were managed well.
Furkan Yalcin, one of the presidential candidates, said he was disappointed in the way the election was handled this year, as election coordinators were replaced, deadlines were changed and candidates were disqualified and reinstated throughout the campaign.
"I don't think someone who wanted to do a bad job could have done as a bad job as it was done this year," Yalcin said. "I just can't believe that it was so bad."
Kimberly Bonifacio, who was elected internal vice president, said she thinks the low voter turnout and number of candidates this year is a result of toxic politics within USAC.
"It stems from the past few years of USAC candidates being really toxic and having petty politics, basically," Bonifacio said. "It's really just a loss of trust the past few years."
Some of the elected candidates also said they hope to give more students a voice on the council going forward.
Johana Guerra Martinez, who was elected external vice president, said she ran so students could feel more empowered.
"What I want to tell the general student body is that I hope and I want to highlight their courage to be here at UCLA, to advocate for themselves, whether that's in their classes or in the future, so that they feel like they belong here," Martinez said.
Naomi Riley, who was elected Academic Affairs commissioner, said people of color had a greater presence in this year's elections.
"People of color have historically been left out of that space," Riley said. "I think that, starting with this election, we've made a claim to that space."
Election board chair Kyana Shajari said she does not know if she will be reappointed next year and is unsure who will run the fall special election.
"It was very stressful and I might want to preserve my mental health for the rest of my life," Shajari said.
The results are as follows:
President
Robert Watson
External vice president
Johana Guerra Martinez
Internal vice president
Kimberly Bonifacio
General representatives
1. Eduardo Velazquez
2. No candidate
3. No candidate
Academic Affairs commissioner
Naomi Riley
Campus Events commissioner
Tara Steinmetz
Community Service commissioner
Jonathan Wisner
Cultural Affairs commissioner
Kelechi Iheanacho
Facilities commissioner
Lily Shaw
Financial Supports commissioner
No candidate
Student Wellness commissioner
Mihika Sridhar
Transfer student representative
Isabel Oraha
International student representative
Shahamah Tariq
Morris is the 2020-2021 Editor in chief. She was previously the 2019-2020 assistant Enterprise editor as well as the 2018-2019 assistant News editor for the campus politics beat. She is also a fourth-year global studies student at UCLA.
Morris is the 2020-2021 Editor in chief. She was previously the 2019-2020 assistant Enterprise editor as well as the 2018-2019 assistant News editor for the campus politics beat. She is also a fourth-year global studies student at UCLA.