UC must prioritize modern values when naming buildings after historical figures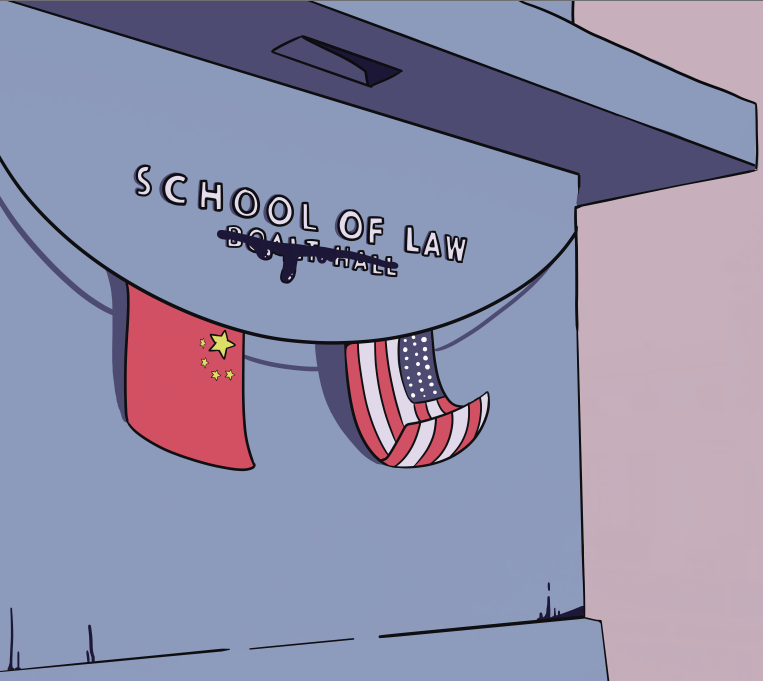 (Michelle Fu/Daily Bruin)
Benefactors may be nice, but they will come back to haunt you. Or at least their political ambitions will.
The University of California, Berkeley, School of Law was recently trapped in controversy when it announced its intention to eliminate the name "Boalt" from a building, several alumni groups and about 120 other university institutions.
John Boalt, these institutions' namesake, is known for actively supporting the Chinese Exclusion Act – the first law barring the immigration of one specific ethnic group into the United States. In his speech "The Chinese Question," Boalt made the egregious claim that Chinese immigrants were incapable of assimilating into American society.
In 2017, UC Berkeley assembled a committee to investigate use of the name "Boalt" on campus. The choice before UC Berkeley sparked national controversy: Should it erase the name or honor its history, no matter the darkness?
This controversial choice is not exclusive to UC Berkeley. Schools and cities across the country have had to contend with the history behind their monuments. As time passes, values change and the ideals of icons from previous eras often fail to mesh with modern society. Disagreement over which names get to stay and which ones are removed is divisive.
If universities want to maintain a reputation as evolving institutions, they must have systems in place to address controversy, alter their infrastructure and deal with the aftermath respectfully. UCLA should take advantage of its current lack of contention and jump at the chance to establish clear systems that could help deal with controversy in the future – especially given donors frequently pay big money to have their names plastered on campus institutions.
Min Zhou, a sociology and Asian American studies professor, said historical symbols can intensify controversy and its impact on people.
"History creates symbolism and symbolism has an impact on people. You have to gauge the impact that symbol would have on the present day society," she said. "A symbol is very powerful. If it negatively impacts the society, you should consider making a change."
While the original sentiments of Boalt only applied to Chinese immigrants, the theme of excluding minorities can impact a much broader student population and make them feel unwelcome.
Stephen Aron, a history professor, said context matters a great deal and we need to try understanding people's actions in the context of their own worlds.
"As historians, we are trying to remember people from our own eyes but in their own worlds with their own values," he said. "What (Boalt) said has to be understood in the context of the time, not to excuse or apologize for it."
Eliminating Boalt's name from the school of law was necessary because of how contrary his views were to UC Berkeley's value of diversity. But that doesn't mean it was an easy change to make. At a school where alumni endearingly call themselves "Boalties," it is important to explain to later generations the significance of the name and why people chose to change it. The name of a hall or alumni group does not define a school, but choosing not to change the name following allegations of benefactors' darker characters does.
Aron said UCLA has managed to avoid this sort of controversy due to its age. But that won't always be the case.
"UCLA is fortunate to be a younger university because it is not named for such distant people – so some of the problems are avoided," he said. "UCLA will have its days of reckoning in its days to come."
Crafting an explicit set of procedures to address the relationship between benefactor history and social progress could help avoid this. To prevent becoming trite, UCLA's procedures should utilize student voices and faculty input. This would ensure the university's values remain progressive as the years tick by.
"I think it's important for UCLA to foster a community where all students feel welcome," said Daniel Tadeo, a second-year linguistics and neuroscience student. "Even if that means removing the name of a wealthy benefactor from a building."
Universities are designed to foster students' ideas and intellect. In order to achieve this, a school cannot let an umbrella of hate linger over itself and bring down its campus community. By standardizing a procedure for redesignating institutions named after controversial historical icons, universities can redefine how we as a society deal with contentious names and figures.
"I think by examining the degree and the social impact controversy brings, we can make logical decisions on how to move forward," said Tiger Zhong, a second-year English student. "This is especially true for institutions that guide the next generation of leaders."
[Related: Humanities division to honor faculty, rename building after major donation]
Of course, donors pay a lot to get their names on buildings, and it might seem that universities like UCLA would be insulting these benefactors if they took down their names after the fact. But universities shouldn't be afraid to hold donors to their campus values and to our ever-changing social infrastructure. After all, Boalt preached a message of exclusivity. While the policies he supported no longer exist, the essence of his arguments continue to divide people and shouldn't be supported in today's age.
UC Berkeley made the right decision to eliminate the name "Boalt" from its campus. What it does next, enlighten or erase, will define it as an institution.
UCLA should take note.