UCLA researchers attempt to understand tusklessness among Mozambique elephants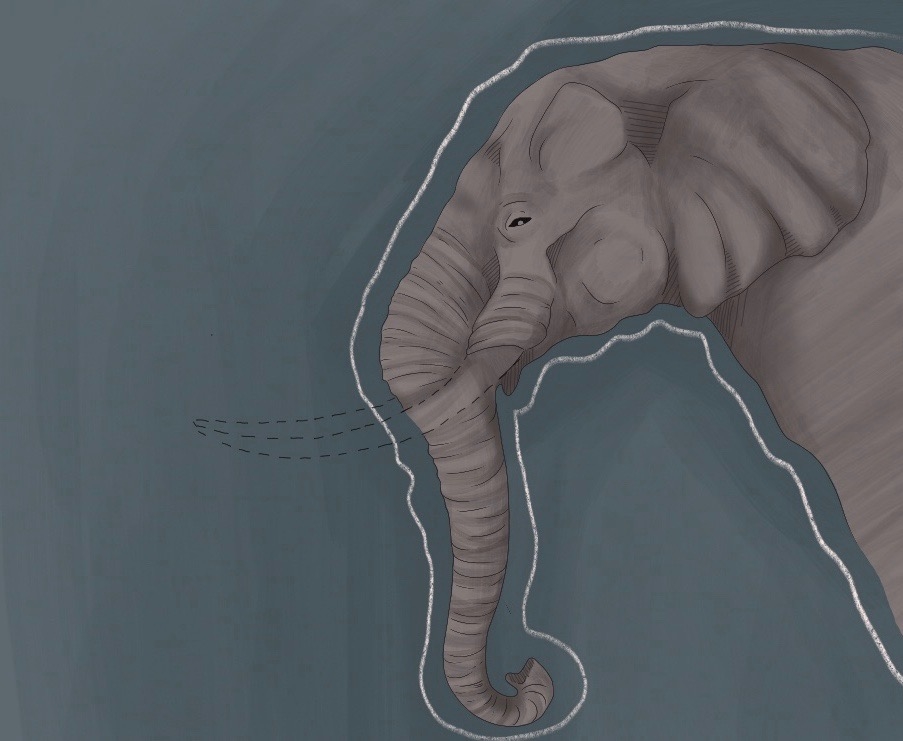 A civil war has left a disproportionate number of elephants in Mozambique without tusks. UCLA researchers are trying to figure out why.
Shane Campbell-Staton, an ecology and evolutionary biology assistant professor, studies female elephants in Gorongosa National Park, an area ravaged by the country's nearly 16-year civil war.
Fighters in the war killed African elephants for food and for their valuable tusks, reducing the population from thousands to hundreds, Campbell-Staton said.
A quick reduction in population increases the role chance plays in shaping trait variation in the following generations, Campbell-Staton said. The change in the frequency of alleles in a population due to chance is called genetic drift.
"If you had, for instance, a population of 100 individuals and you just pulled out one, that is your entire population," Campbell-Staton said. "Even if that individual was rare and was the only individual with that form of aspect and function, now if you look across the population of one, that thing that was very rare is now extremely abundant."
Typically, only between 2 and 4 percent of female African elephants are tuskless. However, about 32 percent of the elephants born after the civil war were tuskless.
Campbell-Staton is identifying the genes responsible for tusklessness, and will use them to draw conclusions about the evolutionary history of the trend.
This increase in tusklessness could be a result of random chance, but Campbell-Staton said it is likely that tuskless individuals have an inherent advantage in an environment where elephants are being hunted for their tusks.
One of the biggest questions of the project is why this increase in tusklessness is primarily present in females, said Campbell-Staton.
Campbell-Staton said that tusklessness occurs overwhelmingly in female elephants, suggesting the trait for tusklessness is sex-linked. However, this still raises questions on how the gene would be inherited. He said the project should help reveal why this trait is disproportionately female-specific.
There is a possibility that the presentation of tusklessness in females may also be caused by a combination of hormonal and genetic influences, Campbell-Staton said.
Campbell-Staton said the project also investigates what effect tusklessness will have on the elephants and their environments.
Elephants provide services to their ecosystems through their behavior, and this behavior is connected to their physical traits, Campbell-Staton said.
One way elephants serve ecosystems is through tree felling, a behavior in which they push over trees to gain access to the bark for food, Campbell-Staton said. These fallen trees create new spaces for plants, which can attract different grazing animals to the area, and creates new habitats for small animals such as lizards.
"From a conservation level, even if you get (elephant) population numbers rebounding, do the ecosystem services that that species provides also rebound?" Campbell-Staton said.
Karen Sears, chair of the ecology and evolutionary biology department, joined Campbell-Staton on the tuskless elephant project this fall. She said her lab will research the developmental origin of tusklessness.
Alexa Sadier, a postdoctoral researcher in Sears' lab who also joined the project this fall, said her research would focus on at what point in an elephant's development the failure to present tusks occurs.
"When you have a tusk, or tooth, that develops, it's developed from (a) little germ, and it erupts, like in humans," Sadier said. "In tuskless elephants, we want to understand, is (the tusk) lost at the germ level, (does) a germ develop, or is it that the tooth is there but never erupts?"
In order to understand what causes tusklessness, researchers must first identify the stage in elephants' development in which tusks fail to grow, Sadier said.
"We don't know at what level it is lost; we think it is genetic because it seems to be heritable," Sadier said. "We have less and less elephants with tusks, and the new babies, they don't have tusks."
Campbell-Staton said those working on the project are approaching the issue from many different perspectives, and these all are important in examining the causes and effects of tusklessness in the elephants of Gorongosa.
"All of these different angles interlock like pieces of a puzzle to tell, I think, what could end up being a really unique story about how rapid evolution of a single or a few genes within a genome can have cascading effects on entire ecosystems," Campbell-Staton said.