UCOP releases report with recommendations for improving UCPD practices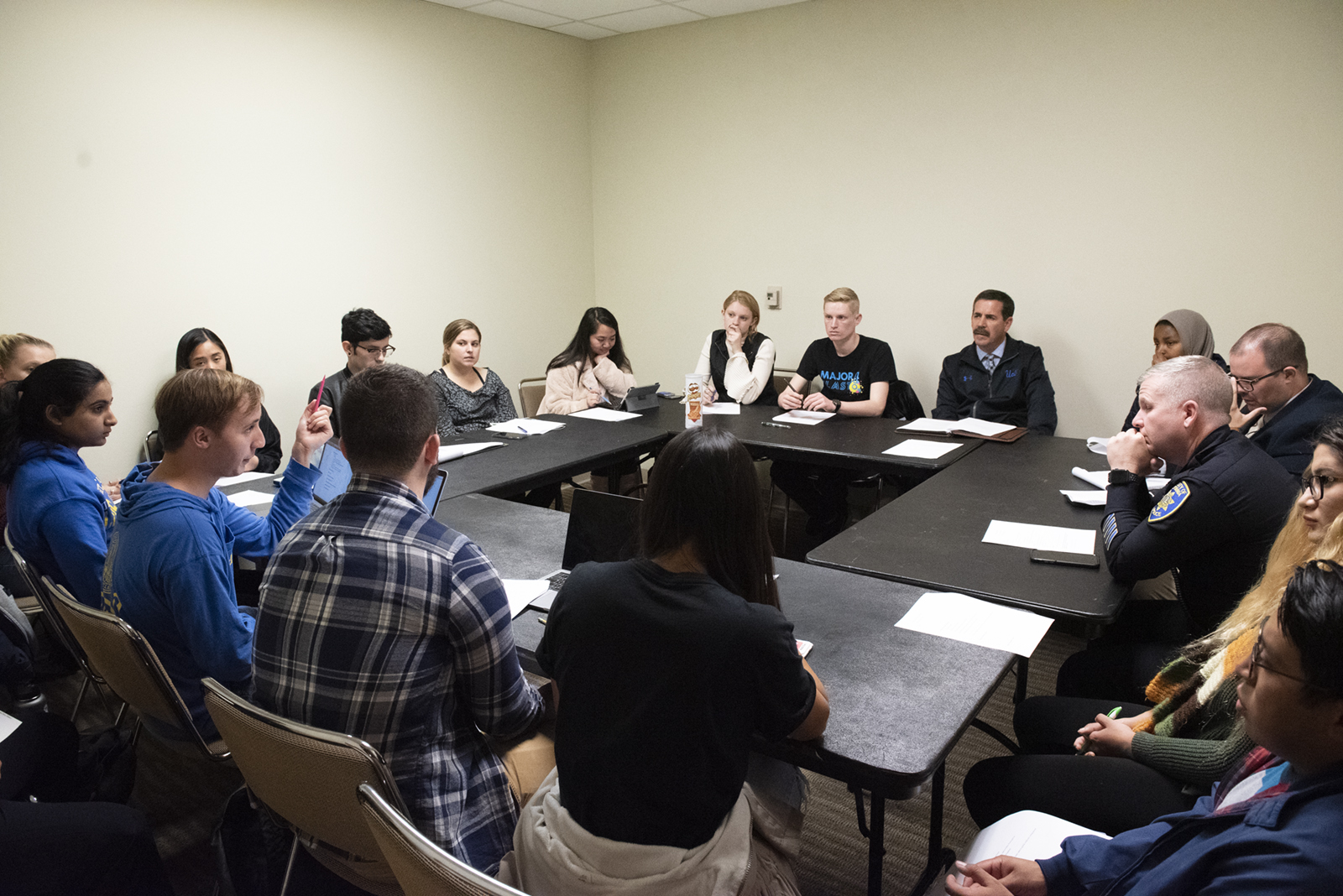 Assistant Vice Chancellor Mick Deluca, a member of the task force that drafted the police report, met with the Campus Safety Alliance to discuss the report's findings. (Anirudh Keni/Daily Bruin)
The University of California Office of the President released a universitywide report in November to standardize policing terminology and practices across the UC.
The report contained 26 recommendations for police practices across the UC system, many of which focused on the system for processing complaints, introducing new training and updating protocols regarding the use of force. The report also recommended UCPD connect to the public by engaging the community and increasing transparency.
Assistant Vice Chancellor for Campus Life Mick Deluca, a member of the task force who drafted the report, encouraged Campus Safety Alliance members to share their feedback on the report via an online platform Nov. 29. CSA is a coalition of students representing 14 organizations and security officers who focus on campus security.
The feedback period for the initial draft closed Monday.
UC President Janet Napolitano commissioned the report in April. UCOP established a Presidential Task Force to review existing police practices throughout the UC in order to find areas for improvement.
Task force members will meet five times by Dec. 31 and will represent various parties including police, union representatives, university administration staff and students, according to the report.
The report recommended a uniform complaint process that allows for anonymous complaints and timely responses from police officers. The task force also suggested a single systemwide phone number and web-based system for reporting complaints with a frequently asked questions link, and to track and investigate all complaints.
The draft also recommended more police training and a system for examining the appropriateness of using force in incidents. The task force asked officers to document cases involving the use of force and to review them to ensure they comply with policy. Another recommendation called for police officers to undergo training before wielding any weapons and to train in de-escalation techniques.
UCPD Lt. Kevin Kilgore said UCPD already has a system in place that aligns with the draft recommendations.
"We already have these procedures in place," he said. "We do allow for anonymous complaints and regulations required by law to track instances of the use of force."
He added UCPD officers are trained prior to using any weapons.
The report also recommended officers undergo specific training designed to improve communication with students. These trainings would cover communication on topics such as procedural justice, implicit bias, cultural sensitivity, sexual orientation and trauma-informed interviewing. It also was recommended UCPD offer classes for students, staff and faculty to make them aware of these topics.
"I like that community engagement piece," Deluca said. "Having students be willing to hear from police for certain issues helps to bridge the gap of the 'us against them' mentality."
Manvir Dhaliwal, a CSA committee member and second-year human biology and society student, said she thought the recommendations would benefit minority groups and should emphasize student input.
"I'm aware that police relations haven't always been great, especially between minority students and students who have been persecuted from the LGBT+ community," Dhaliwal said. "Having standard procedure that doesn't explicitly target minority groups will eventually be beneficial."
The draft also recommended the formation of Independent Advisory Boards composed of students, staff and faculty to connect police to university administration. Deluca said UCLA already has a Police Chief Advisory group that serves a similar purpose to the recommended advisory boards, so the school may transition to the recommended model within two years.
Matthew William Richard, a CSA coordinator and second-year political science student, said that the report aligns with CSA's aim to include students from all communities in conversations about their safety and to give them the power to vote on such measures. He believes the report will help CSA connect the administration to the student body.
"So many students, particularly those who have been most jeopardized by blanket safety policies, have not been included in those conversations about those safety policies," Richard said. "We aim to be a mutually beneficial alliance between administration and all of the student body."
The final recommendation in the draft was to increase transparency between UCPD and the universities to build better relationships and improve accountability. The recommendation asked UCPD to find ways to release video evidence and records to the public, in accordance with state law. The draft also suggested each police department publish an annual report about the complaints they receive.
Deluca said he does not foresee UCLA will need to make any major structural changes in the future to satisfy the recommendations.
"I really feel that we've almost acted as a model campus," he said. "But I think it's terminology and common practices and definitions that can be changed."