Gene Block, vice chancellors discuss event security, Title IX and emergencies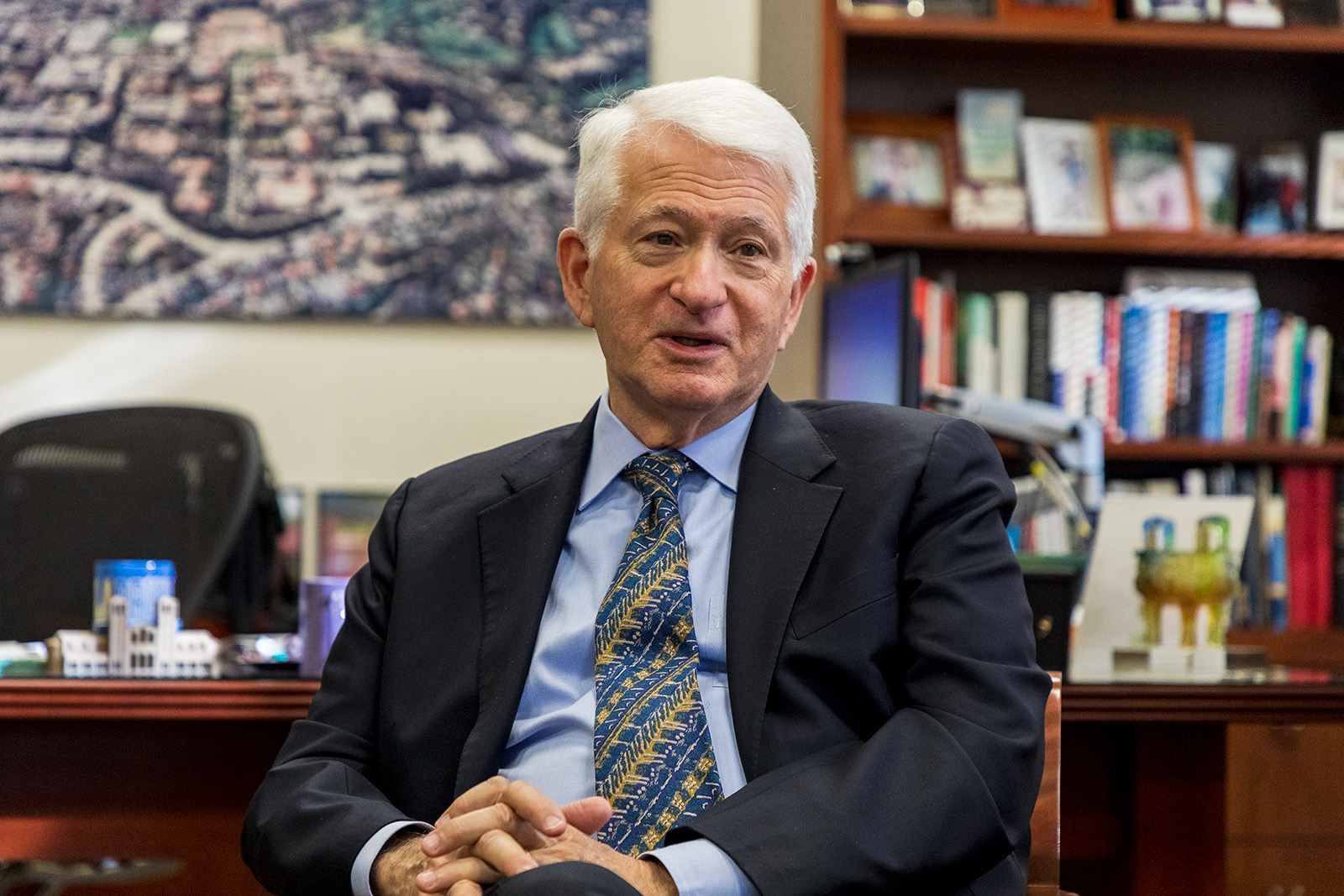 The Daily Bruin Editorial Board meets with Chancellor Gene Block quarterly. Block said student scholarships are his highest priority and he considers Betsy DeVos' proposed changes to federal Title IX policy a step backward. (Kristie-Valerie Hoang/Daily Bruin senior staff)
December 6, 2018 12:58 am
Chancellor Gene Block meets with the Daily Bruin Editorial Board every quarter to discuss issues affecting campus and explain administrative policies. At the meeting Tuesday, Block, Administrative Vice Chancellor Michael Beck, Vice Chancellor for Equity, Diversity and Inclusion Jerry Kang and Vice Chancellor for Student Affairs Monroe Gorden Jr. spoke about the administration's response to the National Students for Justice in Palestine conference, changes to federal Title IX policy, the UCLA Centennial Campaign, issues with UCPath and emergency preparedness.
NSJP Conference
NSJP held its conference at UCLA mid-November. The Los Angeles City Council called on UCLA to shut the event down, while student government at UCLA passed a resolution in support of the conference. Block wrote an op-ed in the Los Angeles Times about the conference. UCLA administrators sent NSJP a cease-and-desist letter Oct. 31 regarding the conference's logo used to promote the group. Zionist groups unaffiliated with UCLA protested the event Nov. 18.
Block said the administration's cease-and-desist letter to the NSJP regarding its logo was not an attempt to prevent their meeting, though Beck noted UCLA retained its rights up to and including shutting down the conference if NSJP did not comply. Both Beck and Block said the issue was resolved after UCLA's name was removed from the logo.
Beck added that an update to Policy 110, UCLA's major events policy, was released coincidentally in the days leading up to the NSJP conference after two years of planning. He said the policy provides more clarity for students.
Kang said the administration understands the need for content-neutral policy enforcement. He also said it is often unclear to the public who is endorsing speakers on campus, indicating the need to be clear with brand use.
Beck said the administration must be notified of guest speakers three weeks in advance to make security plans.
Beck added UCLA policy covers "extraordinary" costs associated with guest speakers. He said this cost generally is associated with speaker security, but not event costs such as compensation for ticket-takers or ushers.
Beck also added this policy is capped at $100,000 per year for third-party hosts, but there is no cap on student-invited speakers.
Gorden, Kang and Block all noted this policy is intended to provide a level playing field to allow for a variety of free speech.
Beck said funding for security costs comes from the police department budget, which is funded by taxpayer dollars. He added UCLA aims to have cost-effective security procedures.
Title IX Policy
Kang said the UCLA Title IX Office has increased its transparency measures with accountability reports and investigation summaries.
Gorden said there are policies in place that ban fraternities from affiliating themselves with UCLA, but added administrators must evaluate where responsibility falls between an individual and the group.
Gorden added he believes sanctioning fraternities is not enough to eradicate sexual assault and sexual violence. He said Title IX trainings must be changed, possibly to train smaller groups at a time to ensure peer accountability.
Kang said there is no easy way to move from informing students to changing their behavior. He added his office is open to experimentation and to partnering with community members to improve results.
Kang said local campuses are sending their ideas about the new federal Title IX standards from Secretary of Education Betsy DeVos to the University of California Office of the President. He added he believes the live cross-examination proposed in the new policy could be detrimental to survivors and investigations.
Block called the DeVos policies a step backward, but added the UC will have the flexibility to maintain many of its more rigorous standards.
Kang said the administration uses a responsible employee policy, which requires employees to report instances of sexual violence. He added the office constantly emphasizes that retaliation for a Title IX complaint, regardless of findings, is strictly prohibited. He also added he hopes transparent proceedings where people face consequences for inappropriate actions will help people feel their cases are not being swept under the rug.
Kang said settlements with those found to have committed sexual violence now include a public statement paragraph explaining the findings and consequences of each case. Beck said settlements with those found to have committed sexual violence should not automatically be viewed as bad. Kang added it is UCLA practice to keep complainants informed about their case, even if the administration and offender are technically the two parties settling.
UCPath Implementation
Block said administrators delayed implementing UCPath for almost a year because it was such a large change.
Beck said payroll mistakes occurred under the old system, but UCPath is taking much longer to resolve pay issues. He added he believes this is unacceptable.
Beck added UCLA staff have aimed to resolve complaints made to the UCPath office themselves, using off-cycle checks and instant-pay cards. He also added the office is monitoring and working on the situation every day.
Centennial Campaign
Block said the campaign's goal of raising $1 billion for scholarship funding was very ambitious. He said though the goal has not yet been reached, it is his highest priority in terms of fundraising efforts.
Block added UCLA may need to explore other options to bolster scholarship donations, including directing a percentage of other donations to the scholarship fund or by engaging students in fundraising efforts.
Beck said the goal was set far higher than professionals estimated was possible. He added they set the goal so high so as not to take the easy way out.
Emergency Preparedness
Beck said the administration has taken steps to release more detailed information proactively in its emergency notifications, pointing to its Woolsey fire updates as an example.
Beck added the office refined how it gauges air quality after realizing their previous air quality management system had a 24-hour updating period.
Beck added the office is working to define thresholds that will enact certain actions, including specialized announcements for those who have respiratory problems or to areas with small children.
Beck said a new active shooter training video, with a more specific focus on UCLA, will be launched soon.
Beck added trainings in orientation will emphasize where to find safety resources, including the Bruins Safe application.
Beck said the administration is still working on procedures for what to do in a true evacuation situation. He added it would be nearly impossible to evacuate such a dense population on limited roads in a short amount of time. Instead, he said, it may be more effective to determine which areas emergency responders can defend best in a shelter-in-place response.
Beck also added administrators will simulate an evacuation of UCLA in January to test emergency preparedness.
Morris is the 2020-2021 Editor in chief. She was previously the 2019-2020 assistant Enterprise editor as well as the 2018-2019 assistant News editor for the campus politics beat. She is also a fourth-year global studies student at UCLA.
Morris is the 2020-2021 Editor in chief. She was previously the 2019-2020 assistant Enterprise editor as well as the 2018-2019 assistant News editor for the campus politics beat. She is also a fourth-year global studies student at UCLA.