Editorial: Access Control staff shortages indicative of larger safety inefficiency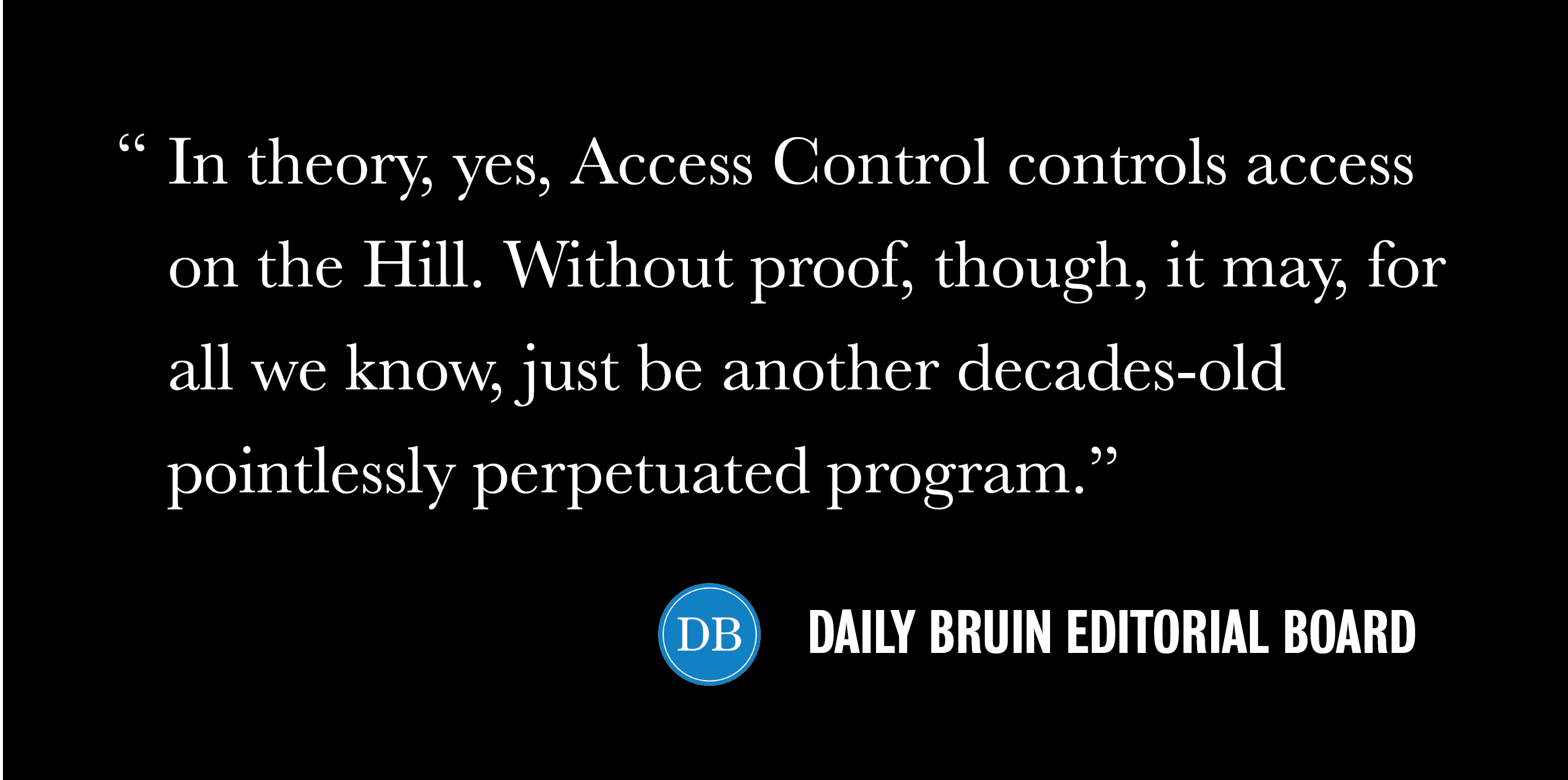 UCLA Housing Access Control has a problem.
Hint: it's not with the access part.
Access Control, a UCLA Housing unit that monitors the entry of residents into certain buildings between 9 p.m. and 5 a.m. by checking photo identification, reported having vacancies for nearly half its positions at the start of the quarter. While vacancies are common at the start of fall quarter, this year's number of open positions was significantly larger than those of previous years.
This news comes on top of the fact that Access Control is not implemented across all buildings on the Hill. Residential halls like those in De Neve Plaza and Sunset Village, for example, have no staffers closely monitoring the entry of individuals after 9 p.m.
UCLA Housing said last week it hired 25 new staffers to fill its 35-person shortage. But in light of recent safety concerns on the Hill and the lack of uniformity in Access Control on the Hill, we have to ask whether the decades-old system actually improves safety – and if so, how to expand it to the entirety of UCLA's residential halls.
UCLA Housing started the practice of requiring students to present identification before entering residential halls in the late '80s, following a number of reported campus sexual assaults. Consequently, the hours of Access Control were expanded and the procedure to enter a building as a guest became more comprehensive.
On one hand, it may seem the absence of this flow control because of staff shortages can directly put students at risk. Just last week, UCPD arrested a man after he vandalized a De Neve resident's door and wrote incoherent ramblings on their whiteboard. The man was seen at De Neve Commons on multiple occasions, and even masqueraded as a student, per the director of Residential Education at UCLA.
Yet last week's incident also underlines the nonuniformity of Access Control on the Hill. Housing staffers who swipe residents into their buildings at night are only present at a few major residential halls. De Neve is one such residential complex that generally does not have Access Control.
Compare this system to that of New York University, another large public university in a major city. At NYU every residential building has a safety officer monitoring the entry of students. Residents must also show their identity card to this officer to enter a building at any time.
UCLA Housing did not respond to a request for comment on how it determines the location of Access Control staffers on the Hill. Administrators previously told the Daily Bruin some residential areas have no Access Control because the numerous points of entry for such buildings makes them difficult to monitor – an unconvincing reason for not making security uniform on the Hill if Access Control was shown to be effective.
However, there isn't clear evidence residential hall entrances without staffers guarding them are generally more prone to the entry of outside individuals. This, coupled with the fact that student fees are invested in the residential hall security program in spite of its deficiencies, make it all the more crucial that UCLA Housing examine the merits of having Access Control.
In theory, yes, Access Control controls access on the Hill. Without proof, though, it may, for all we know, just be another decades-old pointlessly perpetuated program.