Student worker union holds protest over frustration with UCPath system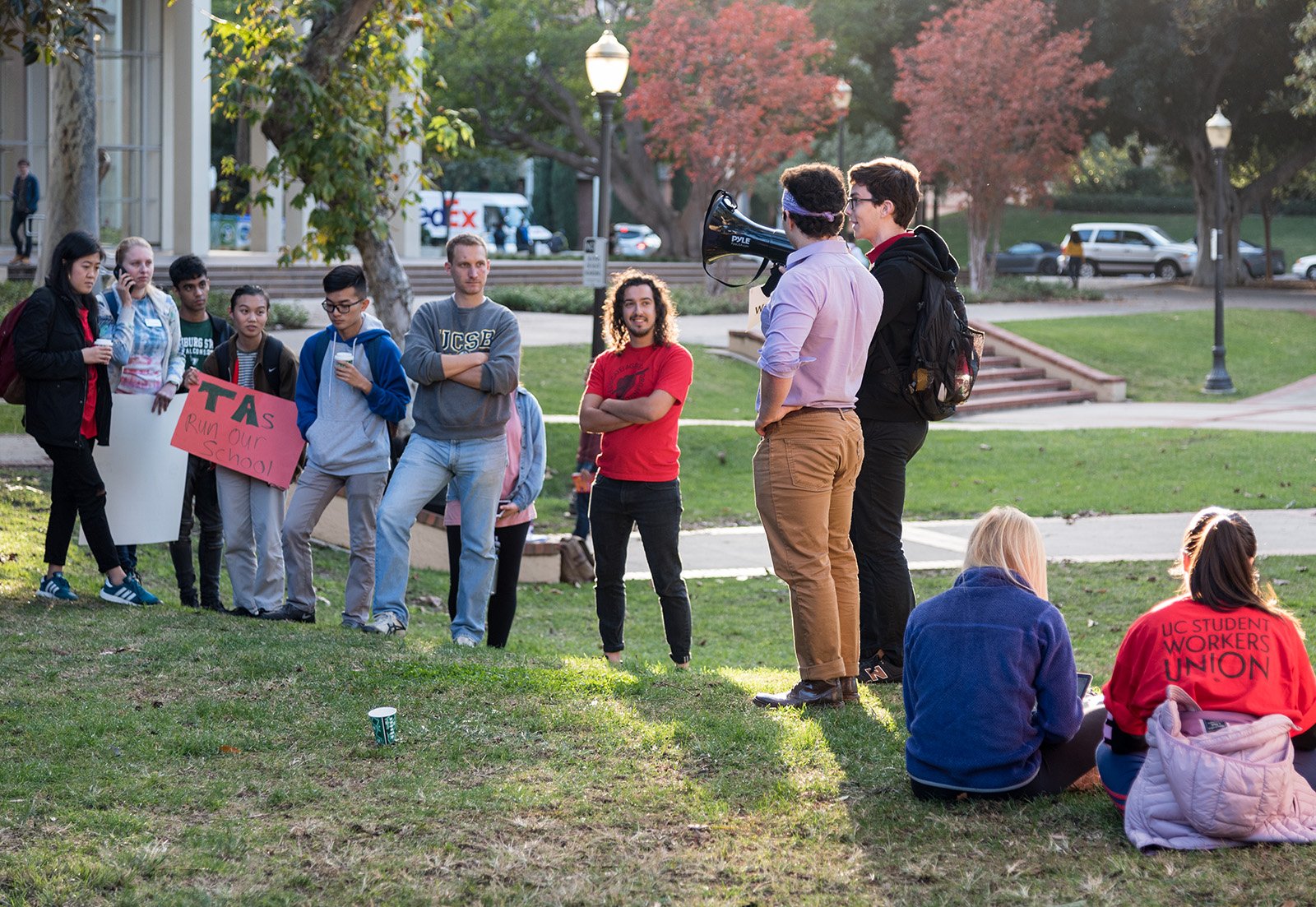 Student workers protested against issues they have experienced with UCPath, a newly implemented payroll system. (Daniel Leibowitz/Daily Bruin staff)
A student workers union protested payroll issues which have left some without pay since the start of the academic year.
Roughly 50 student workers from United Auto Workers Local 2865 gathered Friday to protest to show their frustration with UCPath. UCPath is a centralized payroll platform for University of California employees that launched at UCLA in September. UAW Local 2865 represents more than 18,000 academic student employees throughout the UC, including teaching assistants, tutors and readers.
Alli Carlisle, recording secretary of the UAW Local 2865, said she thinks UCPath has been disastrous for student workers.
"We have members of our union who are still experiencing pay issues," said Carlisle, a graduate student in Spanish and Portuguese department.
Student workers said UCPath has delayed paychecks and incorrectly calculated wages since its implementation at UCLA.
And these issues have had real-world consequences said Laura Muñoz, a Spanish and Portuguese graduate student attending the protest.
"I've had to borrow money from my family, who doesn't have any money in order to pay my rent, to pay my bills, to buy food, to buy my groceries, to travel home for Thanksgiving," Muñoz said.
Muñoz added that she now owes over $1,500 to family and friends as a result of taking out loans because she has still not received her pay.
Zerina Mehmedovič and Ashley Shin, chemistry graduate students, said over $600 had been cut from their delayed paychecks as a result of being overtaxed by the UCPath system.
Shin added that she believes UCPath is a misguided attempt at centralization by the UC Office of the President.
Claire Doan, a UC spokesperson, said in an email statement 99 percent of UC employees have been paid accurately and on time with UCPath.
"We understand students' concerns and frustrations," she said. "We are sorry about the problems associated with any instances of delayed processing of salaries and benefits."
Jamie Kennerk, the Undergraduate Students Association Council external vice president, said she thinks Doan's claim that 99 percent of employees have not experienced pay issues is laughable.
Kennerk said she believes the ticket system the University is using to address issues does not actually resolve issues.
When an affected UC worker complains to their department about an irregularity in their pay, a "ticket" for an official response gets created in the UCPath system. The system then sends an email to the affected worker, to which they have no more than four days to respond. If there is no response within four days, the issue is automatically closed.
"There are all these cases that have been opened that are just closing without any active confirmation that (the issue) has actually been fixed," Kennerk said.
The protesters marched into Murphy Hall and regrouped outside the Office of the Chancellor on the second floor to demand a meeting with Chancellor Gene Block.
The union leaders of UAW Local 2865, demanded to see Block to present him with an official letter of complaint and a symbolic bill for the financial and emotional stresses caused by the pay issues.
A representative informed the protestors that neither the chancellor nor the vice chancellor were present in the office.
Kailah McGee, a head steward of the union and an education graduate student, said she thinks this protest sent a message to administrators.
"I think it will show the chancellor, it will show the other student workers watching that we are upset and we are not going to stop making noise until we're payed," McGee said.
She said she was dismayed at how the UC administration has responded to complaints.
"Instead of saying 'We're so sorry about this' and taking accountability … they've decided to cover their own butts and try to make it look like this UCPath rollout makes sense," McGee said.
Doan said a team dedicated to troubleshooting technical glitches does exist and is looking for ways to alleviate the impact on students.