Danish diplomat discusses US relations, international developments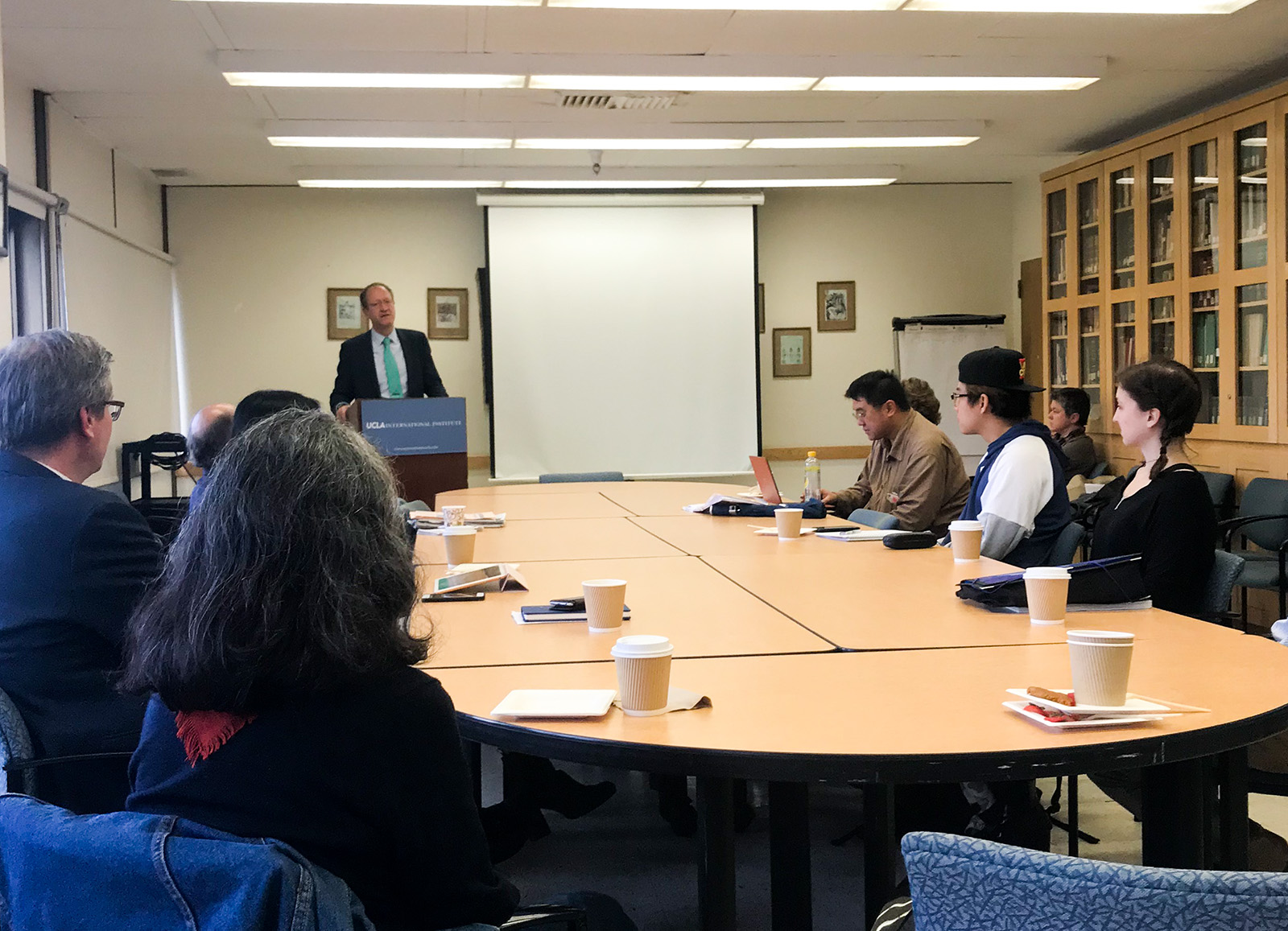 A Danish diplomat visited campus Thursday to discuss his country's role in international trade with the United States and the Syrian refugee crisis. (Haya Fakhoury/Daily Bruin)
This post was updated Nov. 30 at 5:50 p.m.
A Danish diplomat said Denmark depends on the United States to help ensure its place in the international community.
Henrik Bramsen Hahn, deputy chief of mission at the Embassy of Denmark to the US, spoke about Denmark's role in international affairs at an event organized by the UCLA Center for European and Russian Studies and the Burkle Center for International Relations in Bunche Hall on Thursday.
Hahn said Denmark relies on its relationships with other countries because it has limited resources as a small country.
"Denmark is a relatively small country that only consists of 5.77 million people," Hahn said. "Due to the small size of our country, international cooperation is crucial to us."
He said Denmark is very dependent upon the U.S. because it is Denmark's third-biggest trading partner, and its biggest partner outside the European Union.
"The only one country that could ensure the safety of Europe is the U.S.," Hahn said. "The U.S. stands as a lighthouse for Europe."
Denmark thinks different countries should work together to make institutions like the United Nations, North Atlantic Treaty Organization and World Trade Organization stronger, he said.
"The UN, NATO, WTO is the only thing we've got, so we are prepared to work with our partners to make them stronger," he said.
Denmark wants these organizations to be reformed so that every member gets an equal say in the organizations' decisions, not just the bigger countries, he said. It especially wants reforms in the WTO because it is essential in determining how trade takes place in the world, he added.
"We need the U.S. to take global leadership for it is crucial in maintaining international order," Hahn said.
Hahn discussed Denmark's involvement with the U.S. against terrorism.
He pointed out Denmark had been involved in many missions with the U.S. in Syria and Afghanistan.
Denmark sent troops to Afghanistan and Syria and currently still has troops stationed in Syria, he said. Denmark also assisted in the transfer of chemical weapons out of Syria, where they also donated funds to rebuild war-torn areas and aid in Syria's overall development.
In response to an audience member's question about Denmark's stance on the refugee crisis and immigration, Hahn said Denmark cannot handle the influx of refugees alone and that the Danish government does not want to accept more refugees into the country.
"There is a broad agreement in our parliament that we do not want a majority of our population to become foreigners," he said.
Stefan Lindström, Consul General of Finland to the U.S., who was also at the discussion, said Finland also does not want to take in more refugees because it is also a small country that lacks the resources to support them.
"(Such) small countries, like Denmark and Finland, are simply not prepared to take in many refugees," Lindström said.
Hahn also talked about Denmark's relationships with private multinational companies.
Big companies like Google and Apple are establishing data centers in Denmark because it provides reliable and sustainable sources of energy, Hahn said.
"We provide them reusable energy and provide them with a sustainable environment," he said.
Hahn added Denmark is encouraging big companies to take responsibility for their contribution to the environment and push for sustainability because their economic influence is as big as that of small countries.
Bianca Rivera, a fourth-year European studies and computer science student, said she is interested in pursuing a career in international law or foreign diplomacy and gained insight into those fields from the event. She added she liked learning about Denmark's push to achieve environmental sustainability.