UCLA swim and dive to cross country for invitational after break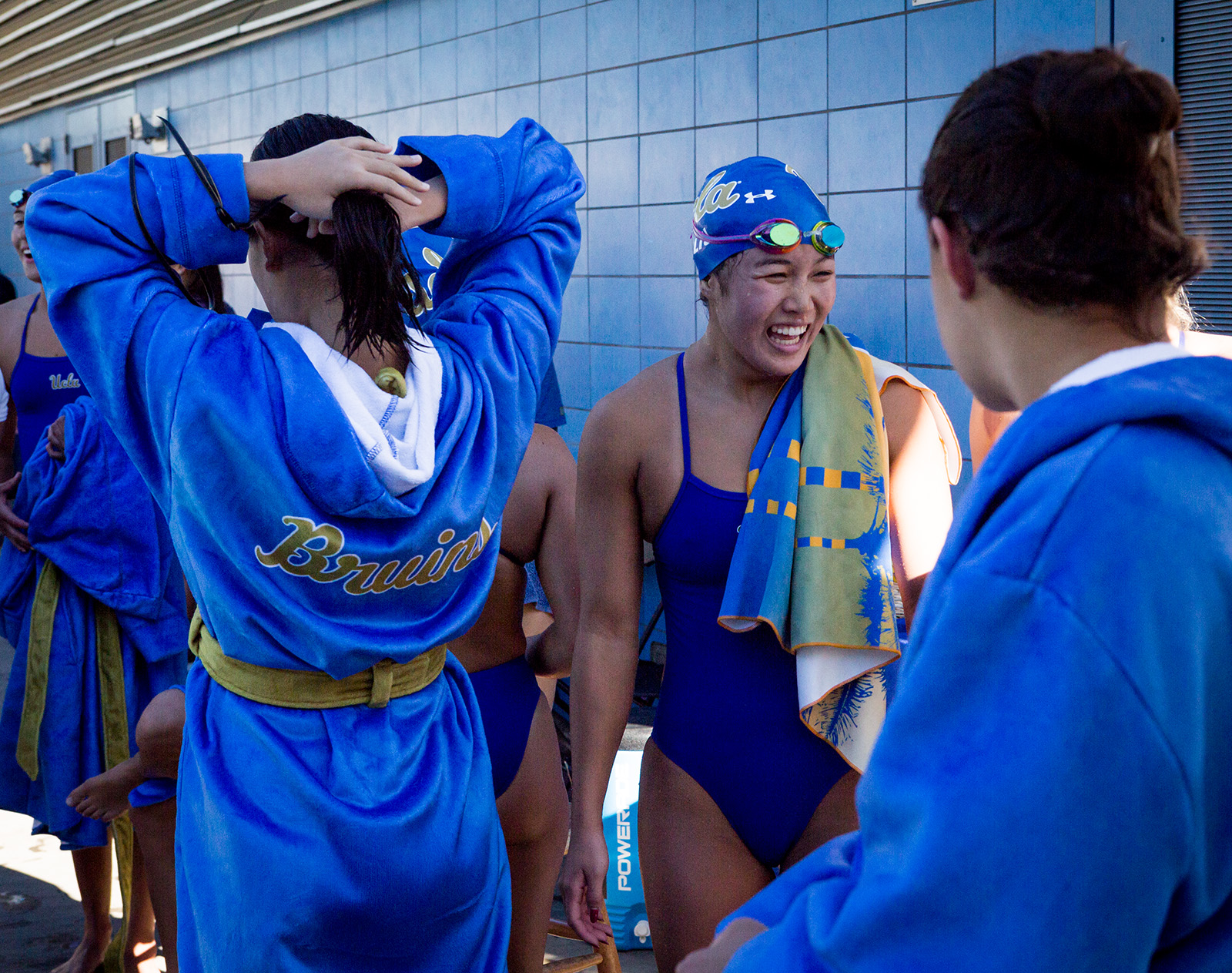 Junior Kenisha Liu came out with wins in the 100-meter and 200-meter freestyle in the Bruins' meet against Arizona earlier this month. UCLA will travel to Athens, Georgia, this weekend to compete in the Georgia Fall Invitational. (Andy Bao/Daily Bruin)
The Bruins will be competing across the country for the first and only time of the season this week.
UCLA swim and dive (3-0, 3-0 Pac-12) will begin a three-day contest at the Georgia Fall Invitational in Athens, Georgia, on Thursday, where it will face a slew of top-20 teams.
The Bruins will square off against familiar Pac-12 foe No. 5 California (2-1, 2-0) along with No. 3 Michigan (5-0, 2-0 Big Ten), No. 7 Virginia (3-1, 2-0 ACC) and No. 11 Georgia (2-1, 2-1 SEC).
"It's a different meet with different teams than we usually face," said swimming coach Cyndi Gallagher. "So, our goal is to go there, compete hard and take measure of where we can improve for our next indoor meet."
California, riding its 10th consecutive top-3 season, faltered early on against No. 1 Texas. Host team Georgia and Virginia both dropped meets to Southeastern Conference opponents No. 10 Florida and No. 17 Auburn, respectively, while Michigan remains undefeated with wins over smaller Big Ten schools.
The meet will be the swim team's first action in nearly a month due to the postponement of its mid-November meet against UC Santa Barbara and UC San Diego.
Despite the prolonged gap, Gallagher remains confident in the team's ability to perform.
"We've been off for awhile, but the girls are still in hard training," Gallagher said. "A couple of weeks off is no big deal because we're still focused and racing competitively every day in practice."
UCLA will send 14 swimmers to Georgia this week, including junior Kenisha Liu.
Liu – who is coming off leading performances in the 100-meter and 200-meter freestyle races against Arizona and Arizona State – praised her coach's ability to maintain concentration, as well as the team's eagerness to return to the pool.
"(Gallagher) does a great job keeping us hungry and focused in practice," Liu said. "Our freshmen are also great this year because they really have no cap on their energy and enthusiasm, and have made a real impact on the team."
UCLA dive will once again showcase a trio of divers at the invitational. Diving coach Tom Stebbins echoed Gallagher's optimism.
"It's not a long enough break for our divers to go cold," Stebbins said. "As they rest they tend to get sharper and fundamentally cleaner, and we're hoping to see that they've succeeded in doing so at the meet."
Seniors Traci Shiver and Madeline Russell are set to compete in both the springboard and platform diving events alongside sophomore Alice Yanovsky, who will make her season debut on the springboard.
Shiver and Russell – who took part in the Trojan Diving Invitational earlier in November – placed sixth and seventh out of 18 divers, registering scores of 405.85 and 398.75 respectively.
"(Shiver has) been the most consistent in her ability to prepare each week, so I expect her to perform well," Stebbins said. "It'll be good for (Russell) to get back out there now that she's healthy, and I am looking forward to seeing (Yanovsky) in action for the first time."
Nevarez joined the Bruin as a junior in 2018 and contributed until 2019. He spent time on the swim and dive beat.
Nevarez joined the Bruin as a junior in 2018 and contributed until 2019. He spent time on the swim and dive beat.