Care Extender Program gives pre-med students experience working in hospitals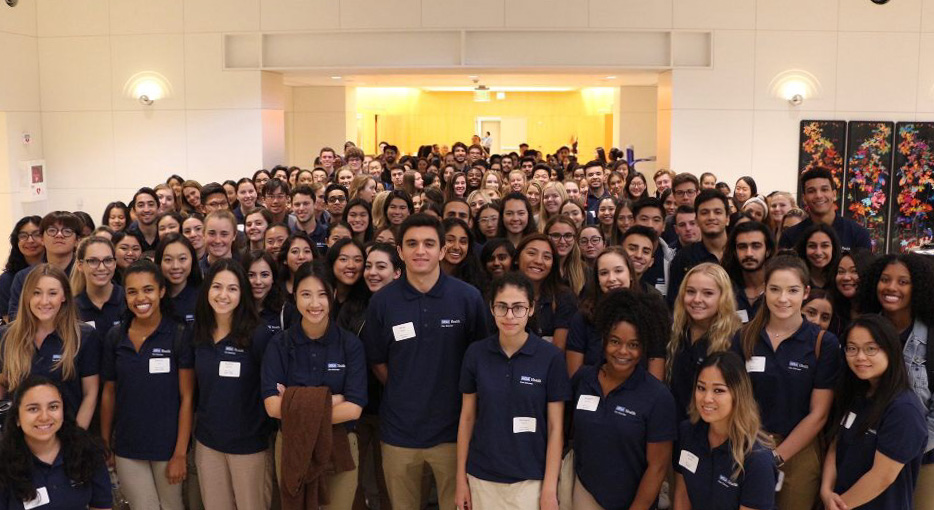 The UCLA Care Extender Program consists of over 1,000 student volunteers interested in the medicine who are divided into about 50 committees. The program is made up of students from schools across California such as CSU Northridge, Cal Poly Pomona and UC Irvine. (Courtesy of William Narinyan)
A volunteer organization on campus aims to help students gain firsthand experience in the medical field.
The UCLA Care Extender Program is located at Ronald Reagan UCLA Medical Center and UCLA Medical Center, Santa Monica, and consists of over 1,000 volunteers in about 50 departments. The program is made up of students from schools across California, such as California State University, Northridge, Cal Poly Pomona and UC Irvine, according to Care Extenders Public Relations Coordinator William Narinyan.
Care Extenders allows volunteers to experience health care from a clinical perspective as well as gain experience working with doctors and nurses and interacting with patients.
Volunteers who apply to the program must be at least 18 years old and willing to work with patients in the various departments. After an application and selective interview process, volunteers who are accepted into the program are assigned to specific departments of their choice, such as radiology, oncology and pediatrics, on a first-come, first-served basis.
Diamond Nguyen, the quality control coordinator, worked as a volunteer in radiology and pediatrics before working at Care Extenders. She said her experience in the program was different because it provided a new perspective of what it's like to work in a hospital. She said for someone like herself, who only had knowledge in optometry, she was exposed to parts of the hospital she hadn't experienced before, such as the emergency room.
"The program is there to provide people like me experience in health care. There aren't a lot of programs where you are exposed to the hospital environment," Nguyen said. "You learn things you wouldn't know about without being in the hospital."
Volunteers must complete four rotations in different departments before they are able to officially graduate from the program. Each rotation lasts three months, adding up to a year in the program. However, there are others who choose to extend their time in the program. Narinyan said during his time at the program, he has learned new medical skills like reading patients' vital signs, safety protocols and what to do if a patient is at risk of having a stroke.
Jade Elliott, a former volunteer in the program who graduated this spring, said sometimes volunteers can't be prepared for patient care no matter how many times they have seen it on TV. Part of the volunteer experience is learning how to interact with patients who have terminal conditions or are going through treatments for diseases such as cancer.
"Right before I started my shift once, a small kid died," Elliott said. "That was really hard because I had to take the belongings with the family to their car and they were crying."
Nguyen added she thinks the program has been successful in its initial goal of teaching volunteers new skills while emphasizing patient interaction.
"When you think about volunteering, you mostly think about doctors and nurses, and it's easy to forget that a lot of the (patients) who are here, don't want to be here. It's rewarding when you get to sit and talk with them," Elliott said. "It means a lot to them."
The program is trying to expand to new departments, such as a gastrointestinal laboratory and an eye institute, and implement a shadowing unit where volunteers are able to observe doctors and nurses. The purpose of the staff interactions with the volunteers is to teach what the staff does on a day-to-day basis.