AFSCME and students protest stalled negotiations at UCLA Medal ceremony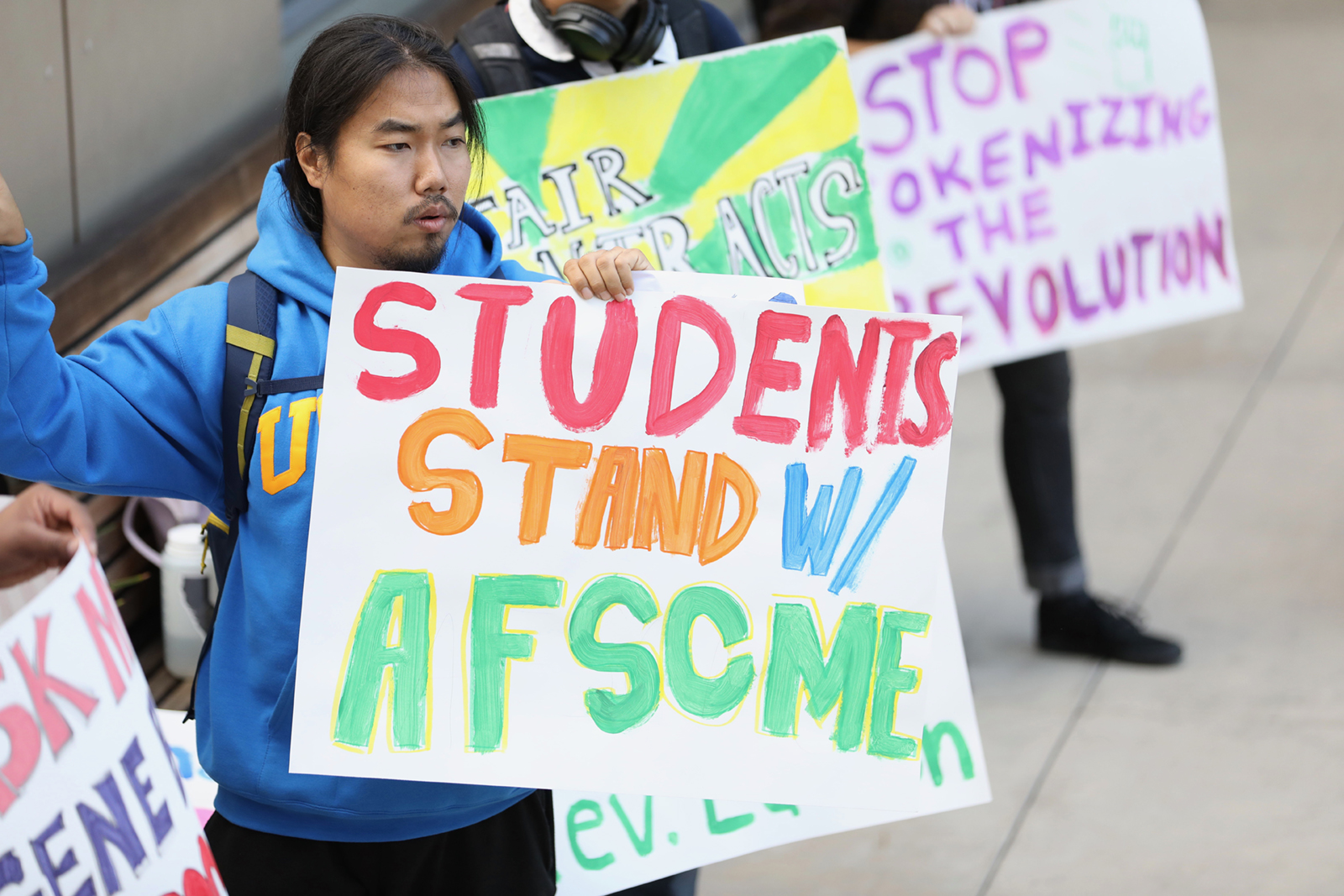 The labor union and students were protesting the perceived hypocrisy of rewarding a civil rights activist,while simultaneously failing to work with UCLA's AFSCME contingent.
(Ariana Saigh/Daily Bruin)
Students and labor advocates demonstrated against UCLA administration at an award ceremony over stalled union negotiations.
Members of the American Federation of State, County and Municipal Employees Local 3299, the UC's largest employee union, and students protested the University's approach to negotiations with AFSCME on Wednesday. Meanwhile, Chancellor Gene Block presented Rev. James Lawson Jr., a civil rights activist and professor at UCLA, with the UCLA Medal.
The labor union and students said they were not protesting Lawson receiving the medal. Instead, they said they were protesting the perceived hypocrisy of rewarding a civil rights activist, who worked with AFSCME and other labor unions for years, while simultaneously failing to work with the university's AFSCME contingent.
AFSCME 3299 claimed the pay gap has increased between lower and higher earners, and that bias against women and employees of color is prevalent in a report they released in April.
Maddy Offerman, a fourth-year human biology and society student, said she felt if the university cared about Lawson's work, it would support the employee union.
"I think it's really disappointing that the university can't uphold the same values that they're rewarding Lawson for upholding, and they can't follow through on supporting fair labor when that's exactly what they're recognizing him for doing," Offerman said.
[Related: UCLA Medal awarded to activist Rev. James Lawson for contributions to civil rights]
UCLA representatives were not immediately available for comment.
Eddie Thompson, another AFSCME member at UCLA, said he was protesting purely against the UC's propositions.
"It's really against the chancellor, because the chancellor and the UC are really not trying to give us a contract," Thompson said.
Madalena Burke, a third-year mathematics student, said she felt the University's unwillingness to grant AFSCME workers' requests reflects badly on the celebration of Lawson.
"It's just kind of hilariously hypocritical that they're awarding him for all of this lifetime of service and work when they fail to respect the dignity of their own workers and fail to address the needs of AFSCME when they're asking for the same things," Burke said.
AFSCME 3299 has been in negotiations for more than a year with the UC system, pushing against health care premium increases, different retirement plans and job outsourcing.
Offerman said it is the UC's responsibility to reach an acceptable contract, but added she hoped Block would do his part to pressure the UC into doing so.
"We really want (Block) to stand up for the values he is trying to say that he has by holding this event for Rev. Lawson," Offerman said.
AFSCME members went on strike during May and October after the UC and AFSCME stalled in their negotiations.
Davina Woods, an AFSCME member at UCLA, said this issue is the responsibility of the larger UC system.
"The regents and (UC President) Janet Napolitano and the chancellor all have the authority to stop this, but still they want to devalue us workers, while doing more outsourcing, and then widening the pay gap between the top and the bottom," Woods said.
Lawson helped organize the Memphis sanitation workers' strike with Martin Luther King Jr. in 1968. Many of the employees involved were AFSCME members.
Chelsea Dyapa, a third-year philosophy student, said she thought Block was taking advantage of Lawson's history in civil rights.
"A lot of us kind of see this as an extension of UCLA's racism – (Block) is racist – he's trying to tokenize Rev. Lawson and what he stands for," Dyapa said.
Offerman and Burke said the union tried to contact Lawson and ask him to decline the award due to the context of the situation.
Woods reiterated that she greatly respects Lawson and that the day was mainly about honoring his achievements and contributions.
"He's been a leader in social justice movements for some time now and we're celebrating his legacy today," Woods said.
Woods said she hopes Lawson speaks up against the perceived injustices perpetrated by the University.
"I'm hoping that he would call UC out," Wood said. "Make them realize what's going on, that we have people too, we have family, we also have bills, and we work hard to keep this place running smoothly."
Carroll was the 2020-2021 Managing editor. She was previously the Opinion Editor.
Carroll was the 2020-2021 Managing editor. She was previously the Opinion Editor.