UCLA Housing experiences shortage of Access Control personnel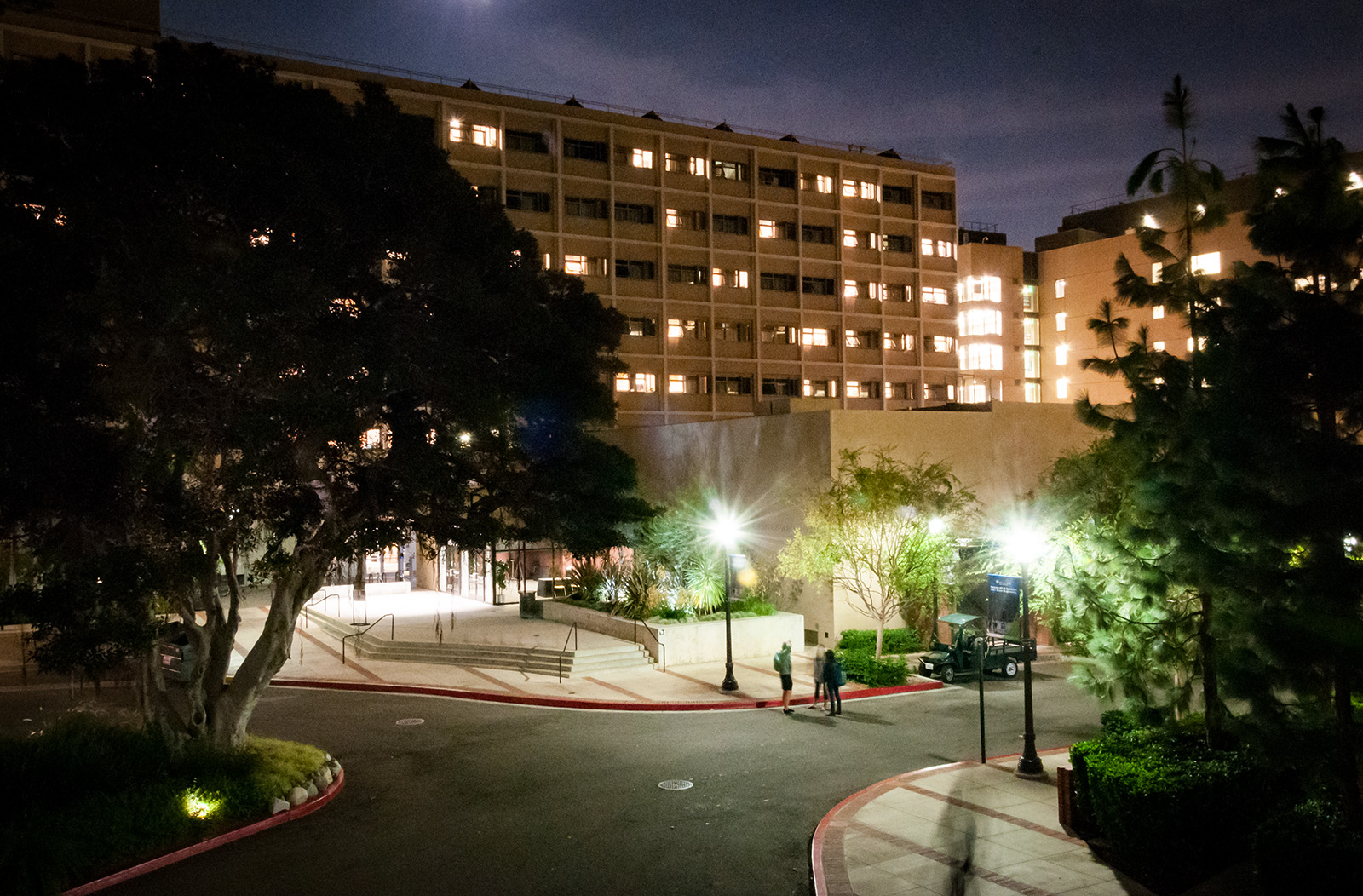 UCLA Housing officials reported a shortage of dorm security officers, but assured students safety is not compromised. The shortage of Access Control staff means sometimes there is no one swiping students at residence halls at night. (Liz Ketcham/Assistant Photo editor)
UCLA Housing officials reported a shortage of dorm security officers, but assured students safety is not compromised.
Housing Access Control, the UCLA Housing unit that monitors security on the Hill, had to fill 35 out of 75 staff positions since the start of the quarter, said Junji Toshima, the assistant director in Housing & Hospitality Services' Safety & Emergency Preparedness. Access Control aims to minimize the number of unauthorized entries into residence halls at night. The shortage of staff means sometimes there is no one swiping students in to check who enters residence halls between 9 p.m. and 5 a.m.
Toshima added Access Control turns to other security programs for help when it does not have enough staff members to work at night.
"When we're unable to fully staff for the night we'll look to consolidate areas for patrols or adjust coverage working with Campus Security Officers assigned to the hill and using available staff and supervisors," Toshima said.
He added Access Control decides which locations are staffed by considering factors including previous staffing throughout the week and the experience of front desk staff.
Kendall Phelan, an Access Control employee and third-year physiological science student, said Access Control experiences a staff shortage every fall quarter. This year, H&HS had more retention issues than usual, partly because more of its student workers graduated as compared to previous years.
Some students said having people on duty makes them feel safer.
Melody Zaki, a first-year physiological science student, said she has noticed that sometimes there is no one in front of the elevators to swipe her or guests into residential halls.
"Access control makes me feel safer," Zaki said. "I like knowing there is someone in control of who is coming in."
Katherine Chong, a first-year computer science student, said she has accessed residential areas her BruinCard is not authorized to access. Students who live in residential halls have access to the lobbies of other residential halls, but not access to the elevators or stairs going up to the dorms.
"One time, I was meeting a friend to work on homework and a (housekeeping staffer) let me in to use the stairs," she said.
Toshima said Access Control is just one portion of H&HS safety programs, so it relies on other divisions, such as Housing Safety Patrol, Housing Dispatch Operations, UCPD CSOs and Residential Life staff to work as security in the residential halls.
Someone is always on duty making sure the students have a contact if they have any issues, Phelan said.
"Even if we aren't swiping people in, we have 'Stand Down,' where we watch who is coming in. There are plenty of supervisors, CSOs and (resident assistants) walking around as well," Phelan said. "There is always someone watching."
Access Control workers were spread thin during the past few weeks with more tasks than usual because of the temporary lack of staff, Phelan added.
Phelan said Access Control hired 25 new people to address the lack-of-staff issue. Instead of having employees do multiple jobs, the new staff would allow everyone to go back to their normal duties.