Meat Your Seoul brings Japanese-Korean fusion dining to Westwood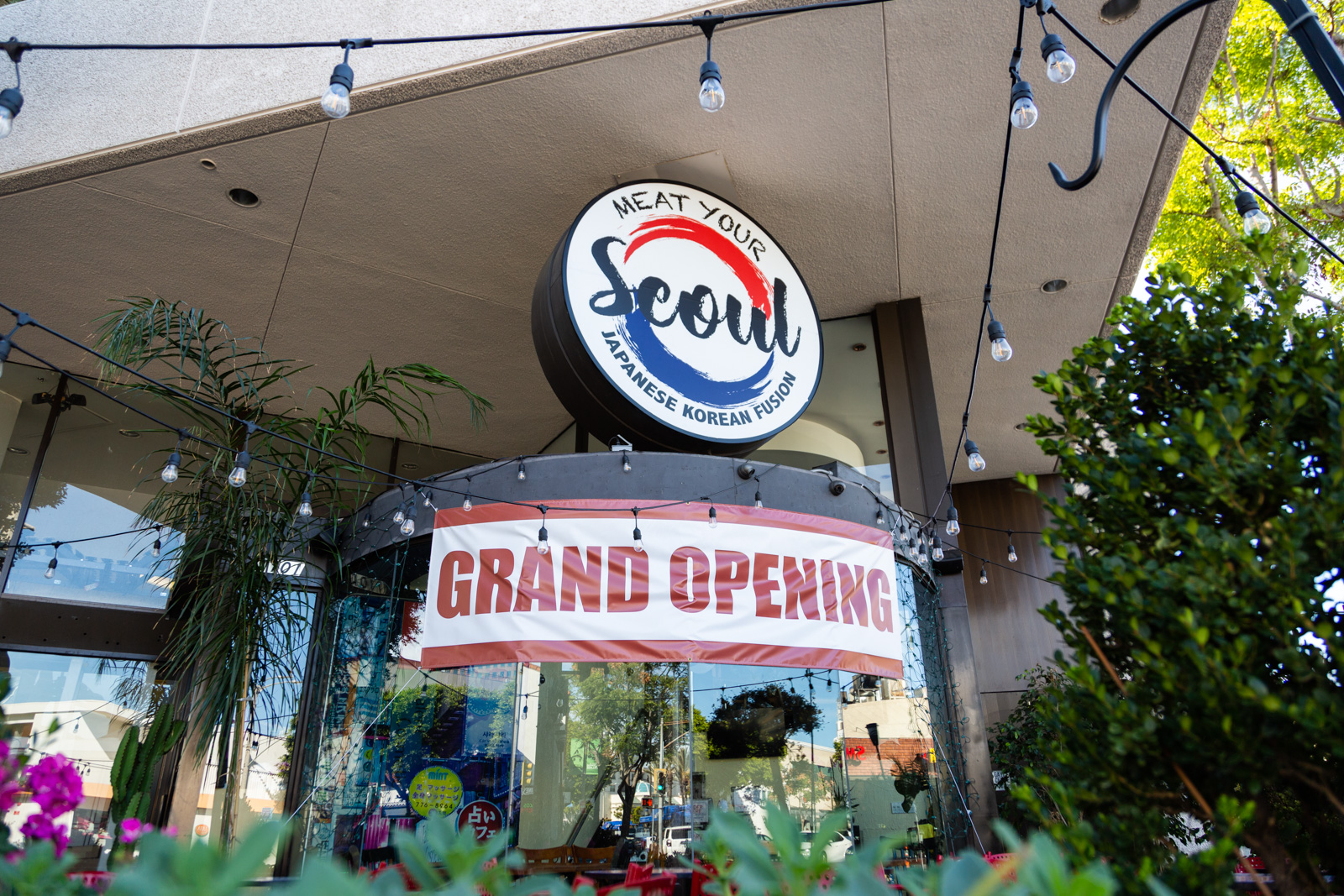 Meat Your Seoul is a Japanese-Korean Fusion restaurant that opened earlier this month. Customers can cook their choice of meat themselves or order food prepared by the restaurant. (Amy Dixon/Photo editor)
A new restaurant in Westwood is fusing Japanese- and Korean-style food customers can cook themselves.
Meat Your Seoul, a Japanese-Korean Fusion restaurant, opened in early November on the corner of Gayley Avenue and Kinross Avenue, where KONY Pizza closed earlier this year.
John Chung, co-owner of Meat your Seoul and previous co-owner of KONY Pizza, said he thinks the new restaurant is a better fit for the area than KONY Pizza because he thinks Westwood lacks many authentic Asian cuisine options.
KONY Pizza opened in April and became one of many pizza places in Westwood, including Lamonica's New York Pizza, Enzo's Pizzeria and 800 Degrees Woodfired Kitchen, which closed in October.
Chung added Meat Your Seoul was a spontaneous idea that he thought would be more appropriate for UCLA's high international student presence.
Andrew Thomas, executive director of the Westwood Village Improvement Association, said the owners of Meat Your Seoul made several improvements to the building that fit the concept of Meat Your Seoul better than that of KONY Pizza.
"When KONY Pizza came in, they made a lot of significant improvements on the place," Thomas said. "Now they have a concept that matches the theme of the place."
Chung said he thinks Meat Your Seoul adds more diversity to Westwood cuisine because customers can cook their own food at the restaurant.
"You cook the meat as you want it," Chung said. "There is also no seasoning in the meat, so you season it yourself."
Chung added the new restaurant provides barbecue and hot pot options for customers to cook their choice of meat, but also offers menu options prepared by the restaurant.
Julia Sarabia, a third-year English student, said she thinks the restaurant might offer an opportunity for students to eat more authentic Asian food in Westwood, but the concept of "fusion food" is unappealing.
"I don't personally like fusion places because usually if it's fusion, it's that one or the other is going to be diluted," Sarabia said. "You can't do two things completely right, and something is going to have to be compromised."
Sarabia nevertheless said she thinks Meat Your Seoul can add more options for people dining in groups in Westwood because it would be more difficult to travel to more traditional Asian restaurants in other areas.
Chrissy Zschomler, a fourth-year English student, said she thinks the concept of a fusion restaurant could offer many opportunities to try new foods. She added she thinks self-cooked food could make for a fun dining experience.
"I think a fusion of any two ethnicities of food is always really good because there's a lot of potential," Zschomler said. "There's a lot of room for experimenting."
Thomas said he thinks the restaurant will encourage people who live and work in Westwood to walk to eat their meals, which would bring more business to the district. He said he believes Meat Your Seoul's concept will contribute to its success because it will offer new food options in Westwood.
"I think the concept is unique, at least for our district. I've never heard of a Korean-Japanese fusion," Thomas said. "I think their concept is going to be a hit here because it is unique."