Man arrested on charges of trespassing, vandalism and prowling in De Neve Plaza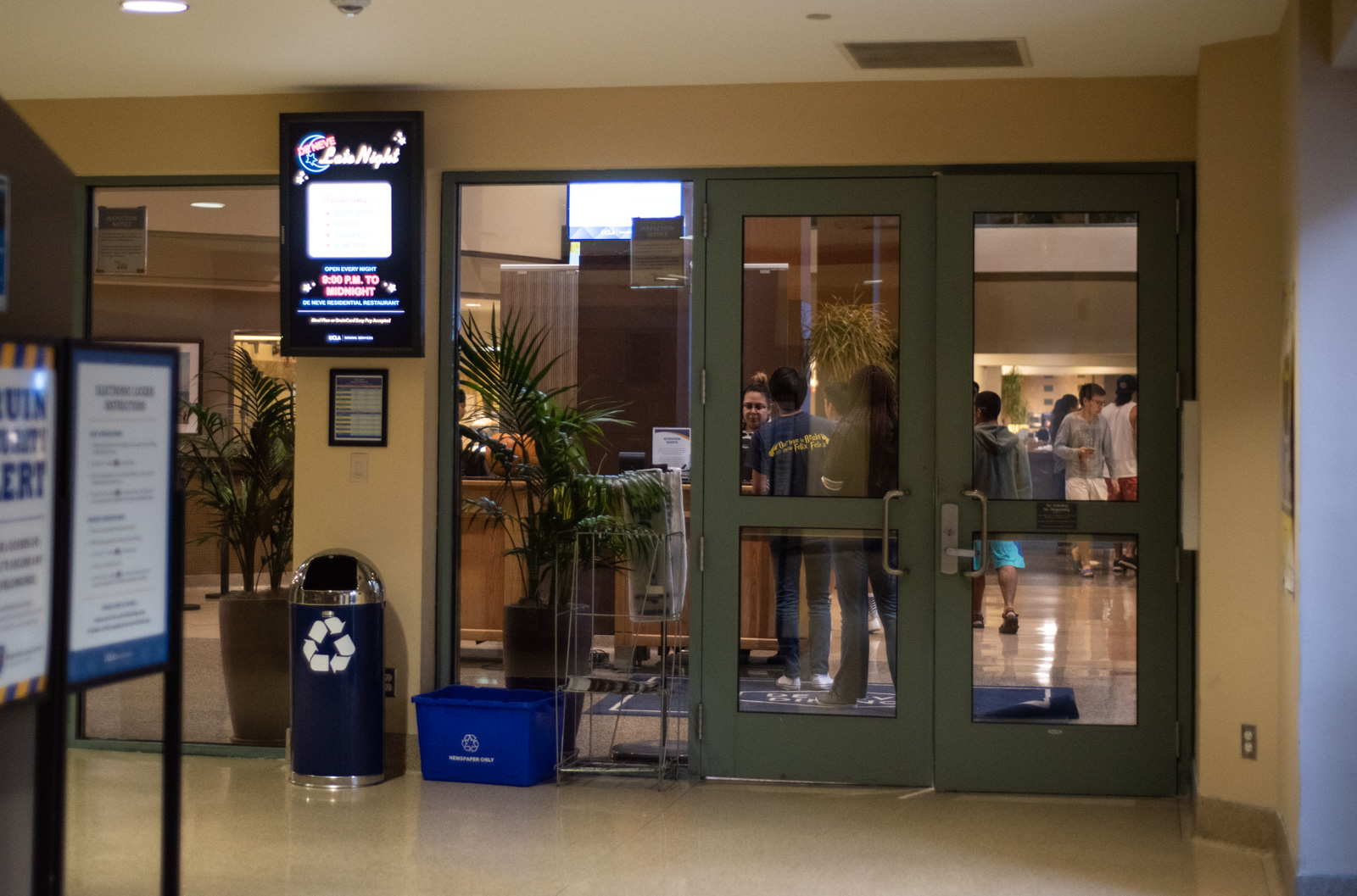 UCPD arrested a man on charges of harassing a student over text and vandalizing the student's door in De Neve Plaza. (Daily Bruin file photo)
University police arrested a man after receiving reports of trespassing inside De Neve Dining Hall.
UCPD arrested Winston Ekpo, 18, outside De Neve Commons on Nov. 19 charges of vandalism and telecommunications harassment. After being released, Ekpo was arrested again on Nov. 24 on a charge of attempting to gain access to a building outside the 600 block of Midvale Avenue.
Ekpo was charged with telecommunications harassment for excessively texting a De Neve resident, as well as vandalism for damaging the same resident's door, according to UCPD Lt. Kevin Kilgore. He was later charged for prowling. Ekpo is not a student at UCLA.
Ekpo also wrote negative messages and incoherent ramblings on the resident's whiteboard Nov. 18, said Brian MacDonald, director of Residential Education at UCLA, in an emailed statement. Ekpo was seen in the residential building on multiple occasions, though it remained unclear why he continued to return.
The De Neve resident and Ekpo were reported to be high school friends, MacDonald said.
Officers received a call that there was a person without a resident host at the De Neve Dining Hall for the first arrest. Upon removing Ekpo from the dining hall, UCPD determined he was the same person who had vandalized a resident's door in De Neve a week earlier, Kilgore said.
Ekpo was arrested the second time because he was trying to enter a residential building on Midvale Avenue. He was seen running from the area when UCPD officers were called, Kilgore said.
Members from UCLA Residential Life could not confirm when Ekpo began visiting the student, but MacDonald said he believes Ekpo was misrepresenting himself as a student at some point during his unauthorized visits to the building. The first incident report filed with ResLife, on Sept. 20, matched Ekpo's description of a nonresident who was seen in a lounge by a resident assistant and was asked to leave, MacDonald said.
ResLife protocol deals with visitors without hosts by having RAs confront the individual and call UCPD, MacDonald said. Officers then remove them from the premises and instruct them to stay off UCLA property. If the unaffiliated visitor returns, resident directors will contact UCPD to arrest the individual.
MacDonald said he believes students can help prevent similar trespassing incidents in the future by not opening doors for people tailing behind them to enter the building. He said ResLife will cite this incident as an example when encouraging students to do so.
Denise Wang, a De Neve resident and second-year computer science and engineering student, said she also thought students should be held accountable for keeping nonresidents out of the building and should be more cautious overall.
"The thought of somebody trespassing into the building and damaging property is quite alarming," Wang said. "It makes me feel like I have to be more cautious about certain things like when the door can be bolted."
Gianna Ly, a De Neve resident and first-year biology student, said she was concerned and felt that ResLife should take action in increasing student safety.
"Anyone can get into (my) building, unlike other buildings," Ly said. "In response to the situation, we should get someone on the bottom floor like all the other buildings."
Epko did not have bail for the first two charges because UCPD released him immediately after setting a court date, Kilgore said. For his second arrest, however, Epko is being held at the Valley Jail Section, Van Nuys Station, in lieu of $5,000 bail. He has three court dates set for Dec. 20, Jan. 4 and Jan. 8.