New club aims to encourage creativity, cathartic expression through slam poetry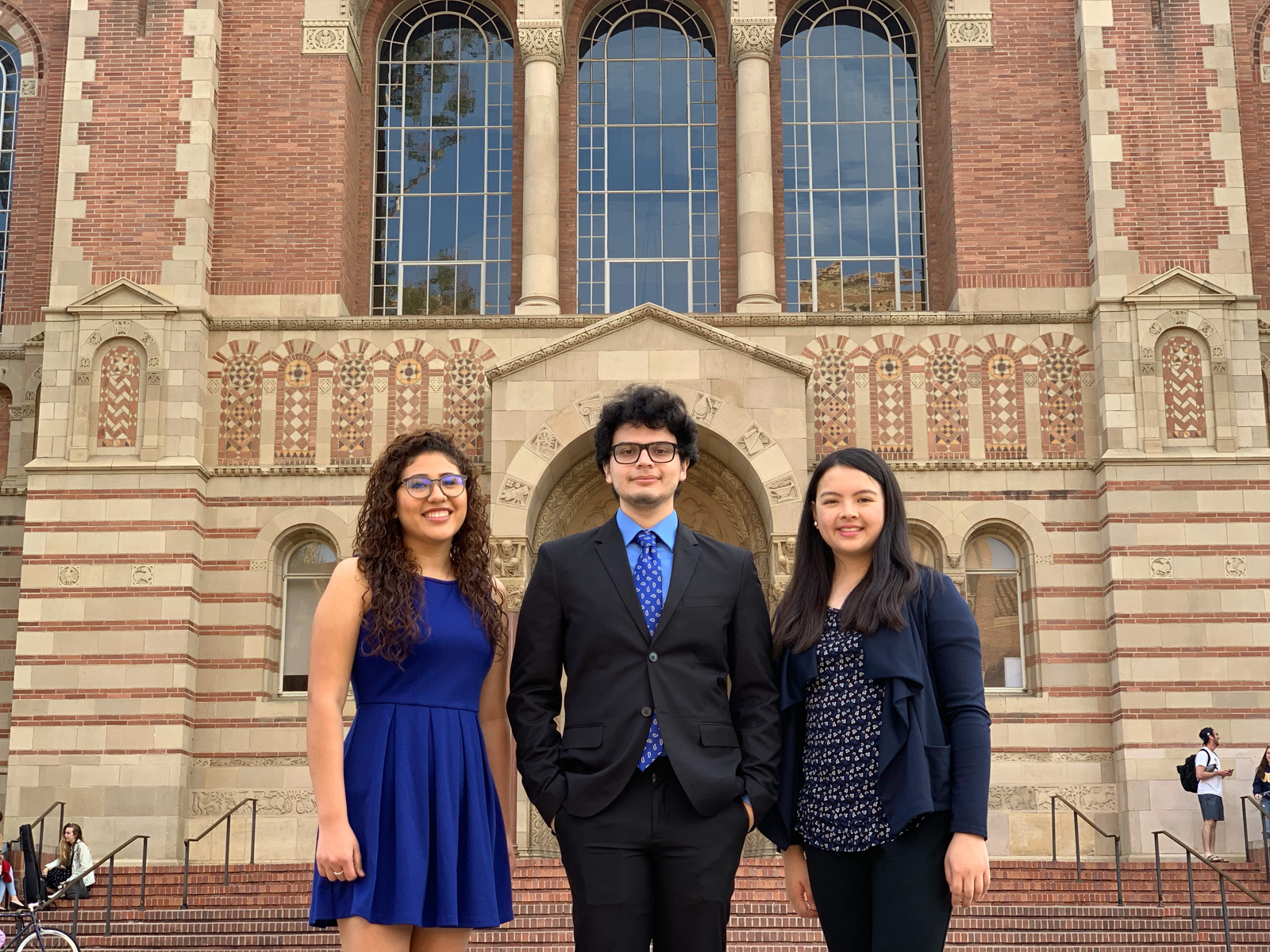 Maria Zamarripa, Alexandro Guerrero, and Justine Ramos (left to right) created SLAM uniVERSE to help students express themselves through performance and writing. (Courtesy of SLAM uniVERSE)
A new campus organization focused on literary creativity is building a safe space for students to express themselves through writing and performance.
SLAM uniVERSE, founded fall 2018 by UCLA students Justine Ramos, Maria Zamarripa and Alexandro Guerrero, is a slam poetry club that aims to teach UCLA students about the benefits of creative literary expression.
Ramos, a third-year English and human biology and society student, said that the club's name holds great significance.
"'SLAM' stands for Spoken Literary Arts Movement, and the "VERSE' in 'uniVERSE' is an acronym for the pillars of our organization," Ramos said. "V stands for vocal, E for energetic, R for respectful, S for supportive, and E for empowering."
The group will hold weekly creative writing workshops for members to teach one another their unique literary expertise and biweekly open mic nights for them to share their work with each other and with guest audience members.
"Slam poetry is poetry that is meant to be read," Ramos said. "It is meant to be performed on stage. It's kind of like a combination of hip-hop, literature, and performance."
Guerrero, a fourth-year sociology student, said he believes the performance aspect of slam poetry is particularly important because of its cathartic potential.
"It's not just a performance for the audience, but, in a sense, it's also for the speaker," he said. "It's about being able to express whatever emotions you may have trapped inside you."
The three founders were first introduced to slam poetry in high school, where they found it to be an excellent creative medium. They hope to provide a similar outlet to UCLA students who can benefit from a safe space.
Zamarripa, a third-year psychology student, said the group also plans to host monthly excursions into Los Angeles to visit open mic nights around the city. Da Poetry Lounge, one of the venues they plan to visit, hosts the largest weekly open mic in the country.
"A lot of the roots of slam poetry actually come from Los Angeles, but a lot of people don't know that," Ramos said.
Despite its name, SLAM uniVERSE is not exclusive to slam poetry. The three co-presidents said members are free to explore their creativity through a variety of other literary forms.
"Members can lead a creative writing workshop during meeting to teach others their expertise, whether it be related to poetry, slam poetry, performance, comedy, creative writing, short stories or whatever," Ramos said. "We really just want to create a space on campus to foster literary expression in general."
Zamarripa, Ramos and Guerrero said they believe creative expression is vital to the well-being of UCLA students.
Guerrero said he believes SLAM has the potential to help members de-stress and distance themselves from the overwhelming academic expectations that UCLA puts upon its students.
Zamarripa added she thinks the organization has the potential to help students struggling with mental health issues to feel less alone.
"Not a lot of people like to communicate how much they're struggling, and sometimes you can't find the right words," she said. "But poetry is just a way that you can. And often you find out that others are going through the same thing."